With every day that passes, more retirees are buried under mountains of debt caused by uncovered gaps in Medicare Part A and Part B. It happens so frequently that the news is no longer even surprising. All around the United States, there are seniors suffering. It's nearly impossible to find a fully comprehensive insurance plan that doesn't cost an arm and a leg. Especially when it's coming out of a fixed income. Luckily, there's gap insurance. These handy, inexpensive policies can not only save your retirement fund, but potentially your life.
Senior Medicare in Salt Lake City: Facts and Figures
There are 21,664 senior citizens living in Salt Lake City right now

There are 8 hospitals in the Salt Lake City area where seniors can get emergency and/or in-patient care

35% of Utah seniors have a Medicare Advantage plan

15% of seniors have a Medicare Supplement (Medigap) plan

Which leaves 50% of seniors potentially uninsured or underinsured against costly Medicare coverage gaps!
Aging makes us all more at risk for some diseases. Most of them will last for the remainder of our lives, and they need increasing amounts of treatment. Some may get a little bit better, but the other likely option is, sadly, that they may continue to get worse with time. Your health is at stake, but also your financial future as well. Medical expenses are on the rise every single year, and fiscal evidence shows they will likely continue well into the future. There is also the risk that you might be stricken with more than one disease at a time, which can double or even triple your medical bills more quickly than you realize.
| | |
| --- | --- |
| Disease | Prevalence (in Salt Lake City) |
| Arthritis | 18% |
| High Blood Pressure | 22% |
| Coronary Heart Disease | 4% |
| Diabetes | 7% |
| Kidney Disease | 2% |
Healthcare Costs in Salt Lake City, UT
Unfortunately, when we discuss disease and treatment, there is always the concern of money to address as well. Prescription medicine, technical equipment, hospital visits, doctor's care; they all will eventually add up over time. And they'll keep piling up, too. This generation of seniors is living for far longer than previous generations. However, quality of life diminishes when pinned under the crushing weight of unyielding medical debt. It is more imperative than ever to be certain that you have enough protection for the next phase of life. Inexpensive, useful, functional healthcare coverage is the utmost important thing you can do for yourself.
| | | |
| --- | --- | --- |
| Disease | Prevalence (in Salt Lake City) | Annual Cost of Treatment |
| Arthritis | 18% | $280 |
| High Blood Pressure | 22% | $288 |
| Coronary Heart Disease | 4% | $7,709 |
| Diabetes | 7% | $2,158 |
| Kidney Disease | 2% | $6,808 |
Medicare Advantage Savings in Salt Lake City, UT
The United States government does not offer Medicare Advantage, but it is approved for private sale to anyone who is eligible for Medicare. The government redirects your intended medical costs to Medicare Advantage, and any remainder becomes your new premium. In some cases, this cost can be as low as $0 a month. Medicare Advantage covers all of the same things as Medicare Parts A & B, but there are add-on benefits available as well..
Medicare Advantage offers seniors a larger variety of coverage options for their potential future. The most chronic illnesses (such as diabetes, arthritis, and high blood pressure) are viciously progressive, and last usually until the end of your life. On top of that, they require extra care to mitigate the symptoms. Prescriptions, testing meters and other equipment, additional doctor trips; all of these things culminate quickly, and then there's a huge, surprise bill. Medicare Advantage is more effective than Medicare alone. Even when patients have Medicare Part D, there is still more coverage and more opportunity to save more money with Medicare Advantage plans. It's time to start budgeting for the future.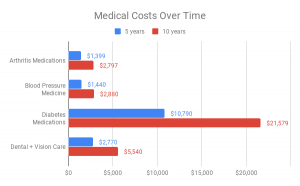 With a plan like Medicare Advantage, you receive far more benefits than with just Medicare Parts A & B alone. They include visits to the hospital, testing supplies, and potentially even a money-saving prescription plan if you choose to include one. A majority of plans also include an option to include dental or vision coverage as an add-on. Since the government pays a significant portion of the premium, the out-of-pocket premium due from seniors is usually very reduced, and in some instances can be nothing. Copays and coinsurance are still from out-of-pocket, and other items might not be fully covered by your insurance policy, no matter how comprehensive and inclusive it is.
Medicare Supplement (Medigap) Savings in Salt Lake City, UT
Medigap, which is another Medicare supplement, is an additional savings option for covering gaps in Medicare coverage. They work differently than Medicare Advantage, but can still save a small fortune, especially when applied to Medicare Part A. The worst chronic illnesses, like coronary or kidney disease, can cost tens of thousands just for a single stay in the hospital and a few treatments while you're there. But that's just a few nights. These stays can end up being much longer, and after a certain amount of time, Medicare stops paying. You then have to face paying out-of-pocket to continue care. That is, unless you have gap coverage.
The four plans intended to cover the gaps in Part A of Medicare are A, D, K, and L. They have been created not only to save money, but also keep you protected. Medigap has other plans that cover gaps in Part A and Part B, but more on that in a moment. If you don't believe Medicare Part B gaps are your primary concern and you are more worried about hospital stays, then you should consider that Medigap policies that cover Part A gaps are less costly than those with both. The lower monthly premium could save even more over time.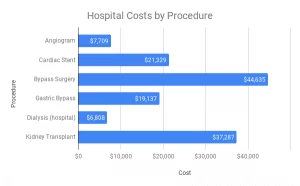 But with any insurance, if you anticipate needing the assistance at all, it is best to buy the coverage for gaps in both Part A and Part B. Medigap offers plans B, C, F, G, M, and N for precisely that. These cover almost all aspects of Medicare parts A and B. As with any insurance, more coverage equals more premium. But, it is important to understand that this is not necessarily a bad thing. More coverage means fewer out-of-pocket costs, so paying a little more in premiums can actually save money in the long run if you use your policy frequently. Plan F is available for a limited time, and is retiring in 2021. After that, seniors who are new to Medicare won't have access to the plan.
What gaps are there in Medicare Part B? Part A covers hospital stays and inpatient needs, so what is Part B supposed to do? Well, everything that isn't Part A. Outpatient procedures, specialists, medical gear, supplies, or necessities. All of this is supposed to be under Medicare Part B, but there are exceptions (like copays and coinsurance). Medigap plans pitch in when these costs threaten to get too great.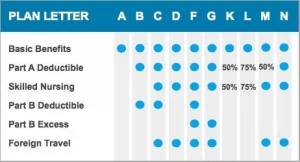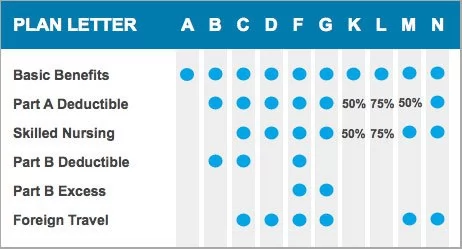 Medicare supplement insurance – another name for Medigap – does not cover prescriptions, dental, or vision, though Medicare Advantage can. However, Medicare does allow seniors to choose Part D, which offers prescription drug coverage at little to no cost. This is available whether or not you have other Medicare plans, as long as you qualify. With a little searching, it is simple to find inexpensive dental and vision care for seniors in the Salt Lake City area. Discounts for the senior population are available, particularly for dental, in most locations.
For Salt Lake City seniors, having cost-effective medical insurance is a vital part of securing a livable retirement, as well as protecting your hard-earned savings. With medical costs continuing to rise over time, it is more imperative now than ever. What we do have control of are the ways that we prepare. Finding a Medicare supplement plan will help you when you need it the most, and keep you safe from insurance gaps. We want to make that happen today.
| | | | |
| --- | --- | --- | --- |
| Medigap Plan | Minimum Monthly Premium | Maximum Monthly Premium | Average Estimated Monthly Premium (Part B Premium Included) |
| Plan A | $67 | $181 | $260 |
| Plan B | $97 | $210 | $289 |
| Plan C | $112 | $234 | $309 |
| Plan D | $99 | $206 | $288 |
| Plan F | $114 | $241 | $313 |
| Plan F (high deductible) | $26 | $56 | $177 |
| Plan G | $92 | $207 | $285 |
| Plan K | $40 | $106 | $209 |
| Plan L | $68 | $150 | $245 |
| Plan M | $103 | $159 | $267 |
| Plan N | $81 | $187 | $270 |