Did you know that Medicare coverage gaps can sometimes leave you spending thousands of dollars out of pocket? As people age, they tend to increase the amount of time and money they spend seeking medical care. Unfortunately, by the time you've satisfied the requirements to qualify for Medicare, you might be too late. These expenses could very well bankrupt you before you even get to enjoy the retirement that you've been dreaming about throughout your entire working career. To put things in perspective, let's take a quick look at some of the data.
Facts and Figures
There are 3,721 senior citizens living in Watertown right now

There are only 4 hospitals in the Watertown area where seniors can get emergency and/or in-patient care

20% of South Dakota seniors have a Medicare Advantage plan

50% of seniors have a Medicare Supplement (Medigap) plan

Which leaves 30% of seniors potentially uninsured or underinsured against costly Medicare coverage gaps!
By itself, this percentage doesn't mean much. Maybe these people are abnormally healthy or maybe they just haven't gotten around to buying their insurance yet. While this is possible, it is important to note that there are a wide variety of medical conditions that increase in prevalence as we age. This means that – even though you might be in the best health of your life today – you could develop a chronic condition over the next couple of months. In these situations, you will want to make absolutely certain that you are properly covered, or else you might find that you are paying thousands of dollars more per month than you would otherwise have to.
The table below showcases a few of the most expensive and life-changing health conditions that increase in prevalence with age. The column on the left indicates the disorder and the column on the right indicates the percentage of seniors in your city that suffer from these conditions.
| | |
| --- | --- |
| Disease | Prevalence in Watertown |
| Arthritis | 28% |
| High Blood Pressure | 25% |
| Coronary Heart Disease | 7% |
| Diabetes | 10% |
| Kidney Disease | 3% |
Healthcare Costs in Watertown, SD
As you can tell from the chart above, the frequency of various illnesses increases with age. However, that's not all. As the frequency of these diseases increases, so too does the severity of their associated symptoms, which means that you will likely find yourself spending more time and money looking for medical treatment. In fact, each year, the money you spend out-of-pocket will likely be more than you spent the year before. Moreover, because of the fact that medical technologies have improved significantly over the past few years, seniors are living longer now than ever before. This increased lifespan combined with the increasing costs of medical care has led to a massive financial risk for seniors, particularly those seniors who find that their annual need for medical treatment is increasing at a rate that far outpaces the growth of their retirement savings – a situation that often forces those people out of retirement and back into the workforce.
| | | |
| --- | --- | --- |
| Disease | Prevalence in Watertown | Annual Cost of Treatment |
| Arthritis | 28% | $291 |
| High Blood Pressure | 25% | $354 |
| Coronary Heart Disease | 7% | $9,393 |
| Diabetes | 10% | $2,163 |
| Kidney Disease | 3% | $8,509 |
Medicare Advantage Savings in Watertown, SD
If the government, via Medicare, isn't giving you the coverage and financial support that you need and deserve, you might want to consider switching to Medicare Advantage. Medicare Advantage plans are neither government-owned nor government-controlled, meaning that they are subject to the same market forces that helped you create your retirement savings in the first place. With Medicare Advantage plans, you no longer need to worry about getting caught in the no-man's-land of Medicare coverage gaps because many of these plans are specifically designed to provide coverage even in the worst of times. Furthermore, you don't have to worry about losing specific benefits when switching to Medicare Advantage from Original Medicare, because Medicare Advantage plans are required by law to provide all of the same benefits as Original Medicare. In fact, some companies even allow you to add additional coverage options by paying a little more. While this might seem like something that you just can't afford, it's important to note that the government provides quite a large number of options that could enable you to "pay a little more" while actually paying premiums as low as $0.
Medicare Advantage can also help you get out of the Medicare coverage gaps in a wide variety of Original Medicare fields, including prescription drug coverage. Where Original Medicare falls short of covering your medications, leaving you with the option to either spend all of your retirement savings before reaching late retirement or to go without healthcare altogether, Medicare Advantage plans enable you to fill as many prescriptions as you need each month in order to maintain perfect health. In addition to covering prescription drugs, many Medicare Advantage plans also cover the "miscellaneous" expenses associated with chronic illnesses, such as the purchase of glucose monitors and testing strips. This is one of the main reasons why seniors with chronic health conditions (such as diabetes and kidney disease) turn to Medicare Advantage plans rather than struggling for air on Original Medicare. Over the five- and ten-year periods, Medicare Advantage can save you thousands of dollars.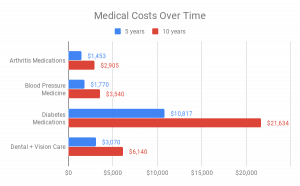 Vision and dental coverage are two of the most notable differences between Original Medicare and Medicare Supplement (Medigap) insurance plans. While Medicare Advantage providers almost unanimously provide options for vision and dental insurance with various coverage benefits, neither Original Medicare nor Medigap can provide such benefits. With Original Medicare, you will still run the risk of falling into the Medicare coverage gap; and, with Medigap insurance, you will not have the option of adding either vision or dental coverage to your plan whatsoever. However, there are ways around that, which we will cover in greater detail in the next section, immediately following this chart that demonstrates the low quotes from top Medicare Advantage providers.
Medicare Supplement (Medigap) Savings in Watertown, SD
Although Medicare Supplement insurance, also known as Medigap, doesn't provide the wealth of benefits and coverage avenues that Medicare Advantage provides, it is nonetheless a valuable tool for helping improve seniors' access to affordable and effective healthcare. All in all, there are ten primary plans that Medigap providers will offer, each of them supplementing rather than replacing Original Medicare (hence the phrase, "Medicare Supplement insurance"). Each of them is different and unique in their own, which highlights the importance of speaking to a Medigap expert before making your selection. In general, however, all Medigap plans specialize in assisting with hospital costs and other Medicare Part A expenses, which can be exorbitantly costly for seniors who suffer from chronic health conditions.
The first category of Medigap plans contains Medicare Supplement insurance Plans A, D, K, and L. Each of these plans provide specialized benefits for seniors who find themselves incurring frequent and severe medical complications that result in hospitalization or the need for routine in-patient care. This is done through the improved coverage of Medicare Part A expenses. Unfortunately, these benefits are not without their fair share of drawbacks, namely the fact that neither of these four plans offers any supplemental coverage for any expenses related to Medicare Part B.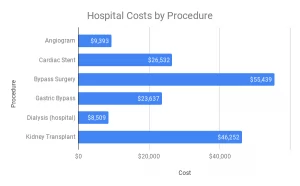 If you're looking to use a Medigap plan to cover your Medicare Part B coverage gaps as well as your Medicare Part A coverage gap, then you're going to want to make use of the remaining Medicare Supplement insurance Plans: B, C, F, G, M, and N. Whereas the previous plans fall short of providing so little as a penny to help you cover your Part B expenditures, these six plans serve to provide total coverage for Part A along with varying degrees of coverage for Part B – the only major setback from this upgrade being the fact that Plans B, C, F, G, M, and N cost a little more. Additionally, Plan F will no longer be offered after 2020. This means that, as of 2021, you won't be able to enroll in or switch to Plan F. Furthermore, if you have Plan F and abandon it for something else, you won't be able to get it back in the future.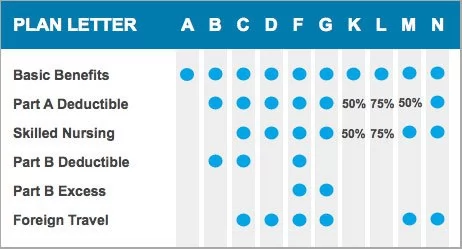 As we mentioned earlier, Medicare Supplement insurance plans are innately less comprehensive than Medicare Advantage plans, which tends to be why most seniors try to secure one of the later plans before moving on to the former. The major drawback of Medigap plans is that they do not provide options for prescription drug coverage, vision coverage, or dental coverage, but does this mean that you're going to have to go without glasses for the rest of your life? Absolutely not! There are ways to purchase private insurance plans to further supplement these three areas of your healthcare needs all while spending fewer than $100 per payment period in certain areas.
If this is still your best available option, however, make sure to get it done as quickly as possible. The last thing you want to do is put off making the decision long enough for your health and your mental acuity to wither, making the decision harder (or impossible) to make. By securing your proper level of insurance as soon as possible, you can prevent the untimely loss of your independence, depreciation of your nest egg, or deterioration of your health. So don't wait. Go to Medigap.com today and start shopping for your healthcare. You can also speak with an expert who knows how to help you find what works best for you.
| | | | |
| --- | --- | --- | --- |
| Medigap Plan | Minimum Monthly Premium | Maximum Monthly Premium | Average Estimated Monthly Premium (Part B Premium Included) |
| Plan A | $63 | $222 | $278 |
| Plan B | $100 | $252 | $312 |
| Plan C | $118 | $287 | $338 |
| Plan D | $112 | $173 | $278 |
| Plan F | $118 | $241 | $315 |
| Plan F (high deductible) | $34 | $94 | $200 |
| Plan G | $104 | $183 | $279 |
| Plan K | $47 | $102 | $210 |
| Plan L | $79 | $151 | $251 |
| Plan M | $106 | $119 | $248 |