It is sad but common knowledge throughout Massachusetts and the entirety of the United States that government supplied Medicare is holier than the Pope. Those costly gaps can end up causing seniors to lose a lifetime of savings, if not even more. There has to be a way to provide for those insurance gaps, but without breaking the bank. Medicare Advantage and Medigap policies are designed to do exactly that. As a Worcester resident, you likely have a bounty of questions regarding the topic.
Senior Medicare in Worcester: Facts and Figures
There are 24,535 senior citizens living in Worcester right now

There 11 hospitals in the Worcester area where seniors can get emergency and/or in-patient care

21% of MA seniors have a Medicare Advantage plan

26% of seniors have a Medicare Supplement (Medigap) plan

Which leaves 53% of seniors potentially uninsured or underinsured against costly Medicare coverage gaps!
As we age, we become more susceptible to different kinds of disease. Unfortunately, these tend to be the chronic and pervasive sort which are carried through the end of life. That means a new, permanent, unplanned cost gets added to what is likely already a fixed income. As if that wasn't enough to consider, it is a very likely possibility that any senior may have more than one of these illnesses at a time, as one can often lead to another. This makes potential expenses suddenly double or even triple in a blink, and what was once perhaps possible becomes utterly overwhelming in less time than you think. The chart below shows the common chronic diseases among seniors.
| | |
| --- | --- |
| Disease | Prevalence (in Worcester) |
| Arthritis | 24% |
| High Blood Pressure | 30% |
| Coronary Heart Disease | 6% |
| Diabetes | 10% |
| Kidney Disease | 3% |
Healthcare Costs in Worcester, MA
When we look at how common these diseases really are, the next question which immediately rises is how much will it cost to treat? Medical drugs, testing equipment, visits to the hospital, scheduled doctor check-ups; all of these items add into the final tally. The cost of medicine goes up every single year, and shows no signs of slowing in the foreseeable future. In addition, seniors are living longer lives than ever before, which means these bills have even more time to pile up. When thinking about all of this, the theoretical price tag can get frightening, and fast. It is more vital than ever that you have the proper amount of gap coverage going into your golden years.
| | | |
| --- | --- | --- |
| Disease | Prevalence (in Worcester) | Annual Cost of Treatment |
| Arthritis | 24% | $291 |
| High Blood Pressure | 30% | $354 |
| Coronary Heart Disease | 6% | $8,422 |
| Diabetes | 10% | $2,163 |
| Kidney Disease | 3% | $7,985 |
Medicare Advantage Savings in Worcester, MA
Some private gap coverage insurance plans are approved by the government but not government-provided. These are specifically created for seniors who are currently eligible for Medicare. In many cases, the government pays a portion of the monthly premium for a Medicare Advantage plan, and the plan owner pays the rest. Medicare Advantage plans can be available starting at $0 a month in some instances. These plans are required to offer at least the same as Medicare Part A and B. Most of these plans have an option to add dental or vision coverage as well.
Those who have chosen Medicare Advantage plans have said they feel more prepared and better covered against illnesses in their retired years. Every ailment, but especially the most pervasive ones, require constant medical intervention to lessen symptoms and optimize quality of life. Prescriptions, testing equipment, scheduled visits, and more. As conditions continue, costs climb. However, Medicare Advantage can cover even more than Medicare, even with add-ons like Part D. To be best prepared for your future, you must prepare ahead of time and consider Medicare Advantage.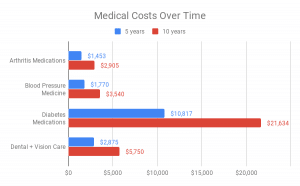 Medicare Advantage plans must cover at least as much as Medicare Parts A and B in order to be legally compliant. However, they often cover far more. This can include regular doctor visits, different kinds of equipment, prescription plans, or even a combination of all three. Most plans also have the option available for dental or vision for some extra premium. The government then subsidizes your premium, letting you have a significant discount on Medicare Advantage. Potentially, all of this can be yours for as little as $0 a month. Naturally, copays and coinsurance costs will always be expenses that fall to you, the insured. There are out-of-pocket costs for a select few items that insurance will not cover.
Medicare Supplement (Medigap) Savings in Worcester, MA
There are other Medicare gap coverage policies as well, such as Medicare Supplement Insurance policies, or Medigap policies. They function a little bit differently than the previously mentioned Medicare Advantage plans, but still can save quite a large amount of money, especially covering gaps in Medicare Part A. Just one incident involving a single one of the worst chronic conditions can come to a bill of five digits or more. After a few nights in the hospital, Medicare stops coverage, and the currently hospitalized patient becomes responsible for the rest of whatever they owe; this is, of course, assuming they live after the cardiac event that is sure to follow that news. These bills are generally massive, and often make a difficult diagnosis and treatment even harder to deal with.
There are currently four Medigap plans designed to cover Medicare Part A gaps. These are Plans A, D, K, and L. Medigap does offer some additional plans that have a variety of coverage selections for Parts A and B together. Those are discussed in detail below the chart. However, if the coverage for Part B is not necessary, then it may be wise to select a plan without it. This can save a large portion of your premium amounts.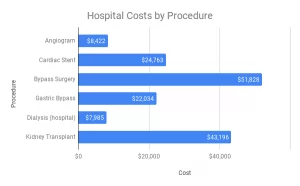 The additional Medigap plans on offer are Plans B, C, D, F, G, M, and N. They provide varying amounts of coverage for Medicare Part A as well as Part B. As is standard in the world of insurance, the more coverage chosen, the higher the monthly premium may be. However, this means much fewer out-of-pocket costs when unexpected incidents arise. A few additional dollars more in monthly premiums may potentially save tens of thousands in medical bills. Plan F is retiring at years' end, and no one who is new to Medicare can enroll after December of 2020.
Medicare Part B is – theoretically – intended to cover any medical aspect that Part A cannot. This is supposed to include outpatient procedures, office visits, home equipment, and the like. Coinsurance and copays are costs that always belong to the patient, along with the premium. But even these Part B costs can be too difficult to handle; thankfully there is no shortage of options to help reduce them to something more manageable.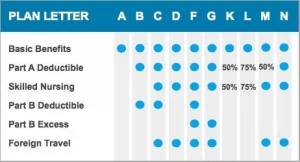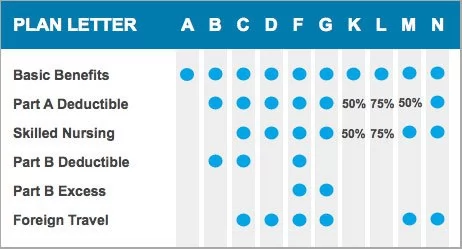 Medicare Supplement Insurance (also known as Medigap) does not provide insurance coverage for drugs, dental, or vision care. Traditional Medicare offers Part D (coverage specifically for prescriptions) and it is available whether or not the patient has any other Medicare plan. If you choose Medigap, there are many alternative sources to obtain additional dental or vision insurance.
For the seniors living in Worcester, buying the most effective Medicare Supplement Insurance is an absolute necessity. It protects retirement savings and grants peace of mind. Medical costs are continually on the rise, and there are no signs of it decreasing any time soon. It's beyond anyone's control, but something that is in your control is how well insured you are with a supplemental gap insurance plan. We want to help you find that Medicare gap plan today.
| | | | |
| --- | --- | --- | --- |
| Medigap Plan | Minimum Monthly Premium | Maximum Monthly Premium | Average Estimated Monthly Premium (Part B Premium Included) |
| Medigap Core Plan | $94 | $171 | $268 |
| Medigap Supplement 1 Plan | $169 | $257 | $349 |