Olathe is a great place to retire! There are plenty of things to do, plenty of places to go, and ample access to healthcare. Unfortunately, if you happen to be reliant on Medicare for your healthcare needs, you might not be able to afford the available healthcare options. That's because Medicare comes with coverage gaps, which are certain medical benefits and procedures that Medicare simply won't pay for. Because of Medicare coverage gaps, you can end up paying thousands of dollars in out-of-pocket costs every single year. On the bright side, seniors in the Olathe area have discovered two great ways of avoiding the Medicare coverage gaps: by enrolling in a Medicare Advantage plan or enrolling in a Medicare Supplement (Medigap) insurance plan. But understanding the difference between them can be a little confusing, so let's clear the air!
Facts and Figures
There are 13,960 seniors living in Olathe right now.
There are 2 hospitals in the Olathe area where seniors can get emergency and/or in-patient care.
15% of Kansas seniors have a Medicare Advantage plan.
46% of Kansas seniors have a Medicare Supplement (Medigap) plan.
Which leaves 39% of seniors potentially uninsured or underinsured against costly Medicare coverage gaps!
Just about two out of every five seniors in Olathe suffers the consequences of not having proper healthcare insurance. That means less access to the treatments that you both need and deserve. The worst part is that these issues only worsen with time. As you age, you become more prone to being diagnosed with an age-related illness. Even if you are in perfect health today, tomorrow might be the day when you start experiencing symptoms of aging. As you continue to age, you will likely continue to develop new or worsening symptoms, further reducing your quality of life if you don't receive treatment. But in order to receive treatment without breaking the bank, you have to have a decent insurance plan. The chart below lists the percentages of seniors suffering from multiple common kinds of age-related illnesses.
| | |
| --- | --- |
| Disease | Prevalence in Olathe, KS |
| Arthritis | 20% |
| High Blood Pressure | 25% |
| Coronary Heart Disease | 4% |
| Diabetes | 7% |
| Kidney Disease | 2% |
Healthcare Costs in Olathe, KS
Symptoms do not exist in a vacuum. It is important to look at your healthcare from a complete perspective because every aspect of it is interconnected. For example, as you develop new or worsening symptoms, you also develop an increased need for treatment. That need for treatment then forces up the amount of money that you have to pay for treatment, much of which falls into the out-of-pocket thresholds of the Medicare coverage gaps. Since medical costs in general are on the rise, the price of your treatment will grow even higher over time. Add in the fact that seniors are living longer lives now than ever before and you're left with a bittersweet picture: all of that extra time that has been given to you is extra time for your bills to increase, stressing your financial and personal independence to the limit.
| | | |
| --- | --- | --- |
| Disease | Prevalence in Olathe, KS | Annual Cost of Treatment |
| Arthritis | 20% | $294 |
| High Blood Pressure | 25% | $356 |
| Coronary Heart Disease | 4% | $9,187 |
| Diabetes | 7% | $2,173 |
| Kidney Disease | 2% | $8,569 |
Medicare Advantage Savings in Olathe, KS
More than 2,000 seniors in Olathe have already made the switch to a Medicare Advantage plan in order to avoid the coverage gaps of Original Medicare. Since Medicare Advantage is a private insurance plan, it is not provided by the government. Instead, Medicare Advantage replaces your government-provided Original Medicare plan. That said, the law still requires that all Medicare Advantage plans provide the same minimum level of care for their beneficiaries. Moreover, since these plans are subject to competition, many providers will add in the option for additional benefits at an additional cost in order to attract enrollees. But the government handles most or all of your Medicare Advantage premium, meaning that those "additional costs" could amount to a grand total of $0 per month in premiums.
Medicare Advantage plans are incredibly popular among seniors suffering from arthritis, high blood pressure, and diabetes because of two options in particular: prescription drug coverage and minor medical equipment coverage. Together, these two coverage options provide benefits related to a comprehensive suite of prescription medications and necessities such as glucose monitors and testing strips. The exact medications that are covered in these plans vary from provider to provider, of course, but the general rule of thumb is that they help seniors who rely on large amounts of prescription medications to be able to live without fear of Medicare coverage gaps. If you're suffering from arthritis, high blood pressure, and/or diabetes, your savings from a Medicare Advantage plan can really add up over time.
To further increase savings, seniors in Olathe have begun adding dental and vision care coverage to their Medicare Advantage plans. This option enables seniors to add benefits related to vision and dental care directly to their coverage options, something that neither Original Medicare nor Medicare Supplement Insurance is capable of allowing. In fact, neither Original Medicare nor Medicare Supplement Insurance provide many benefits of any kind for dental or vision care, unless the reason for treatment has been classified as an emergency.
Medicare Supplement (Medigap) Savings in Olathe, KS
Whereas Medicare Advantage plans replace your existing Original Medicare insurance plan, Medicare Supplement plans serve only to supplement your existing plan. That means that you won't have to worry about transitioning entirely from a government-sponsored plan to a privately provided plan. All in all, there are ten Medigap plans from which to choose, each coming with subtly different pros and cons. One thing that all ten plans have in common, however, is that they all help offset the costs of Medicare Part A coverage gaps, which can be exceptionally high for seniors suffering from age-related heart and/or kidney disease.
Medicare Supplement Insurance plans A, D, K, and L all fall into that category. Either one of these plans could be great for you if you find yourself paying large out-of-pocket costs in regards to Medicare Part A. That includes things like hospitalizations, blood transfusions, and skilled nursing care. Unfortunately, it does not include certain emergency services or any other treatment covered by Medicare Part B. In order to obtain financial assistance paying for the coverage gaps related to Medicare Part B, you will have to enroll in one of the remaining Medicare Supplement Insurance plans.
The next batch of Medigap plans includes Medicare Supplement Insurance plans of types B, C, F, G, M, and N. Not only do these plan types provide coverage for Medicare Part A coverage gaps, they also provide coverage for Medicare Part B coverage gaps. That makes it possible to access just about every kind of medical treatment without worrying about how you're going to pay for it. Of course, there are a few notable exceptions to this seemingly all-encompassing structure. Those will be discussed below. Another important fact is that Medigap Plan F will not be available after 2020, so there is some urgency to act now for anyone who needs those particular benefits.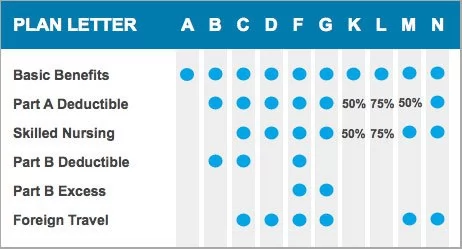 Medicare Supplement plans do not provide any form of coverage for prescription drugs, dental care, or vision care. In order to obtain coverage for these categories of care, there are a few things that you need to do. First off, look into Medicare Part D prescription drug coverage. Many seniors find that the benefits provided therein are good enough to cover most or all of their prescription drug needs. If you still aren't totally covered by one of these plans, then you will likely need to enroll in a Medicare Advantage plan instead. Next, look into local providers in the Olathe area who offer coverage for dental and vision care as part of a private insurance plan. You can typically do so at any time of the year without waiting for an Open Enrollment Period, since open enrollment tends to only apply to health insurance.
As medical costs continue to rise and your risk of developing new or worsening symptoms becomes more severe, it is more important than ever to take control of your insurance. By delaying a day longer, you risk further medical costs reducing your retirement savings and shrinking your financial and personal independence. So don't wait. Head over to Medigap.com today and start looking for the plan that's right for you. Your future self with thank you!
| | | | |
| --- | --- | --- | --- |
| Medigap Plan | Minimum Monthly Premium | Maximum Monthly Premium | Average Estimated Monthly Premium (Part B Premium Included) |
| Plan A | $79 | $209 | $280 |
| Plan B | $107 | $237 | $308 |
| Plan C | $127 | $270 | $334 |
| Plan D | $109 | $221 | $301 |
| Plan F | $128 | $260 | $330 |
| Plan F (high deductible) | $30 | $83 | $192 |
| Plan G | $108 | $222 | $301 |
| Plan K | $50 | $112 | $217 |
| Plan L | $78 | $158 | $254 |
| Plan M | $103 | $160 | $267 |
| Plan N | $92 | $200 | $282 |