Did you know that healthcare coverage gaps in the Middletown area can drive seniors out of retirement and back into the workforce? These coverage gaps can be so expensive that they have left countless seniors with no other option but to deplete their savings and look for part-time work just to get enough extra money to cover basic healthcare. But what exactly are these coverage gaps? And how much money will they end up costing you, specifically? If you're worried about Medicare coverage gaps, here's something to keep in mind: you're not alone. Let's take a quick look at a few of the facts and figures to see just how many seniors suffer from Medicare coverage gaps in the Middletown area.
Facts and Figures
There are 3,549 senior citizens living in Middletown right now

There are only 2 hospitals in the Middletown area where seniors can get emergency and/or in-patient care

11% of Delaware seniors have a Medicare Advantage plan

22% of seniors have a Medicare Supplement (Medigap) plan

Which leaves 67% of seniors potentially uninsured or underinsured against costly Medicare coverage gaps!
As the data show, there are just about 2,377 seniors in Middletown, Delaware who either don't have enough healthcare coverage or don't have any insurance whatsoever. This is an issue in and of itself. However, in the grand scheme of things, this lack of coverage is merely the tip of the iceberg. As people age, their health deteriorates; and, as people move further and further into retirement, their nest egg decreases in volume, earning less money in interest and providing less security against unforeseen circumstances, such as deteriorating health. You might now be able to see just how deleterious this cycle is. This worsening of health as you age is what researchers refer to as the onset of "age-related illnesses," or diseases that come on in senior populations. The chart below details a few of the more common age-related illnesses in the Middletown population.
| | |
| --- | --- |
| Disease | Prevalence in Middletown |
| Arthritis | 24% |
| High Blood Pressure | 37% |
| Coronary Heart Disease | 6% |
| Diabetes | 14% |
| Kidney Disease | 4% |
Healthcare Costs in Middletown, DE
As your likelihood of developing an age-related illness increases, so too do the costs associated with the preventative medicine necessary to stave off the onset of those conditions. Once they've arrived – and they quite likely will, thanks to the fact that seniors are living longer lives now than ever before – they can only get worse. That's the thing about age-related illnesses. Not only does the likelihood of being diagnosed with one (or more) increase as you age, but the frequency and severity of the symptoms also increases hand-in-hand with your age. This leads to even more expenses with each passing year. The chart below details standard estimates for the annual cost of treatment for healthier patients suffering from only one of the five aforementioned age-related illnesses.
| | | |
| --- | --- | --- |
| Disease | Prevalence in Middletown | Annual Cost of Treatment |
| Arthritis | 24% | $291 |
| High Blood Pressure | 37% | $354 |
| Coronary Heart Disease | 6% | $8,731 |
| Diabetes | 14% | $2,173 |
| Kidney Disease | 4% | $7,418 |
Medicare Advantage Savings in Middletown, DE
Medicare Advantage plans are a popular private insurance alternative to Original Medicare. However, Medicare Advantage plans are in no way controlled by the government. Rather, they are owned and operated by private businesses competing with one another to provide the best possible services at the lowest prices. Although Medicare Advantage plans serve to replace your Original Medicare coverage, these plans are required by law to provide at least all the same benefits of Original Medicare. In reality, Medicare Advantage providers typically enable you to add on additional coverage benefits all while still paying nearly $0 per payment period (thanks to available subsidies from the US government).
One of the most attractive aspects of Medicare Advantage policies is that providers of these plans typically provide prescription drug coverage alongside the medical coverage. In fact, these prescription drug coverage options can even sometimes be expanded to be so comprehensive as to be able to extend coverage to medical equipment, such as glucose monitors and testing strips. This makes these policies highly desirable for seniors suffering from chronic health conditions the likes of chronic heart and kidney disease. Even for seniors suffering from other illnesses, the benefits of Medicare Advantage plans speak for themselves over the five- and ten-year windows.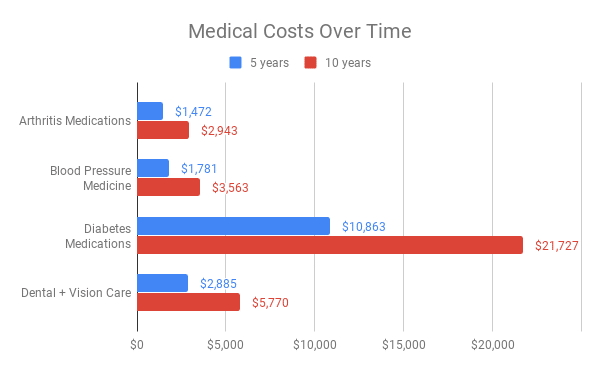 Medicare Advantage plans can save you yet more money, too, if you decide to add vision and dental coverage to your plan. Because Medicare Advantage plans are entirely private and serve to completely replace your existing Medicare plan, you can customize it to your heart's content (though benefits and costs can sometimes vary from city to city). This is a quality that Original Medicare and Medicare Supplement insurance do not have, but that is not to say that Medicare Supplement insurance is as rigid and inflexible as Original Medicare. Rather, the opposite is true. We'll explain that in the section that follows the below chart of the Medicare Advantage industry's most competitive rates.
Medicare Supplement (Medigap) Savings in Middletown, DE
As the name suggests, Medicare Supplement insurance (also known as Medigap insurance) plans merely supplement your existing Medicare insurance rather than totally replacing it, meaning that you would actually have two different healthcare providers, one private and one public. This alone sets plans of this type apart from Medicare Advantage plans, but the differences don't stop there. In general, there are only 10 plan types for Medigap insurance, each one aimed at insuring you against the Medicare coverage gaps and the coverage gaps alone. Those plans then fall into two categories, the first of which significantly more limited than the second.
The first four plan types that you should know about are Medicare Supplement insurance Plans A, D, K, and L. These four plans provide significant improvements to Medicare Part A and effectively render Medicare Part A coverage gaps moot. Medicare Part A coverage gaps, in Original Medicare, can be exceptionally high in patients who suffer from chronic kidney or heart disease, making this one of the best potential options for you, if you're suffering from a similar condition. However, it is important to note that neither of these four plans provide any benefit to seniors with low Medicare Part A expenditures and high Medicare Part B expenditures, because these four plans are designed to cover Medicare Part A and only Medicare Part A.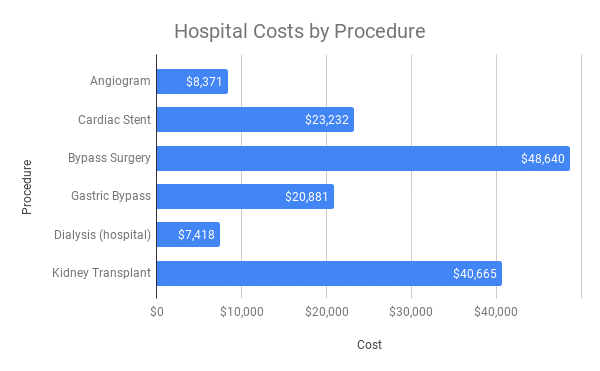 That brings us to the second category of Medigap plans, which provides coverage for both Medicare Part A and Medicare Part B coverage gaps. These plans include Medicare Supplement Insurance Plans B, C, F, G, M, and N. For the most part, there is no one plan that works best for everybody and there is no one plan that doesn't work well for anybody. Each plan comes with its own individual costs and benefits, further highlighting the need to speak with an expert before selecting what could very well be the wrong plan for you. Making matters worse is the fact that not every plan is destined to be around forever. For instance, Medigap Plan F is not going to be offered after 2020 to new enrollees. Anyone interested in its comprehensive benefits had better act fast to secure them before it's too late.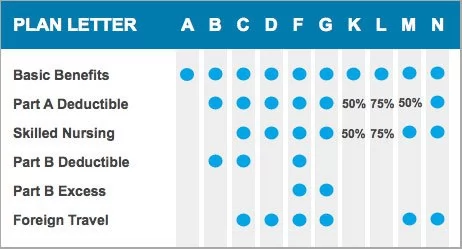 As we mentioned earlier in the Medicare Advantage section, only Medicare Advantage plans are capable of adding on prescription drug, dental care, and vision care coverage options directly to the plan. However, that does not mean that seniors who select a Medigap plan are going to be hung out to dry when it comes to those three areas of coverage. In fact, all you have to do in that case is simply select another insurance plan that covers those three areas of coverage specifically, without affecting your Medigap or Original Medicare plans. Oftentimes, you can even find a provider willing to do so for under $100 per payment period.
Living in Middletown, Delaware makes it more important than ever to protect your finances and your health from the rising costs of treatment in the United States, not to mention the increased prevalence of age-related illnesses. By putting off obtaining the proper level of healthcare coverage, you risk irreparable financial losses as well as permanent decreases to your overall health. So don't wait! Contact us here at Medigap.com today and begin shopping for the plan that is right for you.
| | | | |
| --- | --- | --- | --- |
| Medigap Plan | Minimum Monthly Premium | Maximum Monthly Premium | Average Estimated Monthly Premium (Part B Premium Included) |
| Plan A | $77 | $267 | $308 |
| Plan B | $100 | $304 | $338 |
| Plan C | $130 | $345 | $373 |
| Plan D | $99 | $208 | $289 |
| Plan F | $131 | $284 | $343 |
| Plan F (high deductible) | $29 | $101 | $201 |
| Plan G | $113 | $210 | $297 |
| Plan K | $45 | $98 | $207 |
| Plan L | $75 | $138 | $242 |
| Plan M | $144 | $144 | $280 |