Senior playgrounds are the latest in wellness trends to become quite popular in the U.S., although it has been present in several other countries for many years. Countries that are embracing this health trend include Japan, China, London, Spain, and many more. The craze around senior playgrounds focuses on the need to stimulate and encourage an active and social lifestyle in older adults. Senior playgrounds are being added to many communities to encourage seniors to come out and enjoy their time. These parks are designed for tranquility, comfort, and safety. Unlike playgrounds designed for children, senior playgrounds do not have bright colored dinosaurs and activities that may be dangerous for older adults. Senior playgrounds are surrounded by trees, luscious scenery, and pieces of equipment that are both safe and appealing.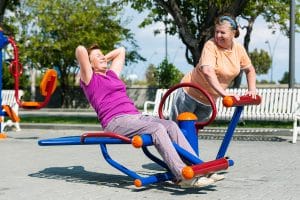 What Are the Benefits of Senior Playgrounds, Exactly?
Unlike playgrounds for children, senior playgrounds have equipment that is meant to increase endurance, flexibility, strength, and provide healthy cardio exercise for older adults. Typically, equipment at these playgrounds can include treadmills, stationary bicycles, striders, cross trainers, and more. Besides the fitness equipment, there are games and relaxation areas with shaded benches, tables, and games including ping pong tables and cornhole. Above all, these parks are open to all older adults and typically have wheelchair-accessible equipment as well.
The Societal Benefit Is Staggering
Older adults do not only benefit in the health and wellness aspects of these new senior playgrounds, but also in the social aspects. Having these playgrounds readily available – at no cost – allows seniors to meet other people with similar interests, set up meeting dates with their peers, or allows them to join wellness groups that meet periodically. Aiding older adults also benefits society as a whole by allowing them to live healthier lives and be able to enjoy other activities with loved ones while practicing a wellness-focused lifestyle.
Health Benefits
Using the equipment, walking the trails, and doing other forms of exercise can improve multiple areas of wellness for older adults and lead to a longer life. These exercises can improve physical health as well as mental health for older adults. A few of these health benefits are listed below:
Reduces risks of heart attacks and strokes

– Utilizing exercise equipment and walking through the park can provide excellent cardiovascular exercise and strengthen the cardiovascular and respiratory system in older adults

Boosts the immune system and reduces disease

– Sweating can get rid of toxins in the body and leading an active lifestyle can help lower cholesterol while also helping with diseases such as diabetes

Less cognitive decline

– Exercise promotes oxygen flow through the body. The human brain relies on oxygen to remain healthy and exercise can be one method to have a healthier mind and reduce the risks of dementia

Stronger bones and bone density

– With age, bones can become more fragile and create less overall strength for older adults. Workouts that put weight on the body, such as walking, jogging or using stationary bikes, can help strengthen bones and reduce the risks of bone fractures and osteoporosis
Social Benefits
Exercising in the park comes with greater benefits than just physical health and wellness improvements. Using the playground specifically allows space for socializing, which can bring its own benefits for the quality of life for older adults. Listed below are a few social benefits that come from using a senior playground:
Reduce stress and lower blood pressure

– Interacting with others and getting out of the house can reduce stress for older adults. If you or a loved one are struggling with high blood pressure, visiting a senior playground and meeting new people can help reduce this stress

A greater sense of independence

– With greater strength comes greater independence. Visiting the senior playground offers a sense of confidence and independence for older adults who may be accustomed to being accompanied by loved ones or a community group

Improved mental health

– Having your own friends, activities, and freedoms can improve mental health greatly in older adults. Being accompanied by others can provide a source of happiness and entertainment which can reduce the risk of depression

More space for games, groups, and movement

– Using a senior playground specifically for social gatherings rather than your own home can provide benefits for your group socials. Being at the playground can provide games, equipment, space and allow for more movement than being indoors
The Parks Forging The Way
Although the trend for senior playgrounds is relatively new, there are some senior playgrounds that are paving the way for more construction around the world. Here are a few senior playgrounds that are now open and popular within their local communities.
The John G and Phyllis W. Smale Riverfront Park
Location: Cincinnati, Ohio
This beautiful park lies along the Ohio River and makes the perfect location for a senior playground. Along with their cycling and exercise equipment, there are long walking trails and swinging benches along the 32-acre park.
Hyde Park Senior Playground
Location: London, England
Hyde Park Senior Playground is one of the most popular senior playgrounds and has been available to older adults since 2009. This senior playground has multiple exercise facilities that focus on stretching and strength training for older adults.
Carbide Park
Location: La Marque, Texas
As one of the most innovative and equipment-packed parks, Carbide Park contains $36,000 worth of exercise equipment designed for older adults. This equipment focuses on strength training, cardiovascular improvement, and stretching to improve the state of wellness for seniors.
Ditan Park
Location: Beijing, China
Ditan Park is a unique senior playground due to its promotion of group-oriented wellness classes and programs. The park encourages socializing, group exercises, and inclusivity through these programs but is also decorated with a wide assortment of exercise equipment.
Malaga Province
Location: Malaga Province, Spain
Although this is not a specific playground, it is crucial to include the Malaga Province when mentioning the innovators of senior playgrounds. The Malaga Province has over 400 senior playground facilities that are open and running for older adults. These playgrounds are equipped with exercise equipment and walking trails for seniors to enjoy.
What Are You Waiting For?
As senior playgrounds gain popularity, their construction and availability are becoming more prevalent in cities around the globe. If you or a loved one are an older adult, make sure to take advantage of these programs and visit a senior playground near you. We hope this informed you about senior playgrounds and we encourage you to visit one near you.