Nashville is home to nearly 75,000 seniors just like you. Among all of the things you have to think about during your retirement years, paying for your health care shouldn't be your biggest worry.
But for some Nashville residents, it might be a bigger struggle than you realize. Don't worry, though – we have all the info you need to figure out how to insure yourself and protect against exorbitant out-of-pocket health care expenses as you get older.
Medicare in Nashville: Facts and Figures
There are 74,933 senior citizens living in Nashville right now
There are 7 hospitals in the Nashville metropolitan area where senior citizens can get emergency or inpatient care
36% of Tennessee seniors have a Medicare Advantage plan
16% of Nashville seniors, on the other hand, have a Medicare Supplement (Medigap) insurance plan
That means 48% of mature Tennesseeans might not have adequate financial protection from Original Medicare coverage gaps!
Are you currently managing any chronic conditions? If not, consider yourself lucky. But you will likely have to deal with one eventually. When you do, you need to understand that there is little if anything you can do to stop or reverse the disease.
It will continue to get worse as you get older, and your healthcare management will get increasingly more expensive because of it. If you don't protect yourself financially from surprise health expenses associated with these conditions, it could end up costing a significant chunk of your life savings.
| | |
| --- | --- |
| Disease | Prevalence (in Nashville) |
| Arthritis | 25% |
| High Blood Pressure | 34% |
| Coronary Heart Disease | 6% |
| Diabetes | 10% |
| Kidney Disease | 3% |
Health care costs in Nashville, TN
The financial state of healthcare costs in the US is already in a precarious position. Many believe that the cost of prescription drugs and most hospital treatments are much higher than they should be compared to other civilized countries.
And there's even more bad news on top of that: it doesn't appear as though prices are going to go down anytime soon. If anything, most healthcare experts are predicting that healthcare costs will continue to rise annually for the foreseeable future. And it's up to you to plan accordingly.
| | | |
| --- | --- | --- |
| Disease | Prevalence (in Nashville) | Estimated Costs |
| Arthritis | 25% | $304 |
| High Blood Pressure | 34% | $180 |
| Coronary Heart Disease | 6% | $7,209 |
| Diabetes | 10% | $2,208 |
| Kidney Disease | 3% | $6,449 |
Medicare Advantage Savings in Nashville, TN
If you decide to supplement your Medicare benefits, the two main choices are either Medicare Advantage or Medicare Supplement Insurance. The most popular choice out of the two, as you saw earlier, is Medicare Advantage in Tennessee. But it doesn't work like Original Medicare.
Government law mandates that it must offer you the exact same medical benefits as Medicare Part A and Medicare Part B. But many policies offer more benefits than that, including benefits which cover the gaps in Traditional Medicare, at little additional cost. The government pays a portion of the premium for you, sometimes getting you your plan for as little as $0 per month.
But that's not all of the benefits you can get from Medicare Advantage. Many seniors enjoy the fact that all of their medical benefits are available under one single plan from the same company. It means that when they have to deal with claims and getting their medical costs covered, they only have to deal with one entity.
Medicare Advantage plans have more flexibility to be uniquely tailored to you; but at the same time, they can get complicated and overwhelming because of this. Conversely, Medicare supplement plans are standardized and streamlined for simplicity.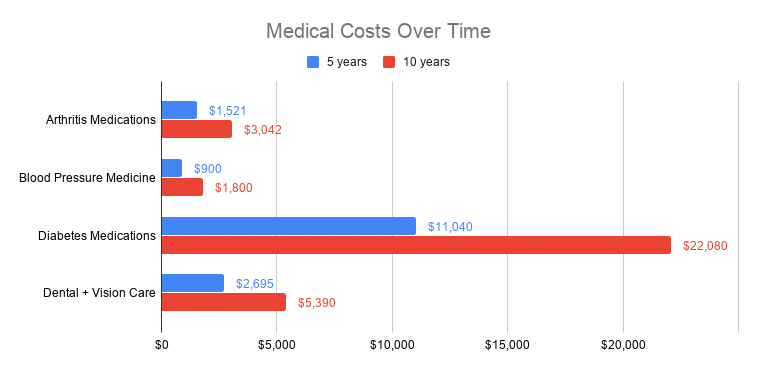 If vision and/or dental care is important to you, then purchasing a Medicare Advantage plan will have additional benefits. The vast majority of Medicare Advantage companies out there will let you add both dental and vision to your policy.
You'll get the added convenience of managing these benefits along with your other Medicare benefits with the same company. That being said, keep in mind that your insurance provider will determine your medical network.
You should call ahead and ask questions to any prospective Medicare Advantage companies if you like the dentist and/or optometrist you're seeing now and don't want to lose them when you switch plans.
Medicare Supplement (Medigap) Savings in Nashville, TN
If you can't or don't want to purchase a Medicare Advantage policy, you might prefer a Tennessee Medicare Supplement Insurance policy instead. Some seniors prefer these policies because they feel that their Original Medicare benefits are comprehensive enough, and they only want to protect themselves from the gaps in that coverage.
Medigap policies achieve this for a relatively affordable monthly premium, along with a few extra cost-share charges depending on the level of coverage purchased. You will still have your Original Medicare benefits – they will not be replaced by a completely separate policy the way they would be with Medicare Advantage.
Some seniors think their only financial weakness comes from the gaps in Medicare Part A coverage. Since Medicare Part A deals with hospital costs, these coverage gaps are usually related to things like blood transfusions, extended stays in the hospital, or end-of-life care.
Medigap plans A, D, K, and L are designed to protect you from these coverage gaps to varying degrees. And they tend to have a lower monthly premium than the other plans because of their limited coverage scope.
But some seniors are also worried about the gaps in Medicare Part B coverage. Over time, things like outpatient procedures, medical supplies, coinsurance costs, and more can add up – but not all of them are covered by Medicare Part B. That's where Medigap plans B, C, D, F, G, M, and N come in.
They cover various holes in Medicare Part B coverage, they can help you pay for coinsurance or other cost share expenses, and they can even help you with the Part B premium you owe the federal government each month. Currently, if you want the most comprehensive coverage available, you should look at Plan F.
But if you're in the market, you should grab it quickly while it is still around. Plan F is going to be retired at the end of 2020 and will no longer be available for purchase as of 2021.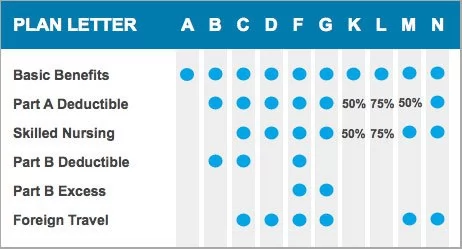 Do you take prescription drugs on a regular basis? Are you concerned about your vision, or oral health? If getting medical coverage for any of these things matters to you, you should know that these coverage options are not available via Medigap insurance.
But the good news is you can still enroll in the federal Medicare Part D prescription drug program even after purchasing a Medigap policy. You will also have the freedom to choose your own vision and dental insurance providers, unlike you would with Medicare Advantage.
This gives you the opportunity to find vision and dental coverage from insurance companies that offer things like discounts for seniors and other perks which make the coverage better and more affordable.
Nashville is one of the best places to live and to spend your golden years – but if you get your life savings wiped away by surprise medical bills, it might not feel that way.
The best thing you can do for yourself is to contact one of our customer service representatives right away to help get you on the right track. They can give you one on one consultation and help you figure out which Medicare Supplement Insurance plan is right for you.]
| | | | |
| --- | --- | --- | --- |
| Medigap Plan | Minimum Monthly Premium | Maximum Monthly Premium | Average Estimated Monthly Premium (Part B Premium Included) |
| Plan A | $68 | $172 | $256 |
| Plan B | $91 | $214 | $288 |
| Plan C | $104 | $272 | $324 |
| Plan D | $95 | $263 | $315 |
| Plan F | $103 | $246 | $310 |
| Plan F (high deductible) | $29 | $92 | $196 |
| Plan G | $87 | $215 | $287 |
| Plan K | $44 | $114 | $215 |
| Plan L | $82 | $160 | $257 |
| Plan M | $86 | $152 | $255 |
| Plan N | $73 | $371 | $358 |