If you're a senior living in Brookings, South Dakota, there are a few important facts you need to know about Medicare. By this point in your life, you may or may not have already retired. One way or the other, you probably can't afford to have to spend thousands of dollars out of pocket to cover emergency hospital visits or even to cover ordinary prescription medications. Unfortunately, that sort of thing is all but a certainty for many seniors who rely on Medicare in Brookings. More than being financially terrifying, this situation can be incredibly frustrating, given that most seniors are living on a fixed income and often not warned in advance about disastrous Medicare coverage gaps.
Facts and Figures
There are 2,254 senior citizens living in Brookings right now

There are only 5 hospitals in the Brookings area where seniors can get emergency and/or in-patient care

20% of South Dakota seniors have a Medicare Advantage plan

50% of seniors have a Medicare Supplement (Medigap) plan

Which leaves 30% of seniors potentially uninsured or underinsured against costly Medicare coverage gaps!
At first glance, this 30% figure might not seem like much, but that number means that more than three out of every ten seniors in South Dakota are at risk of suffering massive financial loss due to unforeseen illnesses or medical procedures that are not covered by Medicare. To make matters worse, you might be 65 or older today and still be enjoying the best health you've ever experienced only to find out tomorrow that you are in desperate need of insurance. The reason for this is that many diseases and illnesses have a strong correlation with age, meaning that as you get older your risk of developing one or more of those age-related illnesses increases exponentially. Whether you develop arthritis, high blood pressure, diabetes, or another disorder depends on a number of personal and environmental factors, but just take a look at the prevalence of these diseases among the seniors in your community.
| | |
| --- | --- |
| Disease | Prevalence in Brookings |
| Arthritis | 26% |
| High Blood Pressure | 27% |
| Coronary Heart Disease | 6% |
| Diabetes | 8% |
| Kidney Disease | 3% |
Healthcare Costs in Brookings, SD
By further analyzing the statistics in the "prevalence" chart above, we can see that hundreds of seniors in Brookings suffer from high blood pressure, an illness that can result in an additional $2,400 per year in the best of cases. The chart below lists this cost as well as those of the four other aforementioned illnesses. Unfortunately, because each of these diseases are what we call "age-related illnesses," which means that the frequency and severity of each of them will increase as you age, the healthcare costs associated with each of these five diseases skyrockets over time. Because of the fact that modern advancements in health sciences have enabled seniors to live longer, happier lives, these costs will pile up overtime. This has the unfortunate effect of increasing your dependence on your retirement savings later in life, a time when those savings are less capable of supporting increased withdrawal amounts.
| | | |
| --- | --- | --- |
| Disease | Prevalence in Brookings | Annual Cost of Treatment |
| Arthritis | 26% | $291 |
| High Blood Pressure | 27% | $354 |
| Coronary Heart Disease | 6% | $9,393 |
| Diabetes | 8% | $2,163 |
| Kidney Disease | 3% | $8,509 |
Medicare Advantage Savings in Brookings, SD
When confronted with the option to switch from original Medicare to Medicare Advantage, many seniors balk at the idea of swapping out one government program for another version of the same thing. However, Medicare Advantage couldn't be more different. Although Medicare Advantage plans are required by law to cover all of the same things as original Medicare, Medicare Advantage plans are privately owned and privately operated. Aside from controlling the minimum coverage availability, the government has almost no control over your Medicare Advantage plan, meaning that your healthcare choices become entirely yours to make. Furthermore, many providers of Medicare Advantage plans also offer the option to increase coverage benefits by paying a little extra each month. Paying a little extra might seem like the exact opposite of what you're looking to do, but keep in mind that the government will likely end up paying most or all of your premiums, turning that "little extra" into an average monthly premium of $0.
This reduction in premiums and increase in total coverage benefits can also be extended to more areas than simply the primary medical focuses. Medicare Advantage plans can cover Medicare Part A and Medicare B expenses as well as prescription drug coverage and dental and vision care. Medicare Advantage can even cover the minor necessities such as glucose monitors and testing strips. This makes Medicare Advantage insurance a far more comprehensive option than Medicare Supplement (Medigap) plans, even if the former do cost nominally more than the latter. At the end of the day, however, the savings speak for themselves. By enrolling in a Medicare Advantage plan, you can stand to save thousands of dollars over the five-year term and tens of thousands of dollars over then ten-year term.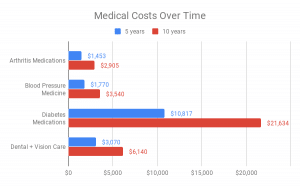 In addition to the savings that Medicare Advantage can bring you in the form of medical and prescription drug coverage, most providers also offer the option to include dental and vision care coverage. Let's face it, just because you're retired doesn't mean you don't like the look and feel of pearly white teeth. Of course, even if you do, how are you going to see them if you have to pay hundreds of dollars out of pocket to buy new glasses? These are two aspects of your life that you wouldn't have to worry about with Medicare Advantage but that would pose significant financial hurdles if you had either Medicare Supplement insurance or Original Medicare. Of course, there are ways for people with Medigap to get vision coverage, but we'll get to that in a second.
Medicare Supplement (Medigap) Savings in Brookings, SD
In general, Medicare Supplement (Medigap) insurance policies tend to prioritize the coverage of hospitalizations and other in-patient expenses. Each of the ten primary Medigap plan types provide significant benefits to seniors who suffer from chronic age-related conditions, such as heart disease and kidney disease because of the massive amounts of money that these seniors would otherwise have to spend each year in order to finance their continued treatment while navigating Medicare coverage gaps. These ten plans fall into two different categories, which we will cover in detail below. Furthermore, each individual plan provides different benefits at different costs than the others. The diversity of plan options in the Medigap system makes it imperative that you speak with a Medigap expert before making a decision that could so heavily impact your future.
The first four Medigap plans are Medicare Supplement Plans A, D, K, and L. Each of these four plans provide varied options, ranging from slightly different premiums to slightly different copays. Generally, however, they all provide the same or similar benefits through a focus on Medicare Part A and its related expenses. For seniors who don't use their Original Medicare Part B benefits enough to put them in the coverage gap for that category but still spend large amounts of money out-of-pocket in hospitals or in-patient care centers, this can be the perfect option. On the other hand, these plan types can pose a massive financial burden for anybody who spends an equal amount of money on both Part A and Part B or even more money on Part B than on Part A. Why? These plans do not cover Medicare Part B coverage gaps whatsoever.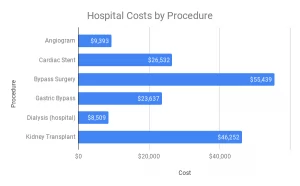 If you need help paying for both your Medicare Part A and your Medicare Part B coverage gaps, however, you're not going to get as much benefit from Plans A, D, K, or L as you would from Plans B, C, F, G, M, or N. The latter cover both parts of Original Medicare, whereas the former only cover expenses related to Medicare Part A. This means that seniors who suffer from severe and chronic health conditions might gain more benefits at lower costs with the less comprehensive category whereas other seniors might require the more comprehensive category in order to gain the optimal level of coverage that they both need and deserve. Regardless of which group you identify with, Medicare Supplemental insurance can stand to save you thousands of dollars every year. All that really matters is that you select the plan that best suits your needs. See the graphic below to help guide yourself in the decision-making process. Unfortunately, due to changes in rules and regulations, Plan F will no longer be offered as of 2021.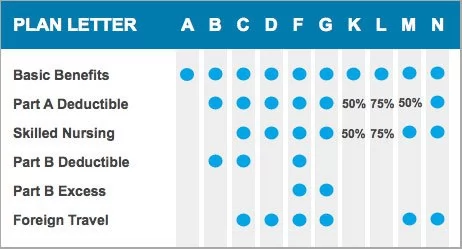 The most notable downside of Medicare Supplement plans (in both category one and category two) is that these plans are less comprehensive than Medicare Advantage. We have said this multiple times now, but what exactly does it mean? To put it simply, Medicare Supplement plans cannot provide any form of coverage whatsoever for prescription drugs, dental care, or vision care. Instead, you would have to pursue yet another supplemental insurance plan in order to secure coverage for each of these coverage categories, increasing the total number of insurance providers you have to deal with (one for Original Medicare; one for your Medigap plan; and one or more for your prescriptions, dental, and vision care).
It is important to make sure that you understand that keeping yourself properly insured is more important now than ever before. Because of the rising healthcare costs in Brookings, South Dakota, even the smallest sign of an age-related illness could spell disaster, not only for your financial well-being but also for your health. It's never too early to start looking for Medicare supplemental plans, but it can quickly become too late. Be sure to head to Medigap.com and start shopping for plans today. At the end of the day, your peace of mind will be worth it.
| | | | |
| --- | --- | --- | --- |
| Medigap Plan | Minimum Monthly Premium | Maximum Monthly Premium | Average Estimated Monthly Premium (Part B Premium Included) |
| Plan A | $63 | $222 | $278 |
| Plan B | $100 | $252 | $312 |
| Plan C | $118 | $287 | $338 |
| Plan D | $112 | $173 | $278 |
| Plan F | $118 | $241 | $315 |
| Plan F (high deductible) | $34 | $94 | $200 |
| Plan G | $104 | $183 | $279 |
| Plan K | $47 | $102 | $210 |
| Plan L | $79 | $151 | $251 |
| Plan M | $106 | $119 | $248 |