The city of Columbia in South Carolina has a plethora of options for healthcare. Whether you need surgery at a state-of-the-art hospital or a simple ultrasound, there is somewhere for you to go to receive such treatment. However, not everybody's insurance makes it easy to afford those treatments. If you are reliant on Original Medicare as your sole insurance plan, then you can easily find yourself paying thousands of dollars in out-of-pocket expenses each year just to be able to treat your existing illnesses. That's because of the threat of the Medicare coverage gaps. Fortunately, there are two ways to avoid those hefty out-of-pocket costs: to enroll in a Medicare Advantage plan or to enroll in a Medicare Supplement Insurance plan.
Facts and Figures
There are 12,944 seniors living in Columbia right now.
There are 10 hospitals in the Columbia area where seniors can get emergency and/or in-patient care.
24% of South Carolina seniors have a Medicare Advantage plan.
22% of South Carolina seniors have a Medicare Supplement (Medigap) plan.
Which leaves 52% of seniors potentially uninsured or underinsured against costly Medicare coverage gaps!
More than half of all seniors in Columbia struggle to obtain reliable and affordable access to healthcare. If you are one of those seniors, the problems are only just getting started. As you continue to age, your risk of developing an age-related illness increases. As your risk of developing a new illness increases, so too do the frequency and severity of the symptoms of any age-related illnesses that you already have. That means that, as you're developing new adverse health conditions, your previous conditions might come back with a vengeance. This is of course, not to mention that it is entirely possible to develop more than one age-related illness in your lifetime. The data below shows just how prevalent a handful of harmful age-related illnesses are for the senior population in your city of Columbia, South Carolina.
| | |
| --- | --- |
| Disease | Prevalence in Columbia, SC |
| Arthritis | 27% |
| High Blood Pressure | 38% |
| Coronary Heart Disease | 6% |
| Diabetes | 13% |
| Kidney Disease | 3% |
Healthcare Costs in Columbia, SC
It gets worse. When you develop new symptoms and/or when the symptoms that you already have worsen in both frequency and severity, your need for treatment will increase as well. As your need for treatment increases, so too will the amount of money that you'll need to pay in out-of-pocket expenses to cover those treatments. Since medical costs are rising every year, your treatment expenses will actually increase every year even if your need for treatment remains the same. Since seniors are living longer lives now than ever before, your risk of losing your financial and healthcare independence is at an all-time high as medical costs begin to stack up over time.
| | | |
| --- | --- | --- |
| Disease | Prevalence in Columbia, SC | Annual Cost of Treatment |
| Arthritis | 27% | $291 |
| High Blood Pressure | 38% | $354 |
| Coronary Heart Disease | 6% | $9,038 |
| Diabetes | 13% | $2,163 |
| Kidney Disease | 3% | $8,111 |
Medicare Advantage Savings in Columbia, SC
Medicare Advantage is a private insurance plan that completely replaces Original Medicare. But that doesn't mean that you would lose any benefits by switching over to Medicare Advantage. The law requires that all Medicare Advantage plans provide the same level of baseline coverage as Original Medicare. In order to appeal to a larger number of potential beneficiaries, however, many providers of Medicare Advantage plans also offer additional coverage options at an additional cost. That said, it is important to know that the government tends to take care of all or almost all of your Medicare Advantage premiums, meaning that it is possible to enjoy all of the baseline coverage options as well the additional coverage options without paying so much as a penny in premiums.
If you suffer from arthritis, diabetes, high blood pressure, or another chronic condition that requires a large number of prescription medications or minor medical equipment, then you might find that Medicare Advantage provides the best array of coverage options for you. That's because the prescription coverage options cover far more than what Medicare Part D prescription drug coverage can cover and the minor medical equipment coverage can help make things like glucose monitors and testing strips much more affordable.
In addition to prescription drug coverage, Medicare Advantage plans can provide coverage for vision and dental care. That is an option that is only possible through Medicare Advantage insurance. Neither Medicare Supplement insurance nor Original Medicare provide much of any benefits whatsoever to beneficiaries in either the vision or dental categories. While on a Medicare Supplement plan, you will have to find another way to secure vision and dental care coverage. While on Original Medicare, you will most likely have to supplement your federal medical benefits with a private supplement insurance designed specifically for vision and/or dental.
Medicare Supplement (Medigap) Savings in Columbia, SC
Medicare Supplement insurance plans can be great options for moth seniors. More commonly referred to as Medigap plans, Medicare Supplement Insurance plans make improving your Original Medicare coverage as easy as possible. That means that Medigap plans do not replace Original Medicare like Medicare Advantage plans do. Instead, they simply add additional benefits directly to the Original Medicare coverage options, helping to ensure that you no longer have to worry about paying costly Medicare coverage gaps. All in all, there are ten different Medigap plans from which to choose.
The first few Medigap plans that you should know about are Medigap plans type A, D, K, and L. These plans provide significant benefits to seniors who find themselves struggling to afford Medicare Part A expenses, such as hospitalizations or skilled nursing care. Since these costs can be exorbitantly expensive for seniors suffering from chronic health conditions the likes of age-related heart and kidney disease, these plans are often critical to enabling those affected seniors to enjoy access to quality healthcare.
If you need help paying for Medicare coverage gaps related to both Medicare Part A as well as Medicare Part B, however, you're not going to get much benefit from one of those plans. Instead, you'll have to consider a Medigap plan of type B, C, F, G, M, or N. These plans are designed not only to remove the coverage gaps of Medicare Part A but also those of Medicare Part B. That helps cover just about everything from the ambulance to the hospital discharge. When making your decision on which Medigap plan is right for you, understand that the most popular and comprehensive plan – Medigap Plan F – will no longer be available for sale after December 2020. So you'll have to act fast unless you want to settle for a less comprehensive plan.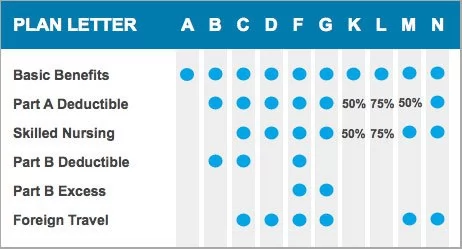 In order to obtain prescription drug coverage and dental and vision care coverage while on a Medigap plan, there are a few things that you have to do. First, look into Medicare Part D prescription drug coverage. For most seniors, the benefits therein are good enough to get by with little to no additional coverage gaps. Second, look into a private insurance plan that covers only vision and dental care. That can typically be done at any time of the year without having to wait for an open enrollment window, since open enrollment usually only applies to health insurance. Best of all, dental and vision care coverage often come in a bundle that you can purchase for fewer than $100 per payment period.
As medical costs are rising, your risk of developing new or worsening symptoms is increasing, and your retirement savings are becoming more and more stressed with each passing day, it is more important now than ever before to make sure that your health insurance is properly taken care of. By sticking with Original Medicare, you risk these harms and more stripping away at your financial and healthcare independence. So don't wait a second longer. Speak to the experts at Medigap.com today to see what kind of plan is right for you.
| | | | |
| --- | --- | --- | --- |
| Medigap Plan | Minimum Monthly Premium | Maximum Monthly Premium | Average Estimated Monthly Premium (Part B Premium Included) |
| Plan A | $60 | $192 | $262 |
| Plan B | $86 | $247 | $302 |
| Plan C | $95 | $314 | $340 |
| Plan D | $84 | $276 | $316 |
| Plan F | $100 | $308 | $340 |
| Plan F (high deductible) | $29 | $138 | $219 |
| Plan G | $90 | $284 | $323 |
| Plan K | $42 | $87 | $200 |
| Plan L | $72 | $123 | $233 |