If you're like most seniors, you might think that you know everything about your hometown. Unfortunately, that's not always the case. For example, did you know that almost half of the seniors in Akron, Ohio don't have enough healthcare coverage to keep themselves protected from the dreaded Medicare coverage gaps? If you're not familiar with Medicare coverage gaps, here's the gist: there are certain hospital and cost-share expenses in the Medicare system which you will have to pay for 100% out-of-pocket unless you purchase the right supplemental coverage plan. Fortunately, through Medicare Advantage and Medicare Supplement insurance plans, that situation can be avoided. Let's take a look at a few of the numbers in the Akron area.
Facts and Figures
There are currently 28,116 seniors living in Akron, Ohio.
There are 11 hospitals in Akron where seniors can go for emergency and/or in-patient care.
35% of seniors in Ohio have a Medicare Advantage plan.
19% of seniors in Ohio have a Medicare Supplement (Medigap) plan.
That leaves 46% of seniors potentially uninsured or underinsured against costly Medicare coverage gaps!
Almost one in every two seniors in Akron suffers from a healthcare access deficit, meaning that they are either forced to pay exorbitant fees out-of-pocket due to these coverage gaps, or to go without treatment until further notice. For most seniors entering early retirement, neither of these two alternatives are entirely impermissible. In fact, few seniors in early-to-mid retirement will even come close to the Medicare coverage gaps. However, that can change within a matter of a few short years with the development of one or more age-related illnesses. These illnesses become more common and more widespread as a population ages, increasing the need for healthcare and valid treatment plans. For 11,933 seniors in Akron, the costs present insurmountable barriers to the reception of the treatment that they both need and deserve. The chart below details the prevalence of a few of the most common age-related illnesses in the Akron area.
| | |
| --- | --- |
| Disease | Prevalence in Akron, OH |
| Arthritis | 30% |
| High Blood Pressure | 38% |
| Coronary Heart Disease | 8% |
| Diabetes | 13% |
| Kidney Disease | 4% |
Healthcare Costs in Akron, OH
Unfortunately, the worst is yet to come. For the thousands of seniors in Akron who do not have sufficient healthcare coverage, the development of an additional age-related illnesses can be more than just another inconvenience. As you age, the risk of your symptoms worsening and becoming more frequent and severe increases right alongside your risk of developing a second or even a third age-related illness. As the frequency and severity of your illnesses increase, so too does your need for treatment. This then increases the amount of money that you have to spend on healthcare treatment options. If you happen to find yourself in a Medicare coverage gap, then these costs can measure in the thousands of dollars each year, and that's a low estimate. For those seniors in Akron who suffer from chronic kidney disease, the results can be even more disastrous.
| | | |
| --- | --- | --- |
| Disease | Prevalence in Akron, OH | Annual Cost of Treatment |
| Arthritis | 30% | $280 |
| High Blood Pressure | 38% | $288 |
| Coronary Heart Disease | 8% | $7,168 |
| Diabetes | 13% | $2,158 |
| Kidney Disease | 4% | $6,159 |
Medicare Advantage Savings in Akron, OH
By enrolling in a Medicare Advantage plan, on the other hand, you can avoid all or most of the out-of-pocket expenses that would be incurred as part of your Medicare coverage gaps. It is important to note that Medicare Advantage plans are not provided by the government in the same way as Original Medicare plans; however, the government still requires that Medicare Advantage plans provide all of the same minimum benefits as Original Medicare, meaning that you would not have to suffer a decrease in quality in order to switch plans. In fact, many providers of Medicare Advantage plans also offer additional coverage options if you want to pay a little more each payment period.
Each Medicare Advantage plan is different, with seniors adding on the options that suit their own particular needs, but one of the most common additions to Medicare Advantage plans is the option for prescription drug coverage. Prescription drug coverage options obtained through Medicare Advantage plans tend to be quite versatile, although the specific coverage options vary from state to state and provider to provider. Another common addition to Medicare Advantage plans is the addition of coverage for medical equipment the likes of glucose monitors and testing strips. These additional coverage options provide the most value to people suffering from chronic health conditions like arthritis, diabetes, and high blood pressure – although they can save any seniors quite a bit of money in the long term, as the chart below demonstrates.
Two of the other most common additional coverage options for seniors with Medicare Advantage plans are dental and vision care coverage. These coverage options can enable you to see your preferred dentist or optometrist or both whenever you'd like. Of course, the specifics of the benefits are not all the same from plan to plan. This is a benefit that is unlike any other in the world of Medicare coverage. To put it simply, you cannot add prescription drug, dental care, or vision care coverage to Original Medicare nor to Medicare Supplement Insurance. However, there are ways around those limitations, which we will get to later.
Medicare Supplement (Medigap) Savings in Akron, OH
The primary difference between Medicare Advantage plans and Medicare Supplement (Medigap) plans is that the former entirely replace your Original Medicare plan, whereas the latter only serve to supplement your Original Medicare plan. That means that, with Medicare Advantage, you would have only one healthcare provider, and that's it. However, with Medigap insurance, you would have two providers: the United States government and the private company providing your additional supplemental insurance options. In general, there are only ten options from which to choose when it comes to Medigap insurance, further widening the divide between the three forms of insurance. Each of these ten plans then falls into one of two categories.
The first of those categories deals primarily with Medicare Part A coverage gaps, which can pose monumental challenges to seniors suffering from conditions similar to chronic kidney or heart disease. This category includes Medicare Supplement insurance Plans A, D, K, and L. Although these plans can be perfect for anybody who requires frequent, expensive emergency and/or in-patient care, they don't provide much benefit for any other part of Medicare. That means that, if you find yourself struggling with coverage gaps related to other parts of Medicare, such as Medicare Part B, you're not going to get the most out of your Medigap A, D, K, or L plan.
That brings us to the second category of Medigap plans, which provides coverage for both Medicare Part A and Medicare Part B coverage gaps. These plans include Medicare Supplement Insurance Plans B, C, F, G, M, and N. For the most part, there is no one plan that works best for everybody and there is no one plan that doesn't work well for anybody. Each plan comes with its own individual costs and benefits, further highlighting the need to speak with an expert before selecting what could very well be the wrong plan for you. Making matters worse is the fact that not every plan is destined to be around forever. For instance, Medigap Plan F is not going to be offered after 2020.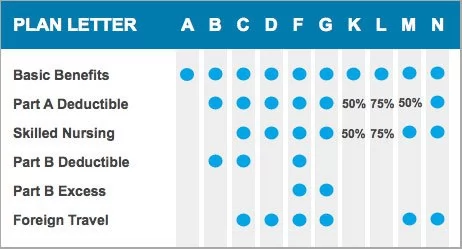 There are a few major costs that all Medigap plans have in common, though. As we mentioned earlier, there is no way to receive prescription drug coverage or dental and vision coverage through a Medigap plan. But does this mean that you'll have to pay out-of-pocket for those three categories of care for the rest of your life? Not at all! You can simply supplement your Medigap plan by enrolling in a separate plan (or plans) that covers these three categories. As a general rule of thumb, it tends to be a good idea to ask your Medigap provider if they also provide separate plans that cover the three other categories together so that you can limit your total number of providers.
The road may be rough and the choices may seem limited, but it is important to persevere. If you give up now, you might very well be giving up more than just your healthcare options. You could be giving up your finances, your happiness, and even your independence. However, by taking your health into your own hands here at Medigap.com today, you can secure your future against unforeseen medical circumstances in a way that not only protects your health, but also your wealth and your happiness all at once.
| | | | |
| --- | --- | --- | --- |
| Medigap Plan | Minimum Monthly Premium | Maximum Monthly Premium | Average Estimated Monthly Premium (Part B Premium Included) |
| Plan A | $71 | $196 | $269 |
| Plan B | $104 | $223 | $299 |
| Plan C | $123 | $253 | $324 |
| Plan D | $96 | $181 | $274 |
| Plan F | $124 | $222 | $309 |
| Plan F (high deductible) | $28 | $69 | $184 |
| Plan G | $97 | $169 | $269 |
| Plan K | $45 | $91 | $204 |
| Plan L | $81 | $128 | $240 |
| Plan M | $97 | $142 | $255 |
| Plan N | $84 | $172 | $264 |