New York City is home to over 8 million people – and all of them, at some point, will need access to healthcare. But that care will be more expensive for people who are senior citizens; and it will be more expensive still if you don't have the right Medicare Supplement insurance. Without such an insurance policy, the uncovered gaps in Medicare Parts A and B can quickly become expensive in ways that few people properly anticipate. But with our help, we can get you a Medicare supplement insurance policy which covers these gaps at a price that is well within your budget.
Facts and Figures
There are 1,142,229 senior citizens living in New York City right now
There are 11 hospitals in the New York metropolitan area where senior citizens can get emergency or inpatient care
38% of New York seniors have a Medicare Advantage plan
12% of New Yorkers, on the other hand, have a Medicare Supplement (Medigap) insurance plan
That means half of New York seniors (50%) might not have adequate financial protection from Original Medicare coverage gaps!
As you get older, certain chronic diseases are more common than others. But just because these diseases are common doesn't mean that their treatment costs get more reasonable with age. If anything, some of them get increasingly expensive as the issue gets worse. Certain conditions like arthritis or high blood pressure may only require relatively affordable prescriptions or topical drug store ointments to help manage; others could require lengthy and expensive hospital stays.
| | |
| --- | --- |
| Disease | Prevalence (in New York City) |
| Arthritis | 21% |
| High Blood Pressure | 19% |
| Coronary Heart Disease | 6% |
| Diabetes | 11% |
| Kidney Disease | 3% |
Health care costs in New York, NY
It's not just that most of the diseases in the chart above are progressive in nature and become more expensive to treat as time goes on. The other problem is that healthcare costs are continuously rising on an annual basis. Unless the health care system changes dramatically – which might not happen anytime soon – costs will continue to go up. You can see a snapshot of hospital costs for common senior ailments in the chart below. This is just where prices are right now – these costs will likely get more expensive in the future.
| | | |
| --- | --- | --- |
| Disease | Prevalence (in New York City) | Estimated Costs |
| Arthritis | 21% | $305 |
| High Blood Pressure | 19% | $180 |
| Coronary Heart Disease | 6% | $8,748 |
| Diabetes | 11% | $2,208 |
| Kidney Disease | 3% | $9,036 |
Medicare Advantage Savings in New York, NY
When it comes to supplementing your Medicare benefits, some seniors choose to purchase a New York Medicare Advantage private insurance plan. These plans are supplied directly from private health insurance companies, but the federal government helps you pay for your monthly premium in order to stay enrolled. By law, these Medicare Advantage plans must give you the exact same benefits that you would be eligible for had you stayed enrolled in Medicare part A and Medicare Part B. Some seniors get their Medicare Advantage plans with as many or more benefits than they would get with Original Medicare for as little as $0 each month.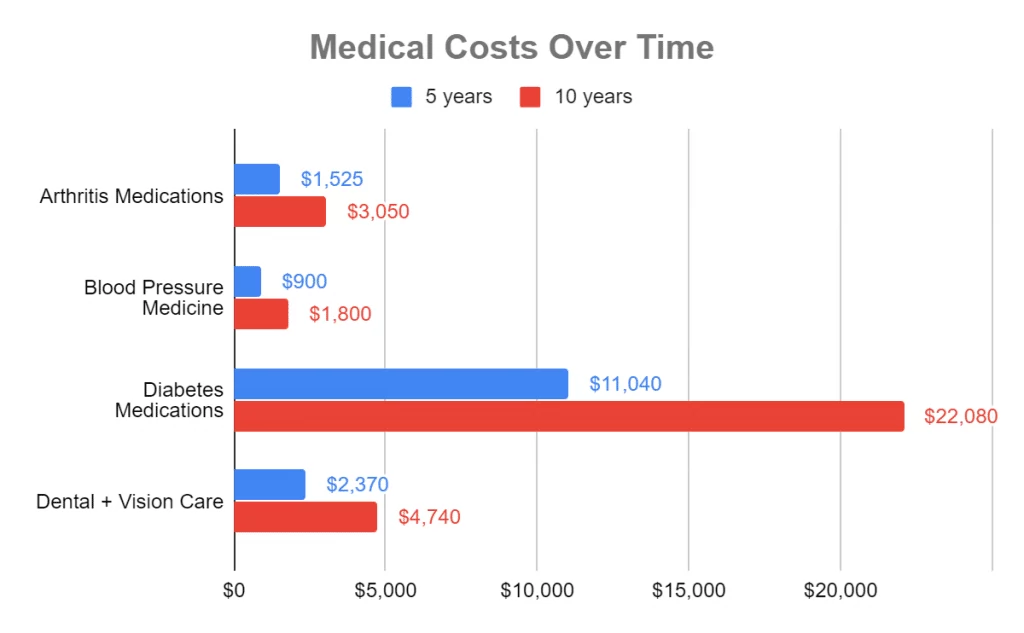 There are a few different reasons why Medicare Advantage appeals to some seniors over other supplement plans. In certain areas, some Medicare Advantage plans may do a better job helping seniors pay for incidentals like glucose monitors or testing strips. They might also help seniors in some regions get a better deal on prescription drugs. The graph below shows what such out-of-pocket costs would look like over time. Without the help of a Medicare Advantage Supplement Plan, these out-of-pocket costs could be 100% your responsibility.
Another thing you might notice about the graph above is that it includes estimates for dental and vision expenses. Taking good care of your eyes and your teeth is as important in your golden years has it is at any other stage in your life – if not more so. But Original Medicare and most Medicare Supplement Plans don't help you get affordable dental and/or vision coverage. The vast majority of Medicare Advantage policies, on the other hand, will likely offer you a dental and/or vision option to add to your coverage. And if you have serious oral health or eye health issues, this type of coverage can be even more valuable over time.
Medicare Supplement (Medigap) Savings in New York, NY
The next most popular option for supplementing your Original Medicare coverage is with a New York Medicare Supplement (Medigap) insurance policy. Like Medicare Advantage, these policies are offered by private companies – not by the federal government. Also like Medicare Advantage, these policies are tightly regulated by the federal government. But you cannot purchase a Medicare Advantage and a Medigap policy at the same time. You have to choose one or the other. Furthermore, Medigap policies are purchased when you want to stay with Original Medicare but supplement the coverage gaps; Medicare Advantage replaces Original Medicare entirely.
The Medigap plan you purchase will depend largely on which gaps in Original Medicare coverage concern you the most. Some plans dedicate most of their resources to supplementing your Medicare Part A benefits, which are your hospital costs. Expensive conditions like coronary disease and renal failure are two of the most common and the most costly Health ailments which are not completely covered by Original Medicare. If you are only concerned with the coverage gaps in Medicare Part A, then you're going to want to take a closer look at Medigap plans A, D, K, or L in order to protect yourself from those expenses.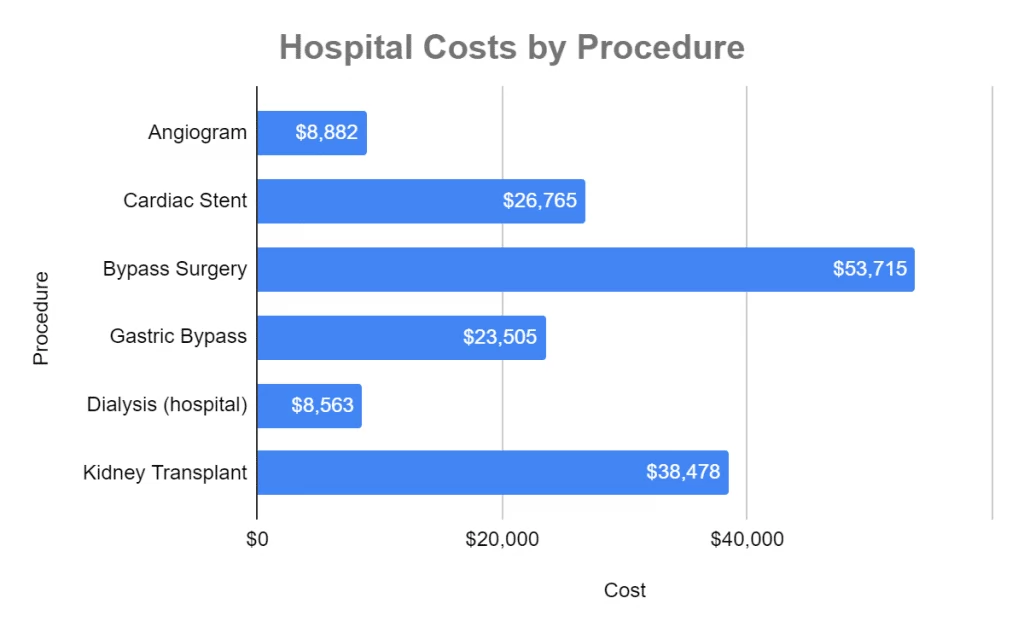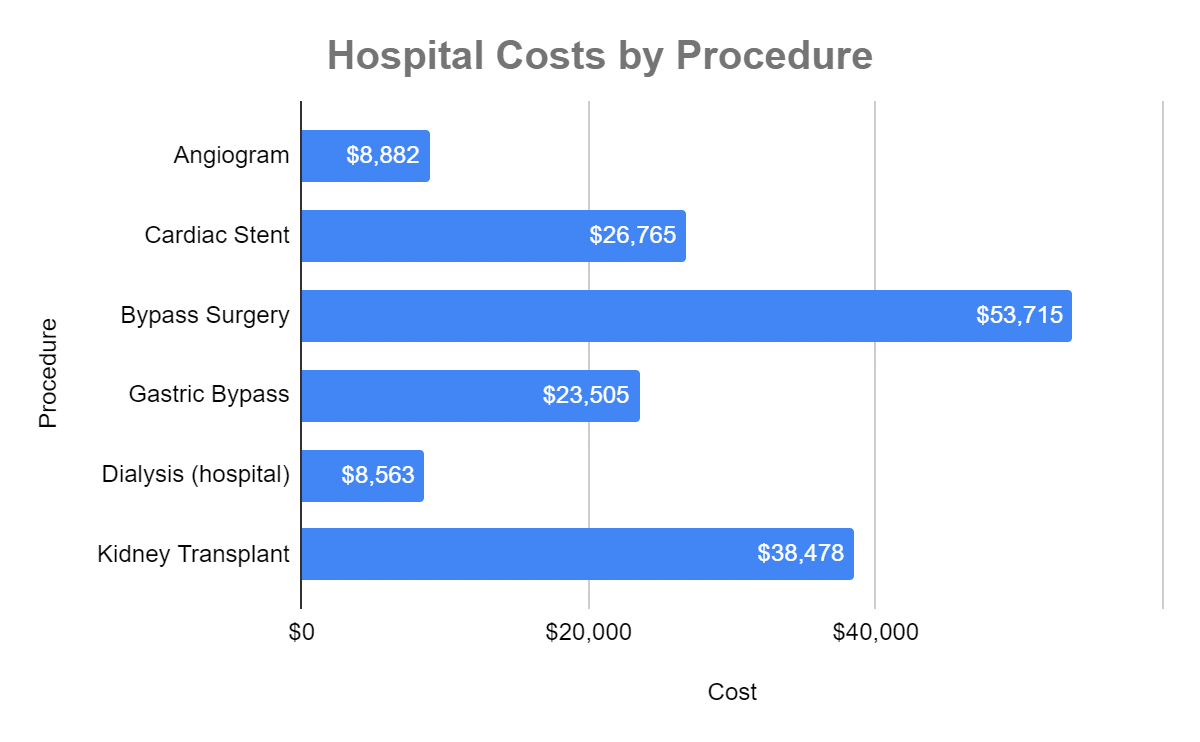 Most seniors, however, are concerned about the gaps in Medicare Part A and Medicare Part B; not just with their hospital costs. The remainder of the 10 Medigap plans – plans B, C, D, F, G, M, and N are the plans which not only tackle hospital costs, but also protect you from various gaps in Medicare Part B coverage. There is one other plan, Plan F, which is going to be phased out soon and won't be available for sale after the year 2020. The rest of the plans will all be available for the foreseeable future.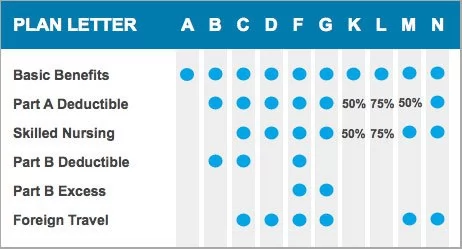 Unlike some Medicare Advantage plans, you won't be able to add coverage for prescription drugs, vision, or dental to a Medigap policy. But there are other ways to get the coverage you need for these supplemental services. Since purchasing a Medigap policy requires you to still be enrolled in Original Medicare first, you will also have the option to enroll in a Medicare Part D prescription drug program. Many seniors are satisfied with this option because they feel it helps make their life-saving prescriptions more affordable. You may also want to look into purchasing private dental and/or vision insurance from a local provider. It's not unheard of for some companies to offer discounts specifically to senior citizens.
Unfortunately, New York City is one of the most expensive cities in the country when it comes to your healthcare costs. But you shouldn't lose sleep over how you're going to pay for these costs. You should be spending your time enjoying your golden years! That's where we come in. With our help, you can find the Medicare Supplement Insurance policy which is right for you so that you can spend more time living and less time worrying about paying for the health care you need.
| | | | |
| --- | --- | --- | --- |
| Medigap Plan | Minimum Monthly Premium | Maximum Monthly Premium | Average Estimated Monthly Premium (Part B Premium Included) |
| Plan A | $157 | $363 | $396 |
| Plan B | $188 | $394 | $427 |
| Plan C | $218 | $500 | $495 |
| Plan D | $239 | $416 | $463 |
| Plan F | $219 | $505 | $498 |
| Plan F (high deductible) | $76 | $179 | $263 |
| Plan G | $203 | $472 | $473 |
| Plan K | $78 | $181 | $265 |
| Plan L | $131 | $256 | $329 |
| Plan M | $231 | $374 | $438 |
| Plan N | $158 | $379 | $404 |