How does it feel to know that you're about to retire and enjoy your golden years in style? If you are a Nashua resident, it probably feels pretty good. But do you know what doesn't feel so great? Medicare coverage gaps. These little-known coverage gaps can cost you tens of thousands of dollars in medical expenses – or more – if you aren't careful. But today we're going to discuss some options for you so that you can purchase the coverage you need to protect yourself from these out-of-pocket costs.
Facts and Figures
There are 13,476 senior citizens living in Nashua right now
There are 8 hospitals in the Nashua area where seniors can get emergency and/or in-patient care
10% of New Hampshire seniors have a Medicare Advantage plan
30% of seniors have a Medicare Supplement (Medigap) plan
Which leaves 60% of seniors potentially uninsured or underinsured against costly Medicare coverage gaps!
Take a look at the chart below. Are you currently suffering from any of the diseases listed? Are you on medications for any of them, do you require more frequent doctor appointments because of them, or have you had to undergo certain procedures because of them? Then you may soon find yourself falling victim to Medicare coverage gaps. While it's true that a sudden, traumatic injury or even a cancer diagnosis could suddenly saddle you with tens of thousands of dollars in unanticipated medical care costs, it's the silent and progressive diseases like the ones listed below that can cost you the most thanks to the gaps in coverage from Medicare Parts A and B.
| | |
| --- | --- |
| Disease | Prevalence in Nashua |
| Arthritis | 26% |
| High Blood Pressure | 29% |
| Coronary Heart Disease | 6% |
| Diabetes | 9% |
| Kidney Disease | 3% |
Healthcare Costs in Nashua, NH
Chronic diseases aren't cheap. The longer you have them, the more money it will cost you to manage them. And past a certain point, medicare will stop paying out on claims. If you have to have major heart surgery because of a coronary bypass, for example, your extended hospital stay might not be fully paid for by Medicare. The same is true if you require multiple blood transfusions during surgery. And even if you sign up for Medicare Part D, your prescription drug costs could still be prohibitively expensive. Just take a look at how much you're expected to spend annually on the following chronic conditions in the chart below. Now understand that these estimates are generally on the lower end of the spectrum – and most seniors have to pay considerably more than what is pictured below.
| | | |
| --- | --- | --- |
| Disease | Prevalence in Nashua | Annual Cost of Treatment |
| Arthritis | 26% | $291 |
| High Blood Pressure | 29% | $354 |
| Coronary Heart Disease | 6% | $9,878 |
| Diabetes | 9% | $2,163 |
| Kidney Disease | 3% | $8,753 |
Medicare Advantage Savings in Nashua, NH
Let's start by talking about Medicare Advantage. These plans aren't very popular in New Hampshire – only about 10% of seniors have signed up for one in recent years. Why is this? It might have something to do with the fact that New Hampshire residents don't trust a private health insurance company to manage their health care needs. That's right; Medicare Advantage is not directly from the government. It is closely regulated and supervised by the federal government, but Medicare Advantage plans are a private health insurance product. They start by offering you equal benefits that you would get under Medicare Parts A and B, and many companies will go the extra mile to offer you more coverage on top of that – as long as you agree to pay a higher monthly premium. The monthly premium you pay is subsidized by federal tax revenue from the Medicare system, so you can get these plans for as little as $0 a month if you are lucky.
Some other attractive features of Medicare Advantage include the customizability and the convenience of having all of your medical benefits managed under one, single insurance plan. You can add vision, dental insurance, prescription drug coverage, or all of the above to your Medicare Advantage policy if you wish. And if you build yourself a Cadillac plan by adding all of the available coverage options, it will be easier to manage your care and your medical needs because you'll only be dealing with one single entity: your Medicare Advantage provider.
Unfortunately, not every single senior in New Hampshire can afford such a comprehensive, Cadillac plan. Adding all of the coverage you need could make your Medicare Advantage policy prohibitively expensive. Still other seniors feel uncomfortable surrendering their federally guaranteed medical benefits to a private company. They may not trust that a for-profit company has their best interests at heart, even if they are closely regulated and supervised by the government. If you are hesitant to sign up for a Medicare Advantage plan, then you might want to take a look at a Medicare Supplement Insurance plan instead.
Medicare Supplement (Medigap) Savings in Nashua, NH
More than 30% of seniors in Nashua have chosen to supplement their Medicare needs with a Medigap policy instead of Medicare Advantage. In general, these policies tend to have a better value because they are smaller and less complicated than a comprehensive Medicare Advantage policy. They're designed to take care of the gaps in your Medicare coverage, and nothing more. This can save you money in monthly premiums as well as prevent you from paying for coverage you aren't actually using. There are 10 plans total that you can choose from, each one designated with an alphabetical letter. The plan you choose will have much to do with what your specific medical needs are and which gaps you feel you need the most protection from.
We can start by talking about the plants which are designed with Medicare Part A coverage gaps in mind: plans A, D, K, and L. Medicare Part A coverage gaps can include things like extended hospital stay coverage, extra blood transfusion coverage, or the hospice care you will likely require in your final years. Because these expenses are few and far between, the average Medigap plan with these expenses in mind tends to cost less than many of the others. But the downside is that you won't have any protection from Medicare Part B coverage gaps.
If you want protection from Medicare Part B coverage gaps – which most seniors do – then you will also want to take a look at Medicare supplement insurance plans B, C, F, G, M, and N. Not only do all of these plans have the same coverages as the other four plans mentioned above, but they have varying levels of coverage for gaps in Medicare Part B coverage. This means that a moderate or a significant portion of your excess charges, coinsurance, and co-pays will be paid for with one of these Medigap supplements. And if you want as comprehensive of a policy as you can get, you will need to act fast. 2020 is the final year that Plan F, the most comprehensive Medigap plan, will be available. You can either get grandfathered into the program by enrolling now, or settle for a less comprehensive Medigap policy when Plan F gets phased out at the end of 2020.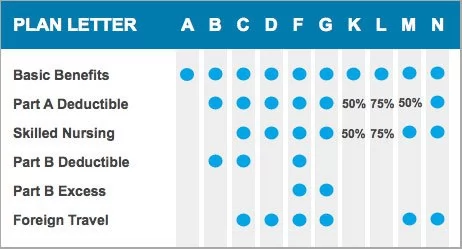 One of the reasons Medigap policies can keep their costs competitive with Medicare Advantage is because they don't add extra supplements or riders the way Medicare Advantage does. This means that if you want vision and/or dental coverage, you will have to purchase separate policies from vision and dental insurance providers in your area. Thankfully, you can do this at any time of year without being hamstrung by restrictive enrollment periods. And if you choose to keep your Original Medicare benefits, you will be eligible to enroll in Medicare Part D prescription drug coverage. This coverage will take care of the vast majority of your prescription drug costs, and only cost you a maximum of 25% of your prescriptions' total cost if you hit the "donut hole" between your yearly maximum and the catastrophic coverage threshold limit.
Now that you know how financially catastrophic Medicare coverage gaps can be – as well as what your options are for protecting yourself against them – it's time to make a decision. It's best not to wait because who knows how long it will be before you get struck by surprise with a major medical emergency. It's best to protect yourself now with a supplemental policy so that you don't have to worry about what the future will bring. Our experts are standing by to help you out – simply reach out and contact us and we can help you find a cost-effective supplement today!
| | | | |
| --- | --- | --- | --- |
| Medigap Plan | Minimum Monthly Premium | Maximum Monthly Premium | Average Estimated Monthly Premium (Part B Premium Included) |
| Plan A | $108 | $264 | $322 |
| Plan B | $147 | $234 | $326 |
| Plan C | $183 | $275 | $365 |
| Plan D | $169 | $260 | $350 |
| Plan F | $183 | $357 | $406 |
| Plan F (high deductible) | $48 | $81 | $200 |
| Plan G | $145 | $311 | $364 |
| Plan K | $60 | $130 | $231 |
| Plan L | $101 | $169 | $271 |
| Plan M | $143 | $205 | $310 |
| Plan N | $127 | $280 | $339 |