Are you a senior citizen in Concord, New Hampshire who is new to Medicare? You're certainly not alone. Over 12% of Concord residents are over the age of 65. And so many of them don't know that they aren't currently protected from the costly gaps in Medicare coverage. But today is the day that you get to solve that problem for yourself. This article is full of helpful information about different Medicare supplement insurance policies you can purchase for yourself that will affordably and effectively help you tackle your Medicare coverage gap problems.
Facts and Figures
There are 6,815 senior citizens living in Concord right now

There are 4 hospitals in the Concord area where seniors can get emergency and/or in-patient care

10% of New Hampshire seniors have a Medicare Advantage plan

30% of seniors have a Medicare Supplement (Medigap) plan

Which leaves 60% of seniors potentially uninsured or underinsured against costly Medicare coverage gaps!
Age will come for us all. But it is a long and slow process fraught with things like chronic health conditions. You can see the top 5 chronic diseases that Concord seniors are suffering from right now in the chart below. Once you get diagnosed with such a condition, there's practically nothing you can do to stop or reverse it. But you can at least slow it down with the help of your doctor and modern medicine. It doesn't have to dramatically reduce your quality of life.
| | |
| --- | --- |
| Disease | Prevalence in Concord |
| Arthritis | 26% |
| High Blood Pressure | 29% |
| Coronary Heart Disease | 6% |
| Diabetes | 9% |
| Kidney Disease | 3% |
Healthcare Costs in Concord, NH
If you are responsible and proactive, it will take many years before your chronic health problems start to get really expensive. In the meantime, your most costly expenses will come from things like prescription drugs, outpatient treatment, and more frequent doctor visits to monitor your conditions carefully. But later on in life when treating these conditions requires more extreme measures on a more frequent basis, that's when the gaps in Medicare Parts A and B coverage will start to cost you a hefty sum. And that dollar amount will make the estimated annual cost of treatment below look cheap by comparison.
| | | |
| --- | --- | --- |
| Disease | Prevalence in Concord | Annual Cost of Treatment |
| Arthritis | 26% | $294 |
| High Blood Pressure | 29% | $356 |
| Coronary Heart Disease | 6% | $9,878 |
| Diabetes | 9% | $2,173 |
| Kidney Disease | 3% | $8,753 |
Medicare Advantage Savings in Concord, NH
Your first protection option is to purchase a Medicare Advantage policy. Medicare Advantage in New Hampshire is actually a private health insurance plan which replaces your federal Medicare benefits. But don't worry, it has a legal stamp of approval straight from the federal government. And the federal government will pay a large portion of your monthly premium directly to your insurance company for you if you decide to purchase a plan. This means that some qualifying seniors can get their Medicare benefits covered for as little as $0 per month. But if you decide to purchase extra coverage, it will make your monthly premium cost more and you may have to contribute a little bit financially.
Whether you're one of the lucky ones who can get a comprehensive Medicare Advantage plan for $0 per month, or whether you have to pay a little extra for your monthly premiums, it could be worth it in the long run. It just depends on your needs and what plans are available to you. The more care you need, the more beneficial it can be to consider a Medicare Advantage plan. This is especially true as your medical costs sneak up on you and start to mount over time.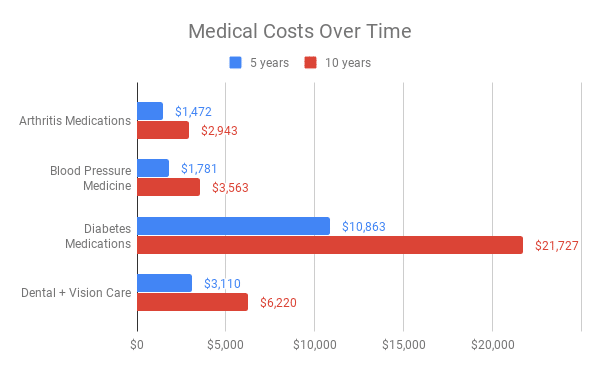 Most seniors don't simply settle for the base plan, though, when it comes to Medicare Advantage. Most private insurance companies will offer you additional coverage options in order to sweeten the deal. Two of the most popular options are dental and vision coverage. So on top of getting your hospital and doctor needs met, you can add vision and/or dental to most Medicare Advantage policies and only have to manage your medical needs through one provider. Many seniors like this convenience. But you have to do a cost-benefit analysis and make sure that any additional costs above and beyond your other Medicare supplement options are worth that particular convenience.
Medicare Supplement (Medigap) Savings in Concord, NH
For many seniors out there, that plan is a Medicare supplement insurance plan, otherwise known as Medigap. These plans are specifically designed to offer you medical benefits which are left out of Medicare Parts A and B. There are 10 different plans in total, and you can choose one of them based on your individual needs. You still receive your Medicare benefits from the government, and the government steps in and handles the costs first whenever you get care. Whatever the government won't cover, your Medigap insurance policy steps in to pick up the slack. The bill only falls down to you if it's for medical care not provided by the first two.
Let's say you don't have any of the chronic conditions we discussed earlier, so preventative care and management aren't an issue for you. In that case, you could save a decent amount of money by focusing on a Medigap policy which only covers the hospital expenses that Medicare doesn't cover. These gaps can be easily and affordably covered by Medigap plans A, D, K, and L. Things like extended hospital stays, hospital coinsurance, and even blood transfusions would otherwise be formidably expensive. And all you really need to do is pay one low premium per month in order to get that financial protection.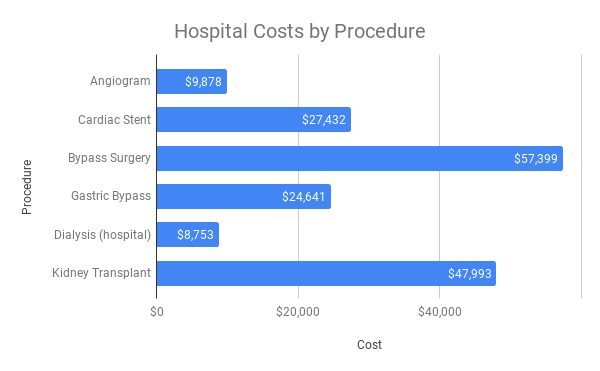 Then there are Medigap plans B, C, F, G, M, and N which dedicate most of their resources towards both Medicare Part A and Medicare Part B coverage gaps. Medicare Part B coverage gaps will cost you the most money when it comes to Part B excess charges, your Part B deductible, foreign travel, and skilled nursing facilities (among other things). But not everyone will need the maximum amount of coverage. It's a delicate balancing act. The more coverage you purchase, the higher your monthly premium will be; but the better protected you'll be from unexpected medical bills. If you don't plan on traveling out of the country that much, then you might not need to spend extra money on a monthly premium for a plan like C or D. Medigap Plan F is the most comprehensive right now, but it will only remain available for sale to new Medicare recipients until the end of 2020. After that, you'll have to resort to Medicare Plan G for a similarly comprehensive plan.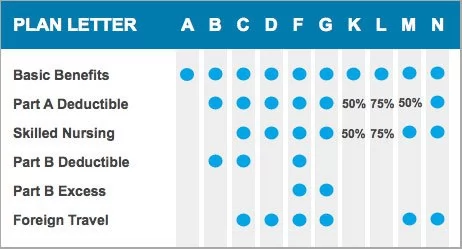 For Better or Worse, there is no way to add extra coverage like dental, vision, or prescription drug coverage directly to your Medigap supplement. However, the federal government already has a solution in place for the prescription drugs: Medicare Part D. Most seniors who purchase a Medicare Supplement Plan will also likely enroll in Medicare Part D for assistance with their prescription drugs costs. Beyond that, you'll have the freedom to find your own dental and/or vision insurance from a private provider near you. If you really want the best deal, be sure to ask about senior discounts so that you can get the most affordable rate.
For seniors like you living in Concord, getting affordable supplemental Medicare insurance is essential for protecting your retirement savings. Unfortunately, your medical costs are only going to go up over time, and most of those are due to factors which are beyond your control. But the one thing you do have 100% control over is finding a Medicare supplement insurance policy that is within your means and comprehensive enough to protect you from expensive Medicare coverage gaps. We want to help you find that policy today.
| | | | |
| --- | --- | --- | --- |
| Medigap Plan | Minimum Monthly Premium | Maximum Monthly Premium | Average Estimated Monthly Premium (Part B Premium Included) |
| Plan A | $108 | $264 | $322 |
| Plan B | $147 | $234 | $326 |
| Plan C | $183 | $275 | $365 |
| Plan D | $169 | $260 | $350 |
| Plan F | $183 | $357 | $406 |
| Plan F (high deductible) | $48 | $81 | $200 |
| Plan G | $145 | $311 | $364 |
| Plan K | $60 | $130 | $231 |
| Plan L | $101 | $169 | $271 |
| Plan M | $143 | $205 | $310 |