Living in North Las Vegas, Nevada has its benefits, but if you're a senior citizen, widespread access to affordable healthcare coverage is not among those benefits. Thousands of seniors currently living in North Las Vegas struggle to afford healthcare each year, with many being forced to choose between spending thousands of dollars in out-of-pocket expenses or simply going without healthcare altogether. This is because of the flawed design of the Medicare system, which is fraught with "coverage gaps". If you find that you're in this boat, there are two things you need to know: you have options, and you're not alone.
Facts and Figures
There are 23,857 seniors living in North Las Vegas, Nevada right now.
There are a total of 8 hospitals and medical centers in the North Las Vegas area where seniors can receive emergency and/or in-patient treatment.
35% of seniors in Nevada have a Medicare Advantage plan.
13% of seniors in Nevada have a Medicare Supplement (Medigap) plan.
This means that 52% of seniors in North Las Vegas are potentially uninsured or underinsured against costly Medicare coverage gaps!
Although the fact that 12,405 seniors in the area don't have proper access to healthcare might seem like the worst part of these numbers, it's not. The issue becomes far more severe when age-related illnesses are brought into the equation. Age-related illnesses are any diseases or disorders that show symptoms or cause other effects that worsen in severity or frequency as the patient ages. This means that, as these 12,405 uninsured or underinsured people age, their risk of suffering a catastrophic medical emergency increases significantly. We cannot stress enough the importance of keeping yourself and your family properly insured against unforeseeable healthcare emergencies of any kind, but protecting yourself from natural age-related illnesses should be at the top of your to-do list. The chart below helps explain why by showcasing the prevalence of five of the most common age-related illnesses in North Las Vegas.
| | |
| --- | --- |
| Disease | Prevalence in North Las Vegas, NV |
| Arthritis | 20% |
| High Blood Pressure | 31% |
| Coronary Heart Disease | 6% |
| Diabetes | 11% |
| Kidney Disease | 3% |
Healthcare Costs in North Las Vegas, NV
Yet another downside of the increased severity and frequency of age-related illnesses is the fact that seniors are living longer and happier lives with each passing year. How could that be a bad thing? In and of itself, it's not. However, when you stop to consider the fact that this means that age-related illnesses will have more and more time after each year to worsen in both severity and frequency, you can begin to realize the dangers of these disorders. Combined with the fact that healthcare costs in the United States are rising steadily each year as well, these healthcare costs begin to pile up until they create insurmountable barriers for anybody who does not have the proper insurance. The chart below depicts the five most common age-related illnesses in North Las Vegas side by side with a low-end estimate of how much they could cost you each year. Keep in mind that these numbers can only rise as your condition or conditions worsen.
| | | |
| --- | --- | --- |
| Disease | Prevalence in North Las Vegas, NV | Annual Cost of Treatment |
| Arthritis | 20% | $291 |
| High Blood Pressure | 31% | $354 |
| Coronary Heart Disease | 6% | $8,413 |
| Diabetes | 11% | $2,163 |
| Kidney Disease | 3% | $8,161 |
Medicare Advantage Savings in North Las Vegas, NV
That said, healthcare in North Las Vegas isn't all doom and gloom. There are a couple of easy-to-obtain options, such as Medicare Advantage. Despite what the name might suggest, these plans are not provided by the government. Rather, they are privately owned and privately operated plans that serve to replace your government-backed Medicare plan, making them perfect options for seniors who are disappointed with the gaps in their Original Medicare coverage. Of course, this doesn't mean that you're going to lose your coverage. In fact, Medicare Advantage plans are required by law to provide all of the same benefits that Original Medicare plans provide. Oftentimes, providers of Medicare Advantage plans even offer you the ability to select additional coverage options for an additional charge. While this might sound like the exact thing that you're trying to avoid, government subsidies can turn that "extra charge" into a net $0 premium.
Medicare Advantage can even provide prescription drug coverage, which can be an absolute necessity for seniors suffering from any form of illness. This drug coverage can sometimes even be expanded beyond the coverage of generic (or even name-brand, in some cases) prescription drugs to include medical supplies and other necessities such as glucose monitors and testing strips, enabling seniors with chronic health conditions to save even more money in the long run. For example, as the chart below shows, seniors with chronic kidney disease can save tens of thousands of dollars in a mere 10 years.
These benefits alone already make Medicare Advantage plans among the most comprehensive policies available to seniors in North Las Vegas, but the benefits don't stop there. Providers of Medicare Advantage plans typically also offer the option for vision and dental coverage, further expanding the range of healthcare options that you have at your disposal. These benefits are unique to Medicare Advantage. In fact, the purchase of these benefits isn't even possible if you are on a Medigap or Original Medicare coverage plan, because neither of those plans offer them. Of course, there are a couple ways to get around this lack of coverage for Medigap patients, but it is considerably more complicated. Before we get to that, check out the chart below to see a few of the top rates from Medicare Advantage companies.
Medicare Supplement (Medigap) Savings in North Las Vegas, NV
Unlike Medicare Advantage, Medicare Supplement (Medigap) insurance plans don't involve completely replacing your Original Medicare; rather, they supplement it, as the name suggests. These plans enable you to keep the Medicare benefits that are working for you while supplementing the coverage gaps that are causing you the most problems. Overall, there are ten different Medigap plans from which to choose, each providing different benefits. Mostly, they focus on covering Medicare Part A coverage gap expenditures and they do so quite well. There are, of course, a wide variety of difference between each plan type, so it is vital that you speak with a medigap professional before making a decision that can affect you for the rest of your life.
The first category of Medigap coverage plans refers to those plans that provide benefits solely for costs related to Medicare Part A coverage gaps. These plans include Plans A, D, K, and L and provide benefits that make them ideal for seniors who suffer from severe and chronic illnesses. In patients such as these, Medicare Part A expenses can be astronomically high, which can price many seniors out of the healthcare market. However, by enrolling in one of these four Medigap plans, these seniors can save thousands of dollars every year, meaning that the savings would increase exponentially over time.
If you need help paying for both your Medicare Part A and your Medicare Part B coverage gaps, however, you're not going to get as much benefit from Plans A, D, K, or L as you would from Plans B, C, D, F, G, M, or N. The latter cover both parts of Original Medicare, whereas the former only cover expenses related to Medicare Part A. This means that seniors who suffer from severe and chronic health conditions might gain more benefits at lower costs with the less comprehensive category whereas other seniors might require the more comprehensive category in order to gain the optimal level of coverage that they both need and deserve. Regardless of which group you identify with, Medicare Supplemental insurance can stand to save you thousands of dollars every year. All that really matters is that you select the plan that best suits your needs. See the graphic below to help guide yourself in the decision-making process. Unfortunately, due to changes in rules and regulations, Plan F will no longer be offered as of 2021.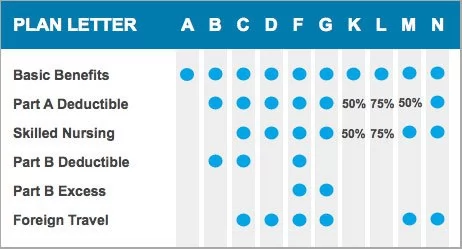 As we mentioned earlier, Medicare Supplement insurance plans are innately less comprehensive than Medicare Advantage plans, which tends to be why most seniors try to secure one of the later plans before moving on to the former. The major drawback of Medigap plans is that they do not provide options for prescription drug coverage, vision coverage, or dental coverage, but does this mean that you're going to have to go without glasses for the rest of your life? Absolutely not! There are ways to purchase private insurance plans to further supplement these three areas of your healthcare needs all while spending fewer than $100 per payment period in certain areas.
It is important to remember that life in North Las Vegas, though peaceful, can become prohibitively expensive without the proper insurance. In many cases, even having a lesser insurance plan can lead to you being underinsured against costly Medicare coverage gaps, particularly in a time of constantly increasing medical costs. This means that the risks posed to your security, health, and independence increase every day that you choose to do nothing. So why wait? Log into Medigap.com today and begin shopping for plans or talking to specialists about how they can help you find the plan that's right for you.
Take back your independence today, enjoy a healthier life tomorrow.
| | | | |
| --- | --- | --- | --- |
| Medigap Plan | Minimum Monthly Premium | Maximum Monthly Premium | Average Estimated Monthly Premium (Part B Premium Included) |
| Plan A | $83 | $260 | $307 |
| Plan B | $123 | $296 | $345 |
| Plan C | $135 | $337 | $372 |
| Plan D | $129 | $203 | $302 |
| Plan F | $117 | $277 | $333 |
| Plan F (high deductible) | $28 | $80 | $190 |
| Plan G | $102 | $205 | $289 |
| Plan K | $46 | $107 | $212 |
| Plan L | $76 | $151 | $249 |
| Plan M | $122 | $175 | $284 |
| Plan N | $94 | $158 | $262 |