Are you planning on spending the rest of your golden years in Hattiesburg? Then you're going to need to take a little time and plan out how to make your health care costs more affordable. As you age, it will begin to cost more and more money to keep yourself healthy and loving life. But the dangerous gaps in Medicare coverage which most seniors don't know about can seriously jeopardize your ability to pay for the medical care you need. Keep reading to find out more about how to protect yourself from unexpected expenses.
Facts and Figures
There are 5,192 senior citizens living in Hattiesburg right now

There are 9 hospitals in the Hattiesburg area where seniors can get emergency and/or in-patient care

16% of Mississippi seniors have a Medicare Advantage plan

25% of seniors have a Medicare Supplement (Medigap) plan

Which leaves 59% of seniors potentially uninsured or underinsured against costly Medicare coverage gaps!
Most of your medical expenses past the age of 60 will revolve around chronic conditions. The chart below shows that high blood pressure is the most prevalent problem among seniors in Las Vegas; however, arthritis and diabetes are a close second and third, respectively. Maybe you don't have any of these conditions right now, and you're all the better off for it. But if you have one – or more – you're going to have to plan in advance to manage your health care needs as you get older. And if you're relying on Medicare 100% to help you take care of these expenses, you could be setting yourself up for a very expensive trap.
| | |
| --- | --- |
| Disease | Prevalence in Hattiesburg |
| Arthritis | 29% |
| High Blood Pressure | 42% |
| Coronary Heart Disease | 7% |
| Diabetes | 13% |
| Kidney Disease | 4% |
Healthcare Costs in Hattiesburg, MS
It's important to talk about the prevalence of chronic disease in the context of costs. Medications, equipment, in-patient care, outpatient care, and doctor visits all add up over time. And when you take into account the fact that seniors are living longer in an environment where medical costs are going up every single year, things can get frighteningly expensive very quickly. It's more important than ever to make sure you have adequate healthcare coverage going into your golden years if you want to protect yourself against these costs.
| | | |
| --- | --- | --- |
| Disease | Prevalence in Hattiesburg | Annual Cost of Treatment |
| Arthritis | 29% | $291 |
| High Blood Pressure | 42% | $354 |
| Coronary Heart Disease | 7% | $9,612 |
| Diabetes | 13% | $2,163 |
| Kidney Disease | 4% | $8,506 |
Medicare Advantage Savings in Hattiesburg, MS
You know what's even more expensive than having to pay the increasing costs of managing your chronic health problems? Paying for the out-of-pocket costs they will eventually invoke when you hit the gaps in Original Medicare coverage. But there are affordable Medicare supplement insurance plans you can purchase to protect yourself financially. The first one we're going to talk about is Medicare Advantage in Mississippi. Also known as Medicare Part C, these are government-approved private health insurance policies which effectively replace your Original Medicare benefits. The government ends up paying a large portion of your monthly premium for you and some seniors may even get their Medicare covered for as little as $0 per month if they're lucky.
One of the things seniors in Mississippi like about Medicare Advantage is how easily you can customize your own tailor made plan. You start out with the base benefits that you would normally get with Medicare, and your insurance company will most likely offer you extra coverage that will financially protect you from Traditional Medicare gaps. You can even add more coverage beyond that which Medicare typically offers. And you can manage all of your health care needs, claims, and doctor's appointments through the same insurance policy and insurance company. There's no need to manage your health care needs piecemeal with different policies from different insurance providers. This added coverage and the convenience of only dealing with one entity can potentially save you a decent amount of money on your medical costs over time.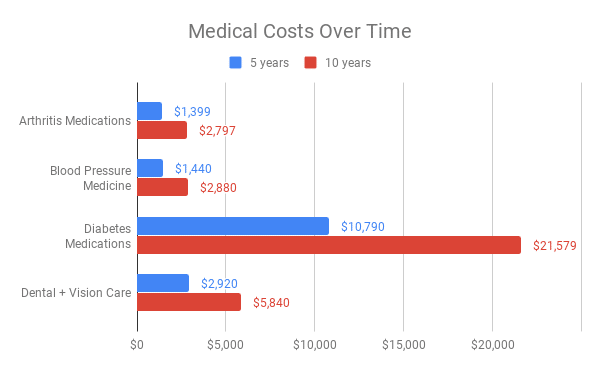 What's more is that most Medicare Advantage plans offer you coverage that Traditional Medicare doesn't. Namely, you can add vision and/or dental to the same Medicare Advantage policy. You can also sign up for prescription drug coverage through your Medicare Advantage plan instead of having to sign up for Medicare Part D prescription drug coverage. The main advantage that seniors like with these options is that they get to manage all of their health care needs and benefits on a single policy through a single company. However, most Medicare Advantage plans will limit the network of doctors, facilities, and healthcare providers you have access to, usually in the form of an HMO or a PPO network. Just keep that in mind as you shop around.
Medicare Supplement (Medigap) Savings in Hattiesburg, MS
On the other hand, there are Medicare supplement insurance plans in Mississippi, too. These are smaller and sometimes less costly than Medicare Advantage; but the benefits you get are very different from Medicare Part C. Because Medigap policies are only concerned with the gaps in Medicare coverage, you won't be able to tack on any extras. But you will be financially protected from the exorbitant costs which are not covered by Medicare Parts A and B.
Medicare coverage gaps fall into one of two categories: hospital (or inpatient) costs, and outpatient care. Medicare Part A typically deals with the former, while Medicare Part B handles the latter. The most expensive Medicare coverage gaps generally fall under those which are not covered by Medicare Part A. And there are specific Medigap insurance policies which are designed to cover those expenses: Plans A, D, K, and L. If you think your Medicare Part B costs and coverage gaps are largely under control, you could end up saving money by picking one of these four plans. That way you'll get a lower monthly premium for your Medigap insurance, and you'll have substantially fewer worries with regard to your Medicare coverage gaps.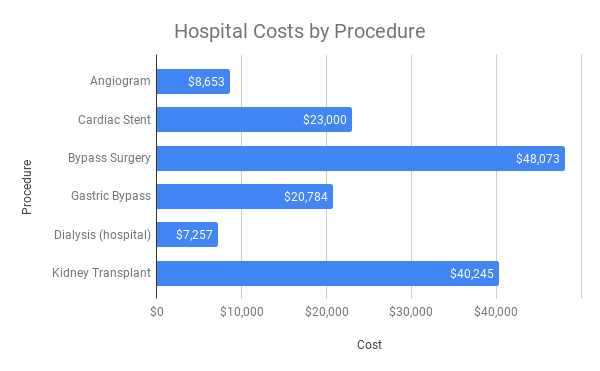 If you want financial assistance with things like your Part B deductible or excess charges, you want to take a closer look at the remaining six plans: B, C, F, G, M, and N. Just remember that when it comes to insurance coverage, the more you purchase, the more you will have to pay each month in premiums. But that means you will likely end up paying less over the long-term in out-of-pocket expenses. Also, if you are a fan of comprehensive coverage, you should know that Medigap Plan F will be retiring at the end of 2020. So if you qualify for Medicare before 2021 and you want the most coverage you can get, be sure to enroll fast!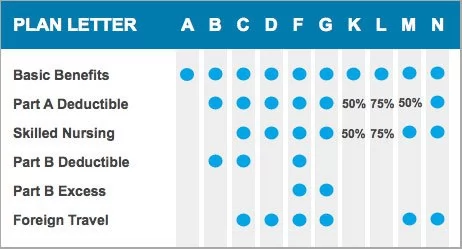 One inconvenience associated with Medigap insurance is the lack of options when it comes to prescription drugs, vision, and dental. If you choose to stick with Original Medicare, your best option for prescription drug assistance is to sign up for Medicare Part D. Just beware of the "donut hole" coverage gap which can make prescription drugs get very expensive for some seniors. Also, be on the lookout for local vision and dental insurance providers who offer discounts to people in your age group. It might be a hassle to deal with multiple different insurance companies, but it gives you better flexibility over your total medical costs at the end of the day.
Getting older isn't easy. And paying for your medical care is even more challenging still. But for seniors who are living in Hattiesburg, we can make that process a lot simpler. We strongly encourage you to keep browsing our website for more vital information on Medicare Advantage, Medicare Supplement Insurance, and the potentially expensive gaps in Medicare coverage which most seniors don't know they are vulnerable to. If you get confused or you need help sorting everything out, please contact us for more information! We would love to help you get the medical coverage you need to enjoy your golden years the most.
| | | | |
| --- | --- | --- | --- |
| Medigap Plan | Minimum Monthly Premium | Maximum Monthly Premium | Average Estimated Monthly Premium (Part B Premium Included) |
| Plan A | $78 | $123 | $236 |
| Plan B | $107 | $150 | $264 |
| Plan C | $131 | $171 | $287 |
| Plan D | $140 | $157 | $284 |
| Plan F | $131 | $178 | $290 |
| Plan F (high deductible) | $46 | $46 | $182 |
| Plan G | $108 | $149 | $264 |
| Plan K | $49 | $68 | $194 |
| Plan L | $76 | $93 | $220 |
| Plan M | $142 | $142 | $278 |