There are tens of thousands of seniors in Sterling Heights, Michigan, and yet access to healthcare is a significant problem in just about half of their lives. If you've found yourself struggling to afford treatments, you're not alone. The lack of major hospitals in the area combined with the presence of costly Medicare coverage gaps has created quite a problem for Sterling Heights seniors. Having to pay thousands of dollars in out-of-pocket expenses just to receive treatments and yet more money to travel to advanced hospitals in the nearby areas just isn't something that most seniors can do. However, more than half of seniors in Sterling Heights have already found a solution to that dilemma: enroll in either Medicare Advantage or Medicare Supplement Insurance plans.
Facts and Figures
There are 23,268 seniors living in Sterling Heights right now.
There are 0 major hospitals in the Sterling Heights area where seniors can get emergency and/or in-patient care.
34% of Michigan seniors have a Medicare Advantage plan.
22% of Michigan seniors have a Medicare Supplement (Medigap) plan.
Which leaves 44% of seniors potentially uninsured or underinsured against costly Medicare coverage gaps!
When people go without health insurance, they are at constant risk of financial ruin. For seniors, that risk increases every year, thanks to age-related illnesses. Age-related illnesses are illnesses or diseases that increase in frequency as you age. To put it simply, the older you get, the more likely it is that you will begin showing symptoms of one or more of those diseases. Unfortunately, the trouble for seniors doesn't stop there. After you develop and age-related illness, the frequency and severity of symptoms will begin to increase, leading to a significantly worse quality of life if you don't have proper health insurance The chart below shows just how prevalent five of the most common age-related illnesses are in Sterling Heights.
| | |
| --- | --- |
| Disease | Prevalence in Sterling Heights, MI |
| Arthritis | 32% |
| High Blood Pressure | 33% |
| Coronary Heart Disease | 7% |
| Diabetes | 10% |
| Kidney Disease | 3% |
Healthcare Costs in Sterling Heights, MI
As the frequency and severity of your symptoms increase, so too will the healthcare costs associated with treating those symptoms. This happens in a variety of ways, ranging from an increased need for treatment to an increased need for invasive surgery. Depending on the nature of your particular illness, you could end up spending thousands of dollars each year on Medicare coverage gaps just to receive those treatments. Considering that medical costs in general are rising as well, those costs are likely to increase even further with each passing year. Another bittersweet fact is that seniors are living longer lives now than ever before. The sweet is obvious: longer lives. The bitter is less obvious: longer lives means more time for healthcare costs to increase while you're alive. Over time, these costs can stack up into the tens of thousands of dollars.
| | | |
| --- | --- | --- |
| Disease | Prevalence in Sterling Heights, MI | Annual Cost of Treatment |
| Arthritis | 32% | $291 |
| High Blood Pressure | 33% | $354 |
| Coronary Heart Disease | 7% | $7,954 |
| Diabetes | 10% | $2,163 |
| Kidney Disease | 3% | $8,237 |
Medicare Advantage Savings in Sterling Heights, MI
Medicare Advantage plans are private plans that completely replace your Original Medicare coverage. That doesn't necessarily mean that you will lose any coverage options. In fact, the law requires that all providers of Medicare Advantage plans include, at the bare minimum, all of the same coverage options as Original Medicare. Since providers of these plans are private, rather than government-controlled, they have to compete for your fealty. That has led to the majority of Medicare Advantage providers offering additional insurance coverage options covering just about all of your healthcare needs.
One additional coverage option that is commonly added is prescription drug coverage. The exact extent of prescription drug coverage for Medicare Advantage plans varies from provider to provider; however, they tend to be the best overall options for seniors who rely heavily on a large number of prescription medications of minor medical equipment, including glucose monitors and testing strips. If you suffer from high blood pressure, diabetes, and/or arthritis, you might find that a Medicare Advantage plan is one of the only options available for you that enables you to enjoy full and total access to affordable prescriptions as well as medical equipment. In fact, a Medicare Advantage plan could save you tens of thousands of dollars in a ten-year period.
Providers of Medicare Advantage plans also typically offer the option to add other useful bits of coverage to your plan. One common additional coverage option is dental and vision care coverage. The possibility of having your dental and vision care covered under your Medicare Advantage plan marks one of the major differences between Medicare Advantage and Medicare Supplement or Original Medicare insurance. Although Medicare Advantage can provide near total coverage for a wide array of vision and dental services and treatments, neither Original Medicare nor Medicare Supplement insurance plans cover much of any treatments for vision or dental care, unless said treatments are considered medically necessary by a doctor and/or are the result of an emergency or hospitalization.
Medicare Supplement (Medigap) Savings in Sterling Heights, MI
Whereas Medicare Advantage plans replace your Original Medicare plan, Medicare Supplement plans add additional coverage options to it. The purpose of Medigap plans is to gain insurance to protect yourself from harmful Medicare coverage gaps, and that's exactly what each of the ten available Medigap plans do. Although the benefits of each particular plan are different, they all provide at least some form of coverage for Medicare Part A coverage gaps, which can be quite expensive for seniors who have been diagnosed with a chronic condition like age-related kidney or heart disease.
Medigap A, D, K, and L are designed specifically to cater to seniors struggling with high Medicare coverage gaps. If you've been hospitalized on multiple occasions in a brief period of time, require routine blood transfusions, or need skilled nursing care, these four plans can make obtaining those care options a worry-free process by removing the threat of the coverage gap. Unfortunately, that benefit only applies to Medicare Part A coverage gaps. Neither Medigap Plan A, D, K, nor L are capable of providing any additional benefits related to Medicare Part B coverage gaps, meaning that these plans might not be right for you if you have been struggling to afford your high out-of-pocket costs of Medicare Part B coverage gaps.
If you need help paying for Medicare Part B coverage gaps, you'll have to choose from the remaining Medicare Supplement insurance plans. Medicare Supplement Insurance Plans B, C, F, G, M, and N can all help make healthcare more accessible in regards to both the Medicare Part A and Medicare Part B coverage gaps. Because Medicare Part B covers emergency services and Medicare Part A covers general hospital services, among other things, enrolling in one of these comprehensive plans makes it possible to avoid coverage gaps in either part while accessing just about any aspect of care. Unfortunately, Medicare Supplement Plan F is scheduled to be removed from the system at the start of 2021. But you may still be able to get grandfathered into Plan F if you enroll before the end of 2020!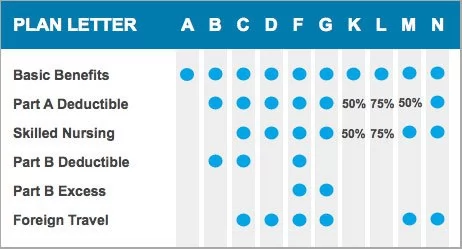 In order to obtain prescription drug coverage and dental and vision care coverage while on a Medigap plan, there are a few things that you're going to need to do. First off, look into Medicare Part D prescription drug coverage. Those plans are capable of covering most of what many seniors find that they need in terms of prescription drugs. If Medicare Part D still leaves you without proper insurance for your prescription medications, then you might have better luck with a Medicare Advantage plan. Securing dental and vision care coverage while on Medicare Supplement Insurance is much easier. To do so, simply call a private insurance provider and ask about their dental and vision care coverage options. Typically, you should be able to obtain vision and dental insurance for under $100 per payment period.
While medical costs are rising across the board, the odds of your health deteriorating are also increasing. Without proper insurance, you could end up paying thousands of dollars in out-of-pocket expenses as a result of a Medicare coverage gap each year. And by waiting, you only increase the risk of suffering from a severe health condition without treatment. So don't wait! Sign up for free quotes on Medigap.com and begin shopping for plans today. The best way to ensure your body's ability to stay active is to insure your body's health.
| | | | |
| --- | --- | --- | --- |
| Medigap Plan | Minimum Monthly Premium | Maximum Monthly Premium | Average Estimated Monthly Premium (Part B Premium Included) |
| Plan A | $40 | $342 | $327 |
| Plan B | $115 | $238 | $312 |
| Plan C | $123 | $271 | $333 |
| Plan D | $163 | $169 | $302 |
| Plan F | $133 | $467 | $436 |
| Plan F (high deductible) | $32 | $57 | $180 |
| Plan G | $116 | $376 | $382 |
| Plan K | $44 | $80 | $198 |
| Plan L | $80 | $102 | $227 |
| Plan N | $96 | $151 | $259 |