Are you ready for retirement in Springfield, Massachusetts? It involves a lot more than bracing for the harsh Northeastern winters, or snowbirding down south each year. Preparing for retirement also involves purchasing the right Medicare supplement insurance policy. But you have so many options – how do you know which one is best for you? We have a plethora of information at our fingertips designed to help you make the best decision for your health and your savings. Keep reading to learn more.
Facts and Figures
There are 18,603 senior citizens living in Springfield right now
There are only 3 hospitals in the Springfield area where seniors can get emergency and/or in-patient care
21% of Massachusetts seniors have a Medicare Advantage plan
20% of seniors have a Medicare Supplement (Medigap) plan
Which leaves 59% of seniors potentially uninsured or underinsured against costly Medicare coverage gaps!
Do you know which diseases are the most expensive to treat? It largely depends on a case-by-case basis; but by and large, it's chronic illness that creates the largest healthcare expenses on average. Chronic diseases are things like arthritis, which start out only requiring minor over-the-counter analgesics for treatment…But can eventually require serious prescriptions or major joint replacement surgery in order to fix. And that's just one type of chronic disease. Below is a chart with statistics about the five most problematic chronic diseases in springfield, and how frequently seniors like you suffer from them.
| | |
| --- | --- |
| Disease | Prevalence in Springfield |
| Arthritis | 28% |
| High Blood Pressure | 32% |
| Coronary Heart Disease | 8% |
| Diabetes | 14% |
| Kidney Disease | 4% |
Healthcare Costs in Springfield, MA
The problem with chronic diseases is that they never go away. Once you get a diagnosis, you're going to be dealing with it for the rest of your life. Seniors are living much longer these days, and medical science is coming out with advanced treatment options everyday to help improve quality of life in the elderly. This all sounds well and good, until you realize that living longer and better comes with a pretty hefty price tag. Just look at how much it costs to treat some of the most common chronic illnesses among seniors today. These prices aren't going down anytime soon, either.
| | | |
| --- | --- | --- |
| Disease | Prevalence in Springfield | Annual Cost of Treatment |
| Arthritis | 28% | $291 |
| High Blood Pressure | 32% | $354 |
| Coronary Heart Disease | 8% | $7,786 |
| Diabetes | 14% | $2,163 |
| Kidney Disease | 4% | $8,656 |
Medicare Advantage Savings in Springfield, MA
Unfortunately, Medicare Parts A and B have a few flaws. They have coverage gaps which, if you don't protect yourself by purchasing a Medicare supplement insurance policy, could wipe out your life savings in a single diagnosis. One of the Medicare supplement insurance policies available for purchase right now that offers such protection is known as Medicare Advantage. Seniors often get this confused with Original Medicare; but they are two very different things. Medicare Advantage is a private health insurance policy offered by a private company. purchasing one effectively replaces your federal Medicare benefits. But by law these insurance policies must offer you at least the exact same benefits as Medicare Parts A and B. If you aren't getting at least that, then your insurance provider is breaking the law.
Fortunately, most companies which sell Medicare Advantage policies do so legally and even offer additional coverages to help make their policies more attractive and increase their customer base. Many of these Medicare Advantage plans start by offering extra coverage which protects you from typical Medicare gaps, like coverage for extended hospital stays or extra blood transfusions. They may also offer you better rates on coinsurance, excess charges, and prescription drug prices.
Lastly, the vast majority of Medicare Advantage policies come with dental and vision coverage tacked onto the same policy. If you're the type of person that likes to streamline your life, this added convenience can be worth its weight in gold. But it can also cost its weight in gold, too. The federal government is obligated to help pay your monthly premium for your Medicare Advantage program since you paid into the Medicare program via taxes for most of your adult life. Sometimes, this government assistance means you can get Medicare Advantage for as little as $0 per month – but sometimes, extra coverage options like vision, dental, and more can make your monthly premium more expensive. It all depends on your individual medical needs, and what sort of Medicare Advantage plans are available in your area.
Medicare Supplement (Medigap) Savings in Springfield, MA
Then there's Medigap. Medigap works very differently from Medicare Advantage. With a Medigap policy, you get to keep your Original Medicare benefits. This means that if you have to go to the hospital, the doctor, or get some sort of outpatient procedure, Medicare will pay their share first. Whatever Medicare doesn't pay for, your Medigap insurance provider will chip in. And if there's still a bill left over at the end of all that, only then will you have to pay out-of-pocket. These policies typically cover less because they're only meant to supplement Medicare, not replace it the way Medicare Advantage does. There are 10 standardized plans which offer the same benefits no matter whether you live in Massachusetts or South Carolina.
The type of Medigap policy you choose will mostly depend on two factors: how much you can afford to spend, and what your medical needs are. Some seniors believe that they only need coverage for the expensive gaps in Medicare Part A, which is largely related to hospital stays and end-of-life care. Those medical expenses can definitely add up if you aren't careful. Plans A, D, K, and L all offer varying levels of coverage against these costs. The more coverage they offer, the more expensive you can expect them to be. But if you aren't worried about Part B Medicare coverage gaps, one of these policies would be the most economical choice.
Medigap Plans B, C, F, G, M, and N, on the other hand, offer more coverage than their other counterparts. The extra coverage they offer covers both Medicare Part A coverage gaps as well as varying degrees of coverage gaps in Medicare Part B. These Medicare Part B coverage gaps include things like co-pays, coinsurance, and excess charges, to name a few. The most comprehensive of these is Medigap Plan F; but, sadly, it is also the most expensive. Furthermore, it is also set to expire soon for purchase. This means that if you act now, you can get grandfathered into Medigap Plan F and continue receiving those benefits for as long as you can afford to pay your monthly premiums on time. But as of January 2021, you'll have to look to a comparable plan like Plan C or Plan G if you want that level of comprehensiveness.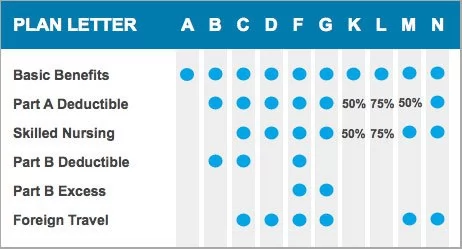 Medigap plans are attractive to some seniors because the monthly premiums can be substantially lower than some Medicare Advantage policies. On the other hand, this value partly comes from the fact that you don't get to add extra coverage options like prescription drugs, dental, or vision. You must purchase two of these separately (vision and a dental), and sign up for Medicare Part D prescription drug coverage if you want help with these expenses but don't want to forfeit your Medicare benefits. However, there is still the Medicare Part D "donut hole" that you'll have to worry about, and some seniors might not want to deal with the hassle of paying several different, separate insurance companies in order to get their vision and dental needs taken care of.
Are you confused yet? If so, you're not alone. It's actually more common to be confused than not at this stage of the shopping process. But that's why we're here. We have Medicare insurance experts and friendly customer service representatives waiting to take your call. Just reach out to us and we'll be more than happy to show you how to save the most money on the best Medicare supplement insurance in your area.
| | | | |
| --- | --- | --- | --- |
| Medigap Plan | Minimum Monthly Premium | Maximum Monthly Premium | Average Estimated Monthly Premium (Part B Premium Included) |
| Medigap Core Plan | $94 | $171 | $268 |
| Medigap Supplement 1 Plan | $169 | $257 | $349 |