When it comes to Kansas City, there's no place like home! Unfortunately, because of costly Medicare coverage gaps, you might find yourself thinking you're not in Kansas anymore. In terms of finding affordable and effective healthcare, Medicare can be a great option for seniors with limited to no other options. However, when you run into extended hospital stays, expensive copays, or end-of-life care, the gaps in Medicare Parts A and B can become ridiculously expensive. Fortunately, there are two easy solutions to the shortcomings of Medicare: Medicare Advantage and Medicare Supplement Insurance (Medigap).
Facts and Figures
There are 17,437 seniors living in Kansas City right now.
There are 6 hospitals in Kansas City where seniors can go to receive emergency and/or in-patient care.
15% of Kansas seniors have a Medicare Advantage plan.
46% of Kansas seniors have a Medicare Supplement (Medigap) plan.
Which leaves 39% of seniors potentially uninsured or underinsured against costly Medicare coverage gaps!
Considering the danger of unforeseen medical conditions that seniors face each day, the fact that more than 6,800 seniors are still struggling to secure reliable access to affordable healthcare is quite a problem. As you age, your risk of developing what healthcare professionals refer to as an "age-related illness" increases exponentially. An age-related illness is any illness, disease, or disorder that increases in prevalence as you age. But the worst part about age-related illnesses is the fact the signs and symptoms of those illnesses also increase in both frequency and severity. That means that the pristine health that you may have been enjoying these past few years is becoming less and less likely to last. And if you've already developed an age-related illness, it's likely to only get worse without proper treatment. The chart below shows the prevalence of a few of the most common chronic health conditions faced by the seniors of Kansas City.
| | |
| --- | --- |
| Disease | Prevalence in Kansas City, KS |
| Arthritis | 25% |
| High Blood Pressure | 37% |
| Coronary Heart Disease | 7% |
| Diabetes | 14% |
| Kidney Disease | 4% |
Healthcare Costs in Kansas City, KS
As your signs and symptoms increase in frequency and severity with age, so too will the medical costs associated with treating them. Think about it this way: when arthritis is in the early stages, it could manifest as pains and aches in the joints and nothing more. That obviously costs less to treat than severe and chronic arthritis that strips away your ability to walk, open or close your hands, and so on. Unfortunately, general healthcare expenses are increasing more and more with each passing year. Because seniors are living longer lives now than ever before, there is more time for these costs to increase and your symptoms to worsen. The importance of securing effective and affordable health insurance cannot be stressed enough. The chart below depicts the lower estimates of how much you might be paying in Medicare coverage gaps as your illnesses progress.
| | | |
| --- | --- | --- |
| Disease | Prevalence in Kansas City, KS | Annual Cost of Treatment |
| Arthritis | 25% | $291 |
| High Blood Pressure | 37% | $354 |
| Coronary Heart Disease | 7% | $9,187 |
| Diabetes | 14% | $2,163 |
| Kidney Disease | 4% | $8,569 |
Medicare Advantage Savings in Kansas City, KS
Unlike Original Medicare, Medicare Advantage plans are not provided by the government. In fact, Medicare Advantage plans are entirely owned and operated by private insurance companies. Because Medicare Advantage is a form of private insurance, it completely replaces your existing Medicare coverage, causing a variety of results. Due to the fact that private businesses have to compete with each other for your patronage, many are willing to offer additional coverage options in order to entice more seniors to enroll in their plans. Of course, it is important to know that you'll have to pay a little extra in order to secure anything other than the basic level of benefits common to Original Medicare, which providers of Medicare Advantage plans are required by law to provide. However, that "little extra" might end up totalling $0 in monthly payments, thanks to state and federal financial assistance.
One of the most common additional coverage options is the addition of prescription drug and minor medical equipment coverage. Plans that include these coverage options can enable seniors to enjoy affordable access to necessities like glucose monitors and testing strips, making them a phenomenal option for any seniors suffering from chronic health conditions such as high blood pressure, diabetes, and arthritis. Depending on the nature and severity of your illness, your savings can really stack up over time.
A Medicare Advantage plan can save you even more money if you opt into coverage for dental and vision care. To put it simply, private insurance providers are capable of fully customizing their plans, provided they stay within the requirements established by state and federal law. Although they cannot remove anything from Original Medicare, they can – and frequently do – add more to it. Unfortunately, this is not an option for anybody reliant on Original Medicare or even Medicare Supplement Insurance, as both are still primarily operated by the government.
Medicare Supplement (Medigap) Savings in Kansas City, KS
You may not have heard about Medicare Supplement Insurance before, but you've most likely heard about Medigap. The two phrases refer to the same thing: a supplemental insurance option designed to bridge the coverage gaps between Original Medicare's coverage options and the access to healthcare that you both need and deserve. All in all, there are ten plans from which to choose. Although each plan provides subtly different benefits, they all share the common theme of providing improved access to emergency and in-patient care as well as other Medicare Part A expenses. Those costs can be quite burdensome for seniors suffering from chronic health conditions such as heart disease and kidney disease.
The first few plans you should know about are Medicare Supplement Insurance plans A, D, K, and L. Each of these plans provides a wide array of benefits for seniors struggling with high out-of-pocket Medicare Part A coverage gaps. If you find that your need for emergency care, in-patient care, or other expenses associated with Medicare Part A have been increasing recently, then you might want to consider enrolling in one of these four plans. However, if you have been incurring any expenses as a result of Medicare Part B coverage gaps, then you won't be fully satisfied with either of these four plans. That's because neither plan type A, D, K, nor L provide any form of assistance with Medicare Part B coverage gaps. Instead, they target Medicare Part A exclusively.
In order to obtain a Medigap plan that includes coverage options for both Medicare Part A coverage gaps as well as Medicare Part B coverage gaps, consider enrolling in one of the following plan types: B, C, F, G, M, and N. These plans are designed specifically to ensure that you not only have access to the emergency and in-patient care that you need, but also that you have access to all of the other medical necessities that you could need. That includes the ambulance, the out-patient hospital visits, and just about everything in between. Unfortunately, Medigap Plan F will no longer be available beginning in 2021. That means that you won't be able to enroll in that plan after the end of 2020. But if you act quickly, you can get "grandfathered in" if you enroll before the deadline. Alternatively, you could enroll in something similarly comprehensive. The chart below should help in your search for the perfect Medigap plan.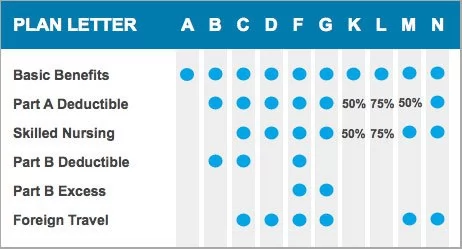 As mentioned above, Medigap plan beneficiaries do not have the option of adding prescription drug coverage or vision and dental coverage to their Medigap plans. Because Medicare Supplement insurance is designed to expand on the existing benefits of Original Medicare rather than replace it, that's simply not an option. But don't give up hope just yet! There are a wide variety of easy ways to ensure that you don't lose access to the healthcare that you need. One of the most common methods is to simply buy private insurance that covers things like prescription drugs and vision and dental care. That way, you can still enjoy your Medigap and Original Medicare benefits without worrying about what to do in the case of a cavity or blurry vision. Best of all, this can typically be done for less than $100 per month, depending on what deals are currently being offered in the Kansas City area.
Living a healthy life is a big responsibility that only gets bigger with age. As you go up in years, your health is likely to deteriorate. Don't let the same happen to your finances and your independence by sticking with the insufficient coverage options of Original Medicare. Head over to Medigap.com today and begin looking at which plan is right for you.
| | | | |
| --- | --- | --- | --- |
| Medigap Plan | Minimum Monthly Premium | Maximum Monthly Premium | Average Estimated Monthly Premium (Part B Premium Included) |
| Plan A | $79 | $209 | $280 |
| Plan B | $107 | $237 | $308 |
| Plan C | $127 | $270 | $334 |
| Plan D | $109 | $221 | $301 |
| Plan F | $128 | $260 | $330 |
| Plan F (high deductible) | $30 | $83 | $192 |
| Plan G | $108 | $222 | $301 |
| Plan K | $50 | $112 | $217 |
| Plan L | $78 | $158 | $254 |
| Plan M | $103 | $160 | $267 |
| Plan N | $92 | $200 | $282 |