There are plenty of great reasons to retire in Davenport, Iowa. Although affordable access to healthcare is among them, that is not the case for a whole third of all seniors in the area. If you're one of the thousands of seniors in the Davenport area who don't have either Medicare Advantage or Medicare Supplement (a.k.a. Medigap) Insurance, then chances are you already know all about Medicare coverage gaps. If not, you're in for a rude awakening when your incredibly expensive doctor and hospital bills start coming in. The good news is you're not alone. The bad news is there's a lot more that you need to know.
Facts and Figures
There are 14,496 seniors living in Davenport right now.
There are 6 hospitals in the Davenport area where seniors can get emergency and/or in-patient care.
18% of Iowa seniors have a Medicare Advantage plan.
49% of Iowa seniors have a Medicare Supplement (Medigap) plan.
Which leaves 33% of seniors potentially uninsured or underinsured against costly Medicare coverage gaps!
One in every three seniors in Davenport lacks proper health insurance. That means that if you look to the seniors to your left and then to the senior to your right, you can safely bet that at least one of them – maybe even you – don't have the ability to access reliable and affordable healthcare. Unfortunately, if you're the one out of three seniors who still relies on Original Medicare to meet your healthcare needs, the situation only gets worse with time. As you age, your risk of developing new or worsening symptoms as a result of age-related illnesses increases significantly. When your symptoms begin to worsen, the frequency and severity of your symptoms is likely to increase each passing year. The chart below demonstrates the high prevalence of several key age-related illnesses in your area.
| | |
| --- | --- |
| Disease | Prevalence in Davenport, IA |
| Arthritis | 25% |
| High Blood Pressure | 30% |
| Coronary Heart Disease | 6% |
| Diabetes | 10% |
| Kidney Disease | 3% |
Healthcare Costs in Davenport, IA
As you develop new or worsening symptoms, you can expect your healthcare costs to increase. At the simplest level, that's because more symptoms equals more doctor visits. At the most complex level, that's because there are a variety of economic forces at play, each of which being more difficult to navigate than the last. For example, medical costs are rising every year as a result of increased demand, regulatory compliance, and a variety of other economic factors that economists are still debating. Since these costs are rising every year, you can expect to pay more even if you do not develop any new or worsening symptoms. Another bittersweet fact is that these medical technologies are enabling seniors to live longer lives than ever before. The sweet part is that you can enjoy a longer, happier life. The bitter part is that you therefore have more time in your life for these economic factors to cause your medical bills to really pile up.
| | | |
| --- | --- | --- |
| Disease | Prevalence in Davenport, IA | Annual Cost of Treatment |
| Arthritis | 25% | $294 |
| High Blood Pressure | 30% | $356 |
| Coronary Heart Disease | 6% | $9,019 |
| Diabetes | 10% | $2,173 |
| Kidney Disease | 3% | $7,891 |
Medicare Advantage Savings in Davenport, IA
18% of seniors in Davenport have replaced their Original Medicare insurance plan with a Medicare Advantage insurance plan to take advantage of a variety of opportunities. First off, it's important to note that Medicare Advantage plans are not provided by the government. Instead, they are entirely privately owned and operated, with the government merely regulating them from the sidelines. For example, the law requires that all Medicare Advantage plans provide the same level of minimum coverage options found in Original Medicare. But, because of the increased independence that private companies enjoy, these plans often come with significantly increased numbers of benefits. That is, at an increased price, though the government tends to take care of all or most of those prices for you, making it possible to enjoy the improvements without having to pay.
Among those additional coverage options is prescription drug coverage. Although these benefits vary from one provider to the next, the general rule of thumb is that they are comprehensive enough to cover any amount of prescription medications that you require. In fact, they also tend to include coverage options for minor medical equipment, such as glucose monitors and testing strips. These benefits make Medicare Advantage prescription drug coverage one of the best options for seniors on medication-heavy treatment plans. If you happen to be suffering from arthritis, high blood pressure, and/or diabetes, then switching from Original Medicare to Medicare Advantage could save you potentially tens of thousands of dollars over the next few years.
Adding vision and dental care coverage directly to your Medicare Advantage plan can save you even more money. Through one of these plans, you can enjoy affordable access to just about every aspect of your vision and dental care. Compared to the virtually nonexistent vision and dental benefits associated with Original Medicare and Medicare Supplement Insurance, those provided by Medicare Advantage are without a doubt the best that you can get through any form of Medicare insurance plan.
Medicare Supplement (Medigap) Savings in Davenport, IA
Nearly half of all seniors in Iowa have incorporated a Medicare Supplement plan into their Original Medicare health insurance in order to protect them from the coverage gaps therein. With any one of the ten available Medigap plans, you can save a considerable amount of money on Medicare Part A coverage gaps, which can be particularly burdensome for seniors suffering from age-related heart and/or kidney disease. Of course, each plan is different. With ten to choose from, it is important that you speak with an expert before making the final decision on which plan is right for you. To help make that decision even easier, we've divided each of the ten plans into one of two categories based on the benefits of the individual plans.
The first category of Medicare Supplement plans includes Medigap plans A, D, K, and L. These are the plans that provide great benefits related to Medicare Part A coverage gaps but no benefits whatsoever related to Medicare Part B coverage gaps. If you have been paying large amounts of out-of-pocket expenses related to coverage gaps for treatments such as hospitalizations, blood transfusions, and skilled nursing care, then one of these plans might be great for you. However, if you have also or have only been paying out-of-pocket expenses as a result of Medicare Part B coverage gaps, then you will want to look into one of the plans in the second category of Medigap plans.
The second category of Medicare Supplement plans includes Medigap plans B, C, F, G, M, and N. These are the plans that provide similar benefits to those in category one but also provide great coverage options related to Medicare Part B coverage gaps. With one of these plans, you can rest easy knowing that you won't have to deal with the coverage gaps of just about anything between the ambulance ride to the end of your hospital stay. That being said, there is some bad news. Medigap Plan F is going to be discontinued starting 2020. In order to obtain a similar standard of coverage, you will have to enroll in one of the other plans in the second category of Medigap plan types. Conversely, if you can get enrolled in Medicare and enroll in Plan F before the deadline, you should be able to grandfather yourself into one of these policies.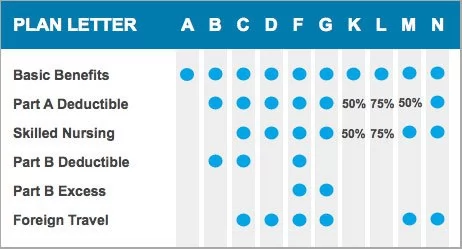 Obtaining prescription drug, vision, and dental care coverage while on a Medigap plan can seem like a daunting process, but it is actually quite easy. For prescription drug coverage, you can enroll in Medicare Part D prescription drug coverage. The benefits provided therein tend to be enough to cover many different kinds of prescription medications with only a slight risk of running into the "donut hole," which is another kind of coverage gap. For vision and dental coverage you can enroll in any one of the plans provided by any of the multiple local providers that service the Davenport area. These plans tend to be quite affordable and, best of all, you can enroll in them at any time. You don't have to wait for open-enrollment in order to enroll in a vision or dental plan.
Medical costs are rising, your health is facing an increased risk posed by age-related illnesses, and Medicare coverage gaps are only going to become more expensive with time. That's why you need to be proactive. Taking a few moments of your time to retake control of your health insurance can make the difference between going back to work and getting the healthcare that you both need and deserve with no strings attached. So don't wait! Head over to Medigap.com today and get started shopping for the plan that is right for you. There's no better time than now to secure your future finances, health, and security.
| | | | |
| --- | --- | --- | --- |
| Medigap Plan | Minimum Monthly Premium | Maximum Monthly Premium | Average Estimated Monthly Premium (Part B Premium Included) |
| Plan A | $68 | $222 | $281 |
| Plan B | $104 | $252 | $314 |
| Plan C | $121 | $287 | $340 |
| Plan D | $116 | $233 | $310 |
| Plan F | $109 | $266 | $323 |
| Plan F (high deductible) | $28 | $76 | $188 |
| Plan G | $94 | $195 | $280 |
| Plan K | $41 | $92 | $202 |
| Plan L | $74 | $129 | $237 |
| Plan M | $109 | $146 | $263 |
| Plan N | $74 | $186 | $266 |