Did you know that healthcare coverage gaps in the Joliet area can drive seniors out of retirement and back into the workforce? These coverage gaps can be so expensive that they have left countless seniors with no other option but to deplete their savings and look for part-time work just to get enough extra money to cover basic healthcare. But what exactly are these coverage gaps? And how much money will they end up costing you, specifically? If you're worried about Medicare coverage gaps, here's something to keep in mind: you're not alone. Let's take a quick look at a few of the facts and figures to see just how many seniors suffer from Medicare coverage gaps in the Joliet area.
Facts and Figures
There are 14,217 seniors living in Joliet right now.
There are 4 hospitals in Joliet where seniors can go to receive emergency and/or in-patient care.
21% of Illinois seniors have a Medicare Advantage plan.
33% of Illinois seniors have a Medicare Supplement (Medigap) plan.
Which leaves 46% of seniors potentially uninsured or underinsured against costly Medicare coverage gaps!
Although the majority of seniors in the Joliet area have decent (or better) access to healthcare, nearly one out of every two seniors still doesn't have the ability to access the quality healthcare and treatment options that they both need and deserve. Unfortunately, the problem only grows worse with age. As you get older, your odds of developing an "age-related illness" increase. On top of this exponentially rising risk of developing a new illness, your existing conditions are likely to become more severe as well. That means that the more than 6,500 uninsured or underinsured seniors in Joliet might be caught by surprise and completely incapable of paying for treatments for a variety of new health conditions. The chart below shows just how prevalent a few of the most common age-related illnesses are in the Joliet area.
| | |
| --- | --- |
| Disease | Prevalence in Joliet, IL |
| Arthritis | 23% |
| High Blood Pressure | 30% |
| Coronary Heart Disease | 6% |
| Diabetes | 10% |
| Kidney Disease | 3% |
Healthcare Costs in Joliet, IL
Unfortunately, the problems don't stop there. As you develop new illnesses as a result of age, the signs and symptoms of those illnesses will continue to grow in both frequency and severity. That means that your arthritis (which nearly one in every four seniors in Joliet suffer from) could potentially go from a minor inconvenience one year to a severe and debilitating handicap the next. If you continue to rely on Original Medicare for treatment, you could end up spending thousands of dollars out of pocket each and every year as a result of becoming financially burdened by Medicare coverage gaps. And because of the fact that healthcare costs are rising every year, the problem is likely only to get worse. Considering that seniors are living longer lives than ever before, there's more time in your life for your conditions to worsen and your healthcare costs to increase. See the chart below for more information.
| | | |
| --- | --- | --- |
| Disease | Prevalence in Joliet, IL | Annual Cost of Treatment |
| Arthritis | 23% | $280 |
| High Blood Pressure | 30% | $288 |
| Coronary Heart Disease | 6% | $7,982 |
| Diabetes | 10% | $2,158 |
| Kidney Disease | 3% | $7,177 |
Medicare Advantage Savings in Joliet, IL
One of the two most common methods that seniors in the Joliet area are currently using to ensure that they have reliable access to affordable healthcare is through enrolling in a Medicare Advantage plan. These specific Medicare plans serve to replace your Original Medicare plan with a more comprehensive one. Some seniors believe them to be more effective and efficient than Original Medicare, but that will vary depending on your provider. Although Medicare Advantage plans replace your Original Medicare benefits with private insurance, the law requires that Medicare Advantage plans provide the same baseline level of care for any and all beneficiaries. What sets Medicare Advantage plans apart from Original Medicare, however, is the fact that many providers allow you the option of adding additional benefits to your coverage options in exchange for higher premiums. Of course, with access to state and federal subsidies, you might be able to obtain those extra features while still paying nothing in premiums.
One of the most important benefits associated with Medicare Advantage plans is the vast amount of savings possible through the inclusion of prescription drug coverage and minor medical equipment coverage. Not only do many providers offer the option to add comprehensive prescription drug coverage for everything from name brand medications to generics, but they also offer the option to have your plan cover medical equipment such as glucose monitors and testing strips. If you happen to be suffering from a chronic health condition the likes of arthritis, diabetes, or high blood pressure, the savings can stack up over time.
Because Medicare Advantage plans are provided by private businesses rather than the government, the options for additional coverage options are virtually endless. In fact, many providers even offer significantly improved dental and vision care coverage, something that many seniors find lacking in their Original Medicare plan. This option is one of the biggest differences between Medicare Advantage and Medicare Supplement Insurance. Despite the benefits of the former, the latter is incapable of providing any form of dental or vision care coverage benefits. Fortunately, there are a few ways to get around that, which will be discussed later on.
Medicare Supplement (Medigap) Savings in Joliet, IL
Medicare Supplement Insurance, more commonly referred to as Medigap, is the most common tool used by seniors in Joliet for the purpose of ensuring access to quality healthcare. Unlike Medicare Advantage plans, Medigap plans do not replace your existing Medicare coverage. Rather, they expand upon it, adding extra insurance coverage options for when you find yourself trapped in a sea of costly Medicare coverage gaps. Generally speaking, these plans are divided into two categories, with the common theme being improved access to emergency and in-patient care.
The first category of Medigap plans includes plans of types A, D, K, and L. Each of these four plans are specifically tailored to provide insurance against expenses incurred by Medicare Part A coverage gaps. That makes them great options for any senior who suffers from a chronic health condition, such as kidney and heart disease, that can require frequent in-patient care. Unfortunately, that's just about all they do. These four plans are the least comprehensive of the available Medigap plans, as none of these four plans provides any coverage against Medicare Part B coverage gaps. For that, you'll have to choose one of the other six plans.
The second category of Medicare Supplement insurance plans are those that provide coverage benefits for both Medicare Part A and Medicare Part B coverage gaps: Plans B, C, F, G, M, and N. Each of these plan types provides customized benefits designed to appeal to different people in different circumstances. In order to know which of the ten options is best for you, it's a wise decision to speak to a professional. Unfortunately, Medigap Plan F is being discontinued after 2020, meaning that you will no longer be able to enroll in that plan starting 2021. In order to continue to receive a similar quality of coverage, you'll either have to hurry up and enroll before the deadline, or consider one of the other plans in this category.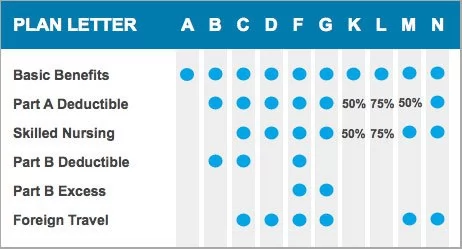 As mentioned earlier, Medicare Supplement Insurance plans do not provide any additional benefits related to dental or vision care coverage. These plans also provide no additional benefits related to prescription drug coverage. That means that there is no way to improve upon either of these three areas of coverage with the addition of a simple Medigap plan. That said, there are other ways to ensure that you receive the coverage that you both need and deserve. The most common of which is to simply reach out to a private healthcare provider and purchase vision and dental through their marketplace. Typically, this can be done all in the same bundle for less than $100 per payment period. Most seniors who choose to stay enrolled in Medicare will have to sign up for Medicare Part D for their prescription drug coverage, but you may have other local options depending on where you live.
Living in Joliet can be wonderful, but not for the more than 6,500 seniors who struggle each day to obtain access to quality healthcare. The longer you wait, the more you risk your financial and healthcare independence in the face of rising medical costs and increased risk of developing or worsening age-related illnesses. So don't wait a second longer. Contact us here at Medigap.com today and begin shopping for the plan that is right for you. Your future health is in your hands.
| | | | |
| --- | --- | --- | --- |
| Medigap Plan | Minimum Monthly Premium | Maximum Monthly Premium | Average Estimated Monthly Premium (Part B Premium Included) |
| Plan A | $71 | $276 | $309 |
| Plan B | $93 | $314 | $339 |
| Plan C | $122 | $357 | $375 |
| Plan D | $106 | $217 | $297 |
| Plan F | $111 | $294 | $338 |
| Plan F (high deductible) | $31 | $91 | $197 |
| Plan G | $107 | $218 | $298 |
| Plan K | $53 | $109 | $217 |
| Plan L | $79 | $154 | $252 |
| Plan M | $109 | $176 | $278 |
| Plan N | $87 | $176 | $267 |