Colorado can be a great place to retire, especially for forward-thinking seniors with healthcare and financials in mind. Unfortunately, the risk of Medicare coverage gaps can result in that retirement coming to an early end. Medicare coverage gaps are the thresholds in between your normal benefits and the benefits which Medicare Parts A and B will not cover. While in those thresholds, you'll experience a sharp decline in effective benefits as out-of-pocket expenses increase by hundreds or even thousands of dollars per year. Fortunately, there are two ways out: Medicare Advantage plans or Medicare Supplement plans. Each year, thousands more seniors like yourself enroll in these plans. In fact, more than half of the seniors in Lakewood already have one.
Facts and Figures
There are 24,930 seniors living in Lakewood right now.
There are 3 hospitals in the Lakewood area where seniors can get emergency and/or in-patient care.
37% of Colorado seniors have a Medicare Advantage plan.
17% of Colorado seniors have a Medicare Supplement (Medigap) plan.
Which leaves 46% of seniors potentially uninsured or underinsured against costly Medicare coverage gaps!
For the 46% of Lakewood seniors who don't currently have the proper level of insurance necessary to protect them against unexpected medical expenses, the problem of finding affordable healthcare options only gets worse. Even the healthiest member of that 46% figure can have their financial and medical independence stripped away by an accident, a fall, or even ordinary illness. Healthcare professionals often warn seniors against going uninsured, particularly because of their unfortunate virtue of being prone to age-related illnesses. Age-related illnesses are any illness or disease with symptoms that increase in frequency and severity with age. The chart below demonstrates just how common a small handful of age-related illnesses are in the Lakewood area.
| | |
| --- | --- |
| Disease | Prevalence in Lakewood, CO |
| Arthritis | 24% |
| High Blood Pressure | 25% |
| Coronary Heart Disease | 5% |
| Diabetes | 7% |
| Kidney Disease | 3% |
Healthcare Costs in Lakewood, CO
As the symptoms of age-related illnesses increase in both frequency and severity, so too do the healthcare costs of treating those symptoms. The primary reason for that is the fact that worsening symptoms equates to a worsening quality of life and thus an increased need for treatment. However, increased frequency of treatment isn't the only concern. The nature of the treatment itself also changes with age. As an illness progresses, the severity of the necessary treatments must rise to match the severity of the illness. For example, early-onset arthritis can sometimes be treated with lotions and medications, whereas severe arthritis can oftentimes require multiple invasive surgeries in a single year or even month. To make matters worse, healthcare costs are rising across the board, leading seniors to have to pay more each year than the previous year for the same level of treatment. Since seniors are now living longer than ever before, there is more time in your life for your symptoms to worsen, your need for treatment to increase, and the cost of medicare care to grow.
| | | |
| --- | --- | --- |
| Disease | Prevalence in Lakewood, CO | Annual Cost of Treatment |
| Arthritis | 24% | $280 |
| High Blood Pressure | 25% | $288 |
| Coronary Heart Disease | 5% | $7,774 |
| Diabetes | 7% | $2,158 |
| Kidney Disease | 3% | $7,056 |
Medicare Advantage Savings in Lakewood, CO
Whereas Original Medicare plans are provided by the federal government, Medicare Advantage plans are provided by private businesses. In fact, Medicare Advantage plans serve to completely replace your existing Medicare plan. However, that doesn't mean that you're going to lose coverage when you switch. The government requires that all providers of Medicare Advantage plans provide the same basic level of coverage options as Original Medicare. And because private providers are constantly competing for your patronage, they also tend to offer additional coverage options, although those additional coverage options can cost a good bit extra. Thanks to financial assistance from the government, however, those additional coverage options won't necessarily cost you anything extra. In fact, you might end up paying as little as $0 in monthly premiums.
Seniors who suffer from chronic health conditions the likes of high blood pressure, arthritis, and diabetes often find that Medicare Advantage plans are the best option for them to ensure their access to affordable healthcare. The reason for that is that Medicare Advantage plans can provide prescription drug coverage and minor medical equipment coverage that is far more comprehensive than ordinary Medicare Part D coverage and without the "donut hole." With the minor medical equipment coverage, you can enjoy access to necessities like glucose monitors and testing strips, all of which can be covered by your insurance. Again, the specifics of this coverage option vary from provider to provider, so it's important to shop around. After a few years with the right plan, however, you can save quite a bit of money.
If you're looking to save even more money in regards to dental and vision care, you can have your Medicare Advantage plan provide coverage for those as well. These plans, like with prescription drug coverage, vary from provider to provider. The main commonality between them is that they enable a high-quality of care while the government picks up the tab. This is one of the most noticeable differences between Medicare Advantage, Medicare Supplement (Medigap), and Original Medicare insurance plans. Only Medicare Advantage is capable of directly adding these coverage options to your array of benefits. The other two plans provide barely any vision or dental benefits whatsoever, leaving almost everything uncovered.
Medicare Supplement (Medigap) Savings in Lakewood, CO
If you find yourself thinking that Medicare Advantage plans are excessive or too much of a hassle, then you might be more interested in a Medigap plan. You can choose from one of the 10 available Medigap plans, none of which replace your existing Medicare coverage. Rather, they serve to supplement your Original Medicare plan, hence the name Medicare Supplement. Each of these plans is subtly different from the others. Those differences are represented in the prices of the plan as well as in the specifics of their coverage benefits. Generally speaking, all ten of the plans serve to provide coverage where there is none. That is to say that they remove the difficulties faced by Medicare coverage gaps.
Medicare Supplement insurance plans of types A, D, K, and L specialize in making Medicare Part A treatment options more accessible by cutting down on the out-of-pocket costs of Medicare Part A coverage gaps. That includes hospital stays, skilled nursing care, and blood transfusions, among other things. Unfortunately, they provide very little benefits of any kind for emergency services or other items covered by Medicare Part B, meaning that you could still fall into the Medicare Part B coverage gap.
To have your coverage gaps covered for both Medicare Part A and Medicare Part B, you'll want to look into Medigap plans of types B, C, F, G, M, and N. These plans provide coverage benefits to protect you and your finances from Medicare Part A as well as Medicare Part B expenses. This enables you to keep clear of the costly Medicare coverage gaps in both Parts while obtaining the level of emergency, in-patient, and similar care that you both need and deserve. Of course, it's important to note that Medigap Plan F, a favorite plan for many seniors, is going to be removed from the system in 2021. That means the plan will no longer be available for enrollment come the end of 2020. But if you enroll now, you can still enjoy those benefits as long as you stick with that policy and pay your premiums on time each month.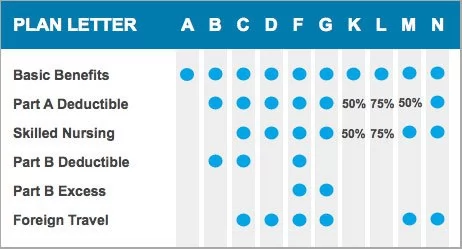 If you're wondering what to do about prescription drug coverage and dental and vision care coverage while on a Medicare Supplement insurance plan, there are a few things you need to know. First of all, Medicare Part D prescription drug coverage tends to have everything that you'll need when it comes to prescription medications. If you require a large number of medications, however, you're going to want to consider enrolling in a Medicare Advantage plan instead. Second, you can easily obtain dental and vision care coverage by enrolling in a private plan designed to cover solely those two aspects of your care. You can typically do so for fewer than $100 per payment period, depending on the provider that you choose to go with.
Securing your access to healthcare is more important now than ever before. With the constant changes being made in Medicare, certain Medigap plans going by the wayside, increased risk of developing an age-related illness, and suffering through rising medical costs, there is quite a bit that can go wrong. By waiting for the "right time" to enroll in a comprehensive health insurance plan, you risk facing the consequences of not acting soon enough. So don't wait. Go online to Medigap.com and start on your healthcare journey today!
| | | | |
| --- | --- | --- | --- |
| Medigap Plan | Minimum Monthly Premium | Maximum Monthly Premium | Average Estimated Monthly Premium (Part B Premium Included) |
| Plan A | $71 | $254 | $298 |
| Plan B | $107 | $289 | $334 |
| Plan C | $142 | $329 | $371 |
| Plan D | $131 | $198 | $300 |
| Plan F | $140 | $271 | $341 |
| Plan F (high deductible) | $31 | $89 | $196 |
| Plan G | $113 | $200 | $292 |
| Plan K | $35 | $100 | $203 |
| Plan L | $64 | $141 | $238 |
| Plan M | $125 | $171 | $284 |
| Plan N | $93 | $176 | $270 |