Turning 65 in San Diego, CA? If the answer is yes, congratulations on your pending retirement in a place most people would consider paradise. But be aware, paradise can have some hidden clouds that can rain on your retirement parade if you aren't protected. Hitting 65 means you qualify for Medicare. Medicare by itself provides the basics in medical coverage but it has many expensive "gaps." Medicare has some potent deductible, coinsurance and copay requirements – not to mention no coverage for some issues that most seniors will have to deal with. To stay out of the "Medicare Gap Rage" you need an umbrella of supplement insurance that can cover those gaps and keep you financially dry.
Facts and Figures
There are 171,072 seniors living in San Diego right now
There are 16 hospitals in the San Diego area where seniors can get emergency and/or in-patient care
40% of California seniors have a Medicare Advantage plan
12% of seniors have a Medicare Supplement (Medigap) plan
Which leaves 48% of seniors potentially uninsured or underinsured against costly Medicare coverage gaps!
Like a favorite old used car, the older we get the more maintenance we need and the more likely we are to have a "break down." Our bodies have over six decades of living on them and the bones are not as strong. Our immune system isn't in prime fighting form either. The older we get the more susceptible we become to chronic diseases like diabetes, high blood pressure, and everybody's favorite: arthritis. Some sneak up on you, some you don't even know you have until they cause problems, and all can be life changing, even fatal. You might be surprised how many of your fellow San Diego seniors have chronic disease. Check out the chart below to get a feel of how many of the people you know are burdened with these conditions. One other thing to know about chronic diseases: they're called chronic because they don't go away. You can control them through drugs and therapy but that costs money. If you don't have the insurance protection you need, you could be in for a lifelong financial haul you hadn't expected.
| | |
| --- | --- |
| Disease | Prevalence in San Diego |
| Arthritis | 16% |
| High Blood Pressure | 25% |
| Coronary Heart Disease | 4% |
| Diabetes | 11% |
| Kidney Disease | 2% |
Healthcare Costs in San Diego, CA
Living to 65 in the 21st Century isn't the achievement it was at the start of the 20th. Thanks to advances in technology, availability of medical care, better education, and a host of other reasons, we live longer now. That's the good news. If you're afflicted with a chronic disease however, it means you have a longer time to deal with rising treatment costs and a lower quality of life. Having adequate insurance will not prevent you from becoming sick but it can reduce your stress levels knowing that you are financially protected. And that's a good thing because the cost of healthcare is not going to go down in San Diego or anywhere else in the country. The chart below gives you an idea of the annual cost today to treat the most common chronic diseases.
| | | |
| --- | --- | --- |
| Disease | Prevalence in San Diego | Annual Cost of Treatment |
| Arthritis | 16% | $304 |
| High Blood Pressure | 25% | $356 |
| Coronary Heart Disease | 4% | $8,449 |
| Diabetes | 11% | $2,165 |
| Kidney Disease | 2% | $8,161 |
Medicare Advantage Savings in San Diego, CA
You have options today when it comes to providing coverage in the gaps in Original Medicare. One of those is Medicare Advantage plans. These are very popular in California for a number of reasons. Medicare Advantage plans are actually private insurance companies who contract with Medicare to provide, at a minimum, all Medicare benefits. In practice, they provide much more. The insurance companies are paid a flat rate per subscriber. The insurance companies are responsible for paying all medical bills for covered services, not Medicare. With that in mind, Medicare Advantage companies are motivated to keep you healthy to minimize "reactive" medical expenses. To do this, the Medicare Advantage plans focus on preventive medicine which means you end up with benefits not available from Original Medicare like drug coverage, dental, and eye care. In order to qualify for a Medicare Advantage plan, you have to be enrolled in both Part A and Part B of Medicare. This means you will be paying your premium for Part B (normally deducted from your social security benefit) but often you are able to select a Medicare Advantage plan that has a zero dollar premium.
We talked briefly about chronic diseases. From a financial perspective, these conditions can be real bank busters. The thing about chronic disease is that it is chronic, it's not going away. We can control them but there is no ready cure. Controlling these conditions typically requires drugs, and in the case of diabetes, testing. The need for these drugs and testing equipment is ongoing as is their cost. How much can it cost? Check out the chart below for the cost of the most prevalent chronic diseases in San Diego. Original Medicare does not offer coverage for prescription drugs. Most Medicare Advantage plans include a drug plan. Under these plans, your cost is a fraction of retail and over time that can result in significant savings. The same goes for testing and minor medical equipment like glucose monitors. Why would Medicare Advantage offer a drug plan when all they are obligated to provide is the same coverage as Medicare? The answer is drug therapy prevents a disease from becoming a major, and expensive, event like a heart attack or an amputation. Spending on preventive measures is more profitable than just paying for "reactive" medical care
While dental care and eye care are not covered by Original Medicare, they are covered by most Medicare Advantage plans. Dental issues and vision concerns seem to multiply the older you get. Dental problems can lead to heart disease and if you can't see clearly you're likely to trip and fall or be involved in an auto accident. In other words, ignoring preventive dental and eye care can lead to expensive reactive treatment, something Medicare Advantage plans want to avoid. Dental coverage is typically limited to a basic exam, cleaning and filling. Eye care involves free annual exams and lenses. Often, subscribers receive discounts on eyewear as well. This idea of providing preventive care to avoid more expensive care is expanding with some plans providing hearing tests, discount hearing aids, and even providing transportation to and from medical appointments. To an older generation, these benefits offer real value.
Medicare Supplement (Medigap) Savings in San Diego, CA
Age-related kidney and heart diseases can result in extended hospital stays, expensive treatments, and significant out-of-pocket expense for San Diego seniors if they are relying exclusively on Medicare as their health insurance. With its deductible, copay, and coinsurance requirements, Medicare patients can expect significant, perhaps devastating medical expenses. These are examples of the kind of "gaps" Medicare is known for. Medicare Supplement, also known as Medigap, is a private insurance plan that is designed to cover those gaps. Medigap insurance is directly tied to Medicare benefits and, depending on the plan you select, can pick up all or some of the cost that Medicare doesn't pay. There are 10 Medigap plans approved by Medicare. They each have different levels of coverage so finding one that best fits your personal needs takes a little work. But you need to know that once you have decided on a plan (each is designated with a letter) that plan will offer the same coverage and terms regardless of who you purchase it from.
There are 10 Medigap plans to choose. As mentioned, they all have differences to accommodate the diverse needs of the senior population. Many plans provide coverage for "gaps" in both Part A and Part B of Medicare but four, (plans A, S, K, and L) principally provide coverage for Part A only with no or limited coverage for Part B. These policies may be good fits for healthy seniors or seniors with minimal health issues who also have the financial resources to handle the copay and coinsurance requirements of Part B. Basically these plans provide protection against the "big event" like a serious car crash or a heart attack where hospital costs will be extensive. This is an example of how Medigap plans can vary greatly and it's important that you fully understand the terms before selecting one.
It's pretty obvious that seniors who rely only on Original Medicare are exposed to significant financial risk. As mentioned, most Medigap plans, specifically B, C, D, F, G, M, and N provide coverage for both Part A and Part B of Medicare. Coverage can run from comprehensive (100% of both Part A and Part B copays and coinsurance, to partial (50%). The high deductible, low cost plan, Plan F, will not be offered after 2020. Once again, Medigap plans are not one-size-fits-all solutions. While they may have overlapping benefits, each has something about their design that makes them unique. They do this to "tailor" the coverage to meet certain medical and budgetary needs that a specific group of seniors may have. We can't stress enough how important it is to consult with a licensed agent to get a solid understanding of what plan is best suited for your personal situation.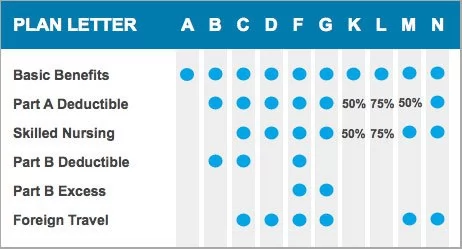 Original Medicare does not offer prescription drug coverage. Medigap policies are tied directly to Medicare benefits so consequently they don't offer a drug plan either. Depending on what drugs you are prescribed, the cost of those pharmaceuticals can put a huge stress on your monthly retirement income. If you are unlucky enough to become one of the thousands of Phoenix seniors with diabetes who needs insulin, you really need a drug policy that will help you reduce or cover the cost. Medicare does allow you to purchase a separate Part D drug policy from authorized private insurance companies. The premium for this Part D coverage will be in addition to the Medigap premium and your Part B premium which typically is deducted from your social security benefits. It's important to remember that not all Plan D plans are the same. Before you buy, check their listing of drugs provided to ensure they carry the drug you need.
So, here's the takeaway. You are about to enter those "Golden Years" but the rising cost of healthcare in San Diego and elsewhere could change the metallurgical characteristics of your retirement from gold to tin. It's important that you have a health insurance plan that will provide you the protection that you need. If you are independently wealthy and can absorb the deductibles, copay, and coinsurance costs of Original Medicare, then that is probably the best value. But if you are like most San Diego seniors you need to protect your retirement resources from disastrous medical costs. In that case, you have Medicare Advantage plans and a host of Medigap plans to choose from. We strongly recommend you don't make any decisions without first consulting an expert who specializes in senior healthcare policies available in Southern California. One way to do that is by shopping right here on Medigap.com Don't put it off, do it now!
| | | | |
| --- | --- | --- | --- |
| Medigap Plan | Minimum Monthly Premium | Maximum Monthly Premium | Average Estimated Monthly Premium (Part B Premium Included) |
| Plan A | $71 | $194 | $268 |
| Plan B | $112 | $193 | $288 |
| Plan C | $125 | $250 | $323 |
| Plan D | $106 | $221 | $299 |
| Plan F | $119 | $372 | $381 |
| Plan F (high deductible) | $21 | $74 | $183 |
| Plan G | $110 | $253 | $317 |
| Plan K | $45 | $106 | $211 |
| Plan L | $76 | $157 | $252 |
| Plan M | $107 | $199 | $289 |
| Plan N | $73 | $231 | $288 |