Springdale, Arkansas is a wonderful place to retire. But if you aren't prepared to handle the gaps in Medicare coverage, your retirement plans can get very ugly, very fast. Thankfully, there are easy ways to prevent this from happening. All you have to do is sit down and figure out which type of Medicare supplement insurance is right for you. Purchasing Medicare supplement coverage is one of the easiest and most cost-effective ways to protect yourself from these unfortunate coverage gaps. And if you don't do everything you can to protect yourself, you could be facing a mountain of medical debt at a time in your life when you are least capable of repaying it.
Facts and Figures
There are 6,630 senior citizens living in Springdale right now

There are 5 hospitals in the Springdale area where seniors can get emergency and/or in-patient care

21% of Arkansas seniors have a Medicare Advantage plan

29% of seniors have a Medicare Supplement (Medigap) plan

Which leaves 50% of seniors potentially uninsured or underinsured against costly Medicare coverage gaps!
Some seniors are more vulnerable than others when it comes to the gaps in Medicare coverage. But those seniors who are particularly vulnerable are those who suffer from at least one if not more chronic diseases. The unfortunate thing about chronic diseases is that once you get a diagnosis, you're stuck with it for the rest of your life. But you can extend your years and improve your quality of life with proper management and health care coverage. But if you're constantly worried about how to pay for the gaps in your Medicare coverage, you're not going to get the care you need to minimize the impact of chronic disease on your life.
| | |
| --- | --- |
| Disease | Prevalence in Springdale |
| Arthritis | 23% |
| High Blood Pressure | 31% |
| Coronary Heart Disease | 6% |
| Diabetes | 10% |
| Kidney Disease | 3% |
Healthcare Costs in Springdale, AR
It can certainly be very expensive to deal with an acute illness like a cancer diagnosis or fractured hip. But the total cost of chronic disease overtime can make those expenses pale in comparison. This is because you don't always consciously calculate all of the little expenses which add up over time – like prescription drugs, extra doctor visits, or small outpatient procedures that many chronic diseases require. The chart below helps outline some of those costs for you. But for a lot of seniors, the dollar amounts you'll see are only the tip of the iceberg compared to the actual, total, cumulative cost.
| | | |
| --- | --- | --- |
| Disease | Prevalence in Springdale | Annual Cost of Treatment |
| Arthritis | 23% | $280 |
| High Blood Pressure | 31% | $288 |
| Coronary Heart Disease | 6% | $7,182 |
| Diabetes | 10% | $2,158 |
| Kidney Disease | 3% | $7,043 |
Medicare Advantage Savings in Springdale, AR
A slightly smaller percentage of seniors – 21% to be exact – have enrolled in Medicare Advantage instead of a Medigap policy. But what is Medicare Advantage? For those who don't know, Medicare Advantage is when a private health insurance company offers you a health insurance policy that is identical to or better than Medicare Parts A and B. Legally, these policies have to start out as identical to Medicare Parts A and B and offering you less coverage is against the law. But you will have the option to add coverage if you wish – for a higher-priced premium, that is. Because you have paid taxes into Medicare for many years, the government will subsidize your monthly premium with a Medicare Advantage provider and whittle your monthly payments down to almost $0.
With Medicare Advantage, you can get a highly customized, highly comprehensive insurance plan for pennies on the dollar compared to typical private insurance policies. You can add things like vision, dental, prescription drug coverage, and other riders which protect you from Medicare coverage gaps all onto the same policy. So when you have to file claims and manage your healthcare needs, you will only be dealing with one company. Many seniors appreciate this simplification. And thanks to the government subsidies, you can get all of this fantastic coverage for a fraction of what you would pay for a similar plan before retirement.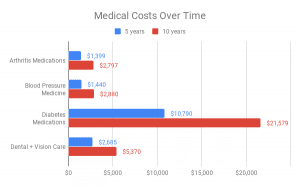 However, the more coverage you add to your Medicare Advantage plan, the more expensive your monthly premium will be. Even with government subsidies, this can make the monthly premium prohibitively expensive for seniors who are on a tight budget. There's also the fact that you're trusting your guaranteed medical benefits to a private company which still has to make a profit in addition to helping you manage your health care needs. If you're worried about how expensive these Cadillac plans can get, you can always take a look at a Medigap supplement.
Medicare Supplement (Medigap) Savings in Springdale, AR
Medigap insurance is slightly more popular in Arkansas. 29% of seniors have chosen Medigap over Medicare Advantage. There are 10 Medigap plans that seniors can choose from, each with their own unique set of medical benefits and costs. The plan you choose is up to you. It will largely be based on the needs you need to meet and the amount of money you can afford to spend on monthly premiums (as well as other associated medical expenses).
If you are only concerned with the gaps in Medicare Part A, then you might be able to save yourself some money on your monthly premiums by looking at plans A, D, K, and L. These Medigap plans usually cost less per month because they only cover Medicare Part A coverage gaps. These gaps include things like extended hospital stays, end-of-life care, and blood transfusions, among other things. Since they offer fewer benefits, they will cost you less on a monthly basis.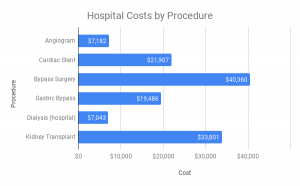 Plans B, C, G, F, M, and N take things a step further and offer a combination of medical benefits that protect you from coverage gaps in both Medicare Parts A and B. Part B coverage gaps involve things like premium payments, coinsurance costs, co-payments, foreign travel, and more. If you want the most comprehensive coverage money can buy for the best rate, then look no further than Medigap Plan F. But if you truly want this comprehensive plan, you have to act fast. 2020 is the final enrollment year for Medigap Plan F. After that, it will be retired, and new enrollees will no longer be eligible for these benefits. The only way to get them now and to secure them for life is to grandfather yourself into the program by purchasing a Medigap Plan F Supplement before January 1st, 2021.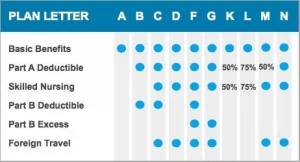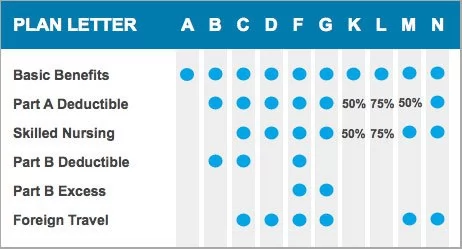 Unfortunately, you cannot customize your coverage the way you can with Medicare Advantage. But the fact that Medigap has an 8% approval rating over Medicare Advantage means that most seniors don't seem too worried about this. If you need dental or vision coverage, there are plenty of local providers who are willing to offer it to you at an affordable rate – and you may even qualify for a senior discount. Since you're still accepting federal Medicare benefits with a Medigap policy, you can easily enroll in Medicare Part D to take care of your prescription drug needs. There is a small coverage gap known as the "donut hole" which kicks in when you exceed your annual maximum but haven't yet spent enough money on prescriptions to qualify for catastrophic coverage. Thankfully, even when you are in this coverage gap, you only have to pay for 25% of your total out-of-pocket costs on your prescriptions. As long as you stay on top of your health care needs and remain as healthy as possible, you may be one of the seniors who never finds themselves caught in this donut hole.
We hope you have learned something by reading this that can help you make a decision about your health care needs sooner rather than later. It's important you pick the Medicare supplement that's right for you and to pick it early for the best protection. The longer you wait, the harder it will be to protect yourself and your savings from costly Medicare coverage gaps. If you're still unsure which type of insurance is right for you, call us! You can also send us an email with any questions or concerns you may have. We will get back to you as soon as possible to help you sort through the confusion and get you the health care you need and deserve.
| | | | |
| --- | --- | --- | --- |
| Medigap Plan | Minimum Monthly Premium | Maximum Monthly Premium | Average Estimated Monthly Premium (Part B Premium Included) |
| Plan A | $89 | $250 | $305 |
| Plan B | $113 | $302 | $343 |
| Plan C | $115 | $316 | $351 |
| Plan D | $119 | $246 | $318 |
| Plan F | $132 | $347 | $375 |
| Plan F (high deductible) | $32 | $171 | $237 |
| Plan G | $112 | $309 | $346 |
| Plan K | $49 | $139 | $230 |
| Plan L | $108 | $197 | $288 |
| Plan M | $107 | $195 | $287 |
| Plan N | $72 | $243 | $293 |