If you're a retiree in Fort Smith, we're sure you are looking forward to enjoying your golden years as soon as possible. Unfortunately, you do have to get your Medicare and other healthcare needs sorted out before you can really kick back, relax, and enjoy your retirement. But most seniors don't know about the disastrous gaps in their Medicare coverage which could leave them financially bankrupt if they don't properly secure themselves. Did you know about those gaps before you started reading this article? Are you aware of what your options are for protecting yourself from them? Well, if you keep reading, you'll learn a plethora of new information today.
Facts and Figures
There are 12,473 senior citizens living in Fort Smith right now
There are 8 hospitals in the Fort Smith area where seniors can get emergency and/or in-patient care
21% of Arkansas seniors have a Medicare Advantage plan
29% of seniors have a Medicare Supplement (Medigap) plan
Which leaves 50% of seniors potentially uninsured or underinsured against costly Medicare coverage gaps!
Let's start by talking about the elephant in the room: age-related chronic disease. Why is this important? Because what you don't know about age-related chronic disease could cost you a pretty penny when it comes to your medical care. Another thing you might not know is how intrinsically that healthcare costs associated with these diseases are connected to the gaps in federal Medicare. Just take a look at the chart below – odds are you have at least one of the diseases listed. You may even have more than one. And if so, it's more important than ever for you to secure yourself against Medicare coverage gaps before it's too late.
| | |
| --- | --- |
| Disease | Prevalence in Fort Smith |
| Arthritis | 29% |
| High Blood Pressure | 38% |
| Coronary Heart Disease | 8% |
| Diabetes | 13% |
| Kidney Disease | 3% |
Healthcare Costs in Fort Smith, AR
The connection between chronic disease and Medicare coverage gaps may not seem that intuitive at first. But the more you think about it, the more sense it makes. Prescription drug coverage is a big weak spot when it comes to Medicare, and many chronic diseases do require at least one – if not several – prescription drugs. But Medicare Parts A and B alone don't provide any coverage whatsoever for your prescriptions; and even Medicare Part D isn't perfect. Just take a look at the chart below to get an idea of how much this lack of coverage can end up costing you on an annual basis.
| | | |
| --- | --- | --- |
| Disease | Prevalence in Fort Smith | Annual Cost of Treatment |
| Arthritis | 29% | $280 |
| High Blood Pressure | 38% | $288 |
| Coronary Heart Disease | 8% | $7,182 |
| Diabetes | 13% | $2,158 |
| Kidney Disease | 3% | $7,043 |
Medicare Advantage Savings in Fort Smith, AR
Now that you know how dire is a threat is, let's talk about your options. One option that 21% of seniors are already taking advantage of in Fort Smith is Medicare Advantage. Although Medicare is in the name, it is not actually administered by the federal government or the Medicare program. Medicare Advantage is a private health insurance plan which you purchase from a private health insurance company. But don't worry – these plans are closely regulated by the federal government, and by law they must offer you identical benefits to those offered by Medicare Parts A and B.
In fact, many Medicare Advantage plans go above and beyond the basic, bare minimum benefits they're required by law to give you. The vast majority of Medicare Advantage plans are designed to offer you extra coverage to not only cover the inherent coverage gaps associated with Medicare Parts A and B; they can also sell you additional coverage like vision, dental, and more comprehensive prescription drug coverage, just to name a few options. Unlike regular private health insurance, however, you won't be paying for all of this out-of-pocket. Because you have paid taxes into the Medicare system for all of your working life, the federal government will subsidize your monthly premium. For Some Seniors, this means that they can get their Medicare Advantage plan – even with all the extra bells and whistles we just mentioned – for as little as $0 per month.
In a nutshell, a Medicare Advantage plan gives you the option of creating a customized, comprehensive, "Cadillac" insurance plan for much cheaper than you could get anywhere else. But this doesn't mean these plans are going to be cost-effective for all seniors. For some senior citizens in Fort Smith, these plans may be too expensive or too complicated. The good news is that Medicare Advantage is not your only option. For a more cost-effective alternative, you might want to consider Medicare Supplement Insurance (Medigap) instead.
Medicare Supplement (Medigap) Savings in Fort Smith, AR
Around 29% of seniors have instead decided to purchase a Medigap supplement plan instead of Medicare Advantage. Why is this plan slightly more popular than its Medicare Advantage counterpart? Well, the answer to that question will vary from one individual to the next. But it might have something to do with the fact that these small, affordable plans are simpler and easier to manage – with typically a lower monthly premium on top of it. There are 10 plans to choose from, each one designed to fit a specific need.
Plans A, D, K, and L are the first ones we will talk about. These four are typically the less costly out of all of the available plans, and they are specifically designed to alleviate the financial burdens of Medicare Part A coverage gaps. These coverage gaps are largely associated with hospital costs and end-of-life care. Unfortunately, none of these plans adequately cover the gaps in Medicare Part B. But if you don't think your Medicare Part B coverage gap costs will amount to that much, and you are more concerned about hospital, hospice, and other such medical expenses, then one of these for plants could be a good start.
Most seniors aren't lucky enough to not have to worry about Medicare Part B coverage gaps. Things like coinsurance, excess charges, co-pays, and the like all come straight out of your pocket and can add up over time. So if you really want to protect yourself, you'll want to choose from one of the following comprehensive Medigap plans: Plans B, C, G, F, M, and N. Plan F is the most comprehensive, but it won't be around forever. As a matter of fact, 2020 is the final year that new Medicare enrollees are eligible to sign up for the plan before it gets phased out from future retirees. But the good news is that if you get grandfathered into the program now, you'll be able to keep that plan for the foreseeable future as long as you pay your premiums on time each month and your insurance provider remains financially solvent.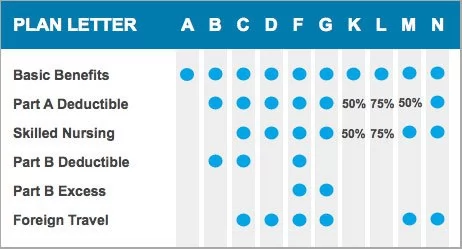 As you can see, a Medigap plan offers fewer benefits than Medicare Advantage; in this respect, it helps keep your monthly premiums and other costs very low. But it doesn't offer you the convenience of adding all of your coverage needs to the same insurance plan and managing them under the same company. If you want things like dental or vision coverage, you will have to purchase those separately from private providers in your area. Thankfully, there aren't any cumbersome enrollment periods that you have to stick to. You can enroll in either type of insurance year-round at your convenience. And you may even be able to find senior discounts from some providers. For prescription drug coverage, there is the Medicare Part D prescription drug plan. There is a "donut hole" gap which may require you to pay 25% of your own prescription costs out-of-pocket if you exceed your annual limit, but if you are relatively healthy, this likely won't be a major issue for you.
It seems as though Arkansas residents are split between Medicare Advantage and Medigap supplement insurance. And we understand why. It can be confusing to sort out all the differences between the two plans in order to figure out which one is right for you. But we have experts on hand who are more than ready to help you out. The sooner you contact us and find yourself a supplement plan that works for you, the sooner you can truly enjoy your retirement with the peace of mind you need to make the most out of your golden years.
| | | | |
| --- | --- | --- | --- |
| Medigap Plan | Minimum Monthly Premium | Maximum Monthly Premium | Average Estimated Monthly Premium (Part B Premium Included) |
| Plan A | $89 | $250 | $305 |
| Plan B | $113 | $302 | $343 |
| Plan C | $115 | $316 | $351 |
| Plan D | $119 | $246 | $318 |
| Plan F | $132 | $347 | $375 |
| Plan F (high deductible) | $32 | $171 | $237 |
| Plan G | $112 | $309 | $346 |
| Plan K | $49 | $139 | $230 |
| Plan L | $108 | $197 | $288 |
| Plan M | $107 | $195 | $287 |
| Plan N | $72 | $243 | $293 |