Are you a senior citizen living in Tucson, Arizona? Are you also looking for help supplementing your federal Medicare benefits? Then you've come to the right place. An unfortunate number of seniors aren't aware of the potentially dangerous gaps in coverage that their Medicare could potentially leave them vulnerable to. We're going to explain some of those gaps today; but more importantly, we're going to give you the information you need to protect yourself and your savings from thousands in unexpected medical bills and expenses.
Facts and Figures
There are 74,252 senior citizens living in Tucson right now
There are 11 hospitals in the Tucson area where seniors can get emergency and/or in-patient care
39% of Arizona seniors have a Medicare Advantage plan
19% of seniors have a Medicare Supplement (Medigap) plan
Which leaves 42% of seniors potentially uninsured or underinsured against costly Medicare coverage gaps!
Age will come for us all. But it is a long and slow process fraught with things like chronic health conditions. You can see the top 5 chronic diseases that Tucson seniors are suffering from right now in the chart below. Once you get diagnosed with such a condition, there's practically nothing you can do to stop or reverse it. But you can at least slow it down with the help of your doctor and modern medicine. It doesn't have to dramatically reduce your quality of life.
| | |
| --- | --- |
| Disease | Prevalence (in Tucson) |
| Arthritis | 24% |
| High Blood Pressure | 27% |
| Coronary Heart Disease | 6% |
| Diabetes | 10% |
| Kidney Disease | 3% |
Healthcare Costs in Tucson, AZ
Paying for the care you need to keep your chronic conditions in check, though, is a different story. Preventative care and regular doctor appointments are essential for this process. Luckily, seniors in Tucson enjoy a lower cost of living when it comes to medical expenses compared to other parts of the US. But that doesn't mean you should get comfortable. Just because your annual costs of treatment are relatively low right now doesn't mean that they will stay this way in the future.
| | | |
| --- | --- | --- |
| Disease | Prevalence (in Tucson) | Annual Cost of Treatment |
| Arthritis | 24% | $280 |
| High Blood Pressure | 27% | $108 |
| Coronary Heart Disease | 6% | $7408 |
| Diabetes | 10% | $2,197 |
| Kidney Disease | 3% | $7,225 |
Medicare Advantage Savings in Tucson, AZ
As a matter of fact, experts are predicting that healthcare costs are only going to keep rising in the near future – especially for seniors. This is where Medicare and Medicare Supplement Insurance comes in. The first one of these supplements we are going to talk about today is Medicare Advantage in Arizona. But don't let the fact that it has Medicare in the name fool you – it's actually a private health insurance policy. But it has been approved by the federal government to carry the Medicare name, and it will offer you at the very least the same benefits you would get had you stayed enrolled and Medicare Parts A and B. It is illegal for one of these insurance policies to offer you anything less.
One of the things seniors in Arizona like about Medicare Advantage is how easily you can customize your own tailor made plan. You start out with the base benefits that you would normally get with Medicare, and your insurance company will most likely offer you extra coverage that will financially protect you from Traditional Medicare gaps. You can even add more coverage beyond that which Medicare typically offers. And you can manage all of your health care needs, claims, and doctor's appointments through the same insurance policy and insurance company. There's no need to manage your health care needs piecemeal with different policies from different insurance providers. This added coverage and the convenience of only dealing with one entity can potentially save you a decent amount of money on your medical costs over time.
Some of the additional coverage that you can't typically get with Original Medicare includes things like vision, dental, and/or prescription drugs. Some seniors would rather not have to find this coverage on their own, and appreciate the convenience of their insurance provider offering it to them. But you have to understand the fact that your insurance provider will choose your medical network for you; this includes choosing which dentists, optometrists, pharmacies, and doctors you can and cannot see. Going out of network could cost you more or force you to pay 100% out-of-pocket. If you're concerned about whether or not your health care providers will be in your Medicare Advantage network, be sure to discuss those issues with an insurance agent before you purchase a policy.
Medicare Supplement (Medigap) Savings in Tucson, AZ
The other main option you have when it comes to Medicare Supplement Insurance in Arizona is a Medigap insurance policy. These are smaller, simpler policies which are specifically designed to take care of Original Medicare coverage gaps. Unlike Medicare Advantage, they don't give you the option to customize the plan or add extra coverage. These policies exclusively cover the gaps, and nothing more.
The federal government has created a system of 10 standardized Medigap plans which have been approved for sale in all 50 states. They can be loosely divided into two groups: the policies that protect you from gaps in Medicare Part A coverage, and the policies which protect you from gaps in both Medicare Part A and B coverage. The plan you choose to purchase largely depends on what you are medical needs are.
As with most things in life, especially when it comes to insurance, you will save the most money on your monthly premiums by purchasing the least amount of coverage. But this could backfire in the future if you underestimate your medical needs. Purchasing a comprehensive plan like Medigap Plan F will protect you from almost all of the gaps in Original Medicare coverage, including things like coinsurance on hospice care, foreign travel, and a majority of the cost of your part B deductible. But Plan F is going to get phased out by the end of 2020 and the next most comprehensive plan – Plan G – will your best bet after that. The difference between the two is the amount of your part B deductible that your Medigap insurance policy will cover. So if you are worried about your part B deductible and you want a Medigap policy, you better act fast!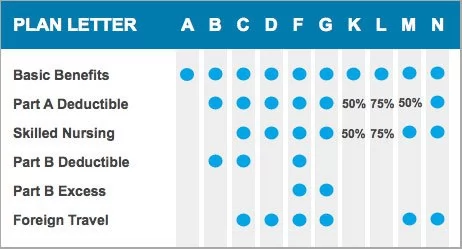 We mentioned earlier that Medigap policies primarily focus on the gaps in Medicare Parts A and B coverage. This means that they don't offer things like prescription drug coverage, dental, or vision insurance. You will have to find external sources of financial assistance to deal with those medical needs. Luckily, the federal government does have Medicare Part D available for seniors who need help with prescription drug costs. Beyond that, you're on your own when it comes to vision or dental. But having the freedom to choose the provider you wish gives you the opportunity to choose whichever doctors you want without very many medical network restrictions.
So, do you want a large, complex, tailor made insurance policy to replace your Medicare benefits? Or do you want a small, simple, affordable Medicare Supplement Insurance policy to protect you from the gaps in Original Medicare? The answer to this question largely depends on your specific medical needs. And if you still aren't sure which one would be best for you, we have customer service representatives standing by to take your call. They'll be happy to answer any questions you have and clear up the confusion. But if you don't act soon, you could miss your open enrollment window! So don't delay.
| | | | |
| --- | --- | --- | --- |
| Medigap Plan | Minimum Monthly Premium | Maximum Monthly Premium | Average Estimated Monthly Premium (Part B Premium Included) |
| Plan A | $76 | $259 | $303 |
| Plan B | $117 | $293 | $341 |
| Plan C | $133 | $335 | $370 |
| Plan D | $111 | $288 | $335 |
| Plan F | $131 | $337 | $370 |
| Plan F (high deductible) | $27 | $100 | $199 |
| Plan G | $102 | $294 | $334 |
| Plan K | $39 | $138 | $224 |
| Plan L | $71 | $194 | $268 |
| Plan M | $124 | $211 | $303 |
| Plan N | $87 | $264 | $311 |