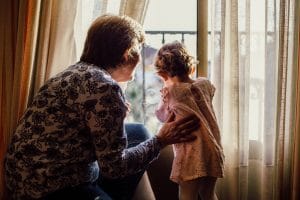 Key Takeaways
As a grandparent, remember to take a step back and let your adult child navigate parenthood on their own.
Communicating, sharing, and playing with your grandchild are the best ways to build a lasting bond.
New grandmas should remember to be present in their own lives instead of revolving their lives around grandchildren.

Don't spend too much time worrying about being the perfect grandma, just enjoy watching your grandchild grow up!
Congratulations! As you embark on this new journey and chapter of life as a grandmother, there are many things to be excited about. However, there are also many challenges and responsibilities that come with this new role. As you prepare for your grandchild to arrive, here are a few tips for new grandmas on how to create a bond with your grandchild and how to overcome a few common obstacles.
Everyday Tips for New Grandmas
Although you have already gone through the phase of being a parent, being a grandparent is completely different. First and foremost, your grandchild is not your child and you must realize that the family dynamics will change from when you were a new parent. Along with this change, as a grandparent, you will not be able to keep up with your grandchild's energy as much as you did when you were a new parent – which can also cause challenges. And those challenges we just mentioned are only scratching the surface. But below, we'll list some solutions to help get you through any obstacle.
Be Present – But Don't Get in the Way
One of the biggest challenges that grandparents face is knowing their limits and realizing their role is not the same as becoming a new parent. As a grandparent, you still want to be present and build a bond with your new grandchild. However, you do not want to get in the way of what the parents are doing and how they choose to raise their children.
Learn Games That You Can Do With Them
From the time you were a new parent to the time you are a new grandma, a lot of years have passed by. You will not be able to interact with your new grandchild the same way you did with your children due to a decline in your physical capabilities. To enjoy time with your grandchild, it is recommended to learn games that you can play with them that aren't too physically demanding such as reading children's books, coloring books, or learning hand games like patty-cake.
Prepare Your House
Since there is a high probability that you have not had small children present in your house in a few years, it is likely that your house is not child-proof. In preparation for your new family member, make sure to take standard procedures such as purchasing gates for stairs, moving any heavy items that can fall or injure your grandchild, and purchasing plug-in outlet covers for outlets that small children can reach.
Do Not Be The Parent
Again, a challenge that many grandparents face is knowing their role as a grandparent. A tip for new grandmas is to trust your adult child's intuition and let them raise their child the way they want to. Of course, you can offer advice (when asked) – but other than that, you should allow them to learn from their own mistakes and teach their child their own lessons. You already experienced the joys and the ups and downs of being a parent. You should allow your child to experience every aspect of parenthood as well.
Learn How To Communicate
Communication is key to creating a strong bond with your grandchild, especially in their early developmental stages. If you live near your grandchild, this can be easier since you can talk directly to the grandchild and be present as much as you desire (and as their parents will let you). However, many grandparents have to form long-distance relationships with their grandchildren. Since communication is so vital during the early life of your grandchild, it is important to take advantage of apps such as FaceTime or Skype to keep your communication intact.
Watch Your Spending
A common error that many new grandmothers make is wanting to spoil your grandchild with gifts and putting into their savings for future expenses such as college. Although spending on your grandchild is common, it can be harmful to the financial status of grandparents if it is not done in moderation. Since most grandparents are retired, the income received is not the same as being in the workforce and is limited. Therefore, you should make sure you are spending within your budget to avoid issues in the future.
Share Your Grandchild
Not only will you have to share your grandchild's time with their parents, but you will also have to split their time with their other grandparents and family members. Especially when they are first born, your grandchild will want to be seen by everyone. Many family members and friends will be visiting to see him/her. Although you may want to do multiple activities with them and spend as much time as possible with your grandchild, you must realize that you cannot spend every second with them.
Do Not Give Up Your Own Time
A great tip for new grandmas is to make sure your life is still yours. It can be easy for excited grandparents to revolve their lives around their new grandchild. You should still be present in your hobbies, social circle, volunteer efforts, or job even after your grandchild is born. Being present and around frequently as your grandchild grows up is still important – but you should draw a line for the time you spend for yourself and time spent on your grandchild.
Love Your Grandchild
As you get to know your grandchild, you will get to know their personality and habits – and sometimes you may not like all of their personality traits. However, as a grandma, you must love your grandchild unconditionally and accept them for who they are. Since you are not the parent and will not be teaching them right from wrong, they may have different beliefs or habits than you do. But that's okay. You should be able to recognize that and accept them no matter what.
Enjoy The Moment
Although this is an unknown and new phase of life that may throw many challenging obstacles your way, you should enjoy being able to watch your grandchild grow up and learn through life experiences. Don't spend too much time worrying about being the perfect grandmother. Just like there's no manual for being the perfect parent, there's no manual for grandparents, either. Just try your best and appreciate every moment you have with your new grandchild.
The Beginning of a New Journey
Becoming a new grandmother is a life-changing and fulfilling experience. Hopefully, these tips can be useful for all new grandmas out there. At the end of the day, as long as you are present, you and your grandchild will have an unexplainable bond and everything will be okay at the end of the day – even if you do mess up a little along the way. Congratulations on becoming a new grandmother, and to all the new places and experiences this new journey will take you!